Published 09 Feb 2022
DE&S is celebrating its talented workforce during National Apprenticeship Week (Feb 7-13). Each day up to Friday we are featuring case studies from across the business. Hear from Freya Hewlett-Walker, who recently completed her Project Professional Apprenticeship and is  now working as a risk manager in Naval Ships Support…
Share this story
Freya Hewlett-Walker enjoyed an action-packed and varied Project Professional Apprenticeship before recently becoming a Level 1 risk manager in DE&S' Naval Ships Support.
The 21-year-old former student of Filton College, near Bristol, said: "I knew I didn't want to go to university and I found the apprenticeship on gov.uk. It's probably the best thing I ever did.
"What I most enjoyed about my apprenticeship was being able to experience different areas. I've got training in scheduling and risk management now, as well as having my Level 4 qualification in project management.
"I would recommend DE&S as an employer because you gain so much from them. I've been able to explore so many experiences."
"Now is my time to push myself as far as I possibly can to keep working my way up the ranks."
Freya added: "DE&S is always encouraging extracurricular activities and at the beginning of my apprenticeship I was also able to go and see the HMS Queen Elizabeth aircraft carrier, which was amazing."
Freya has also enjoyed the benefits of working for DE&S, including the flexible working system.
"Flexible working hours works great with my life because I'm an aunty and I like to help out with my niece and nephew," she said.
The highlight of her two-year apprenticeship was meeting the Prime Minister during a visit to Rolls-Royce.
"That was probably my proudest moment," she said. "I also got to meet education ministers and it was really enjoyable to explain what we do. I think during day-to-day life and working you forget how important your job is."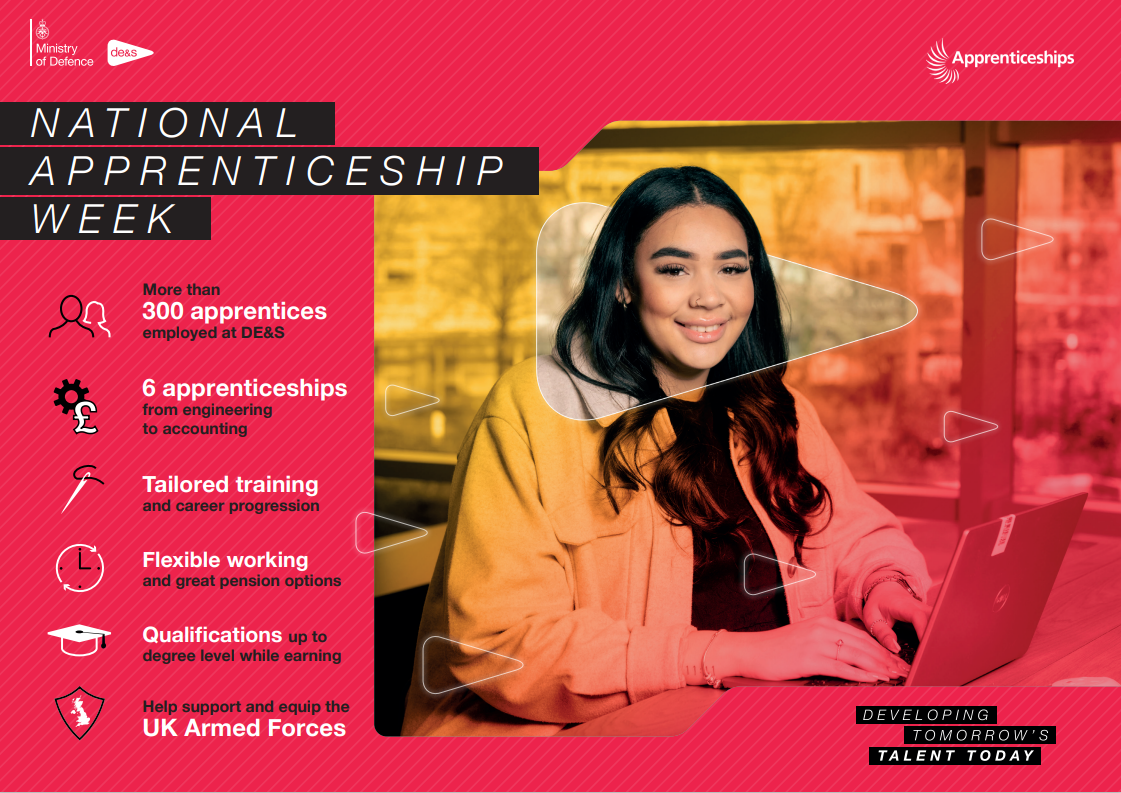 Freya said: "At DE&S I can keep growing from this point forward. Just the opportunities and benefits they give you are great.
"I'm looking forward to progressing as much as I can. Now is my time to push myself as far as I possibly can to keep working my way up the ranks."
Read about the experiences of Juliet and Philip, some of the other apprentices at DE&S and the Submarine Delivery Agency.
There are currently four DE&S apprenticeship schemes open to apply for. To find out more, please visit https://des.mod.uk/careers/graduate-schemes-and-apprenticeships/.