Published 07 Feb 2022
DE&S is celebrating its talented workforce during National Apprenticeship Week (Feb 7-13). Each day up to Friday we will be featuring case studies from across the business. First up is Juliet Wood, an Engineering Degree Apprentice who has travelled as far afield as the Ukraine and enjoys the flexibility to pursue her passions outside of work…
Share this story
The benefits of working for DE&S have allowed Juliet Wood to make the most of her hobbies outside of her Engineering Degree Apprenticeship.
Specialising in aerospace, the 20-year-old is enjoying a placement with the UK Military Aviation Authority, certifying aircraft such as Hawk jets, the Poseidon maritime aircraft and Apache AH-64E helicopters.
"As a young child I was a science and space nerd, anything to do with NASA was amazing," Juliet said. "So, when it came to choosing a degree option, it was going to be something aerospace themed.
"What I enjoy most about being a DE&S apprentice is the variety and the amount of constant learning that's involved. It's a bit of a cliché to say 'every day's a school day' but at DE&S it definitely is."
"The amount I learn from my colleagues and their past experiences in different teams, and the military colleagues I work with, is invaluable."
"In my first placement I was in the Hawk delivery team. That's aircraft the Red Arrows fly and it was nice in my first placement to be working on something so iconic.
"My proudest moment so far has been when I got to go out to Kiev in Ukraine to audit an airline called an Antonov that we use to move defence materiel like smaller aircraft to where we need them.
"To go out and represent DE&S was a very proud moment and very interesting. I got to see the largest aeroplane in the world, the An-225."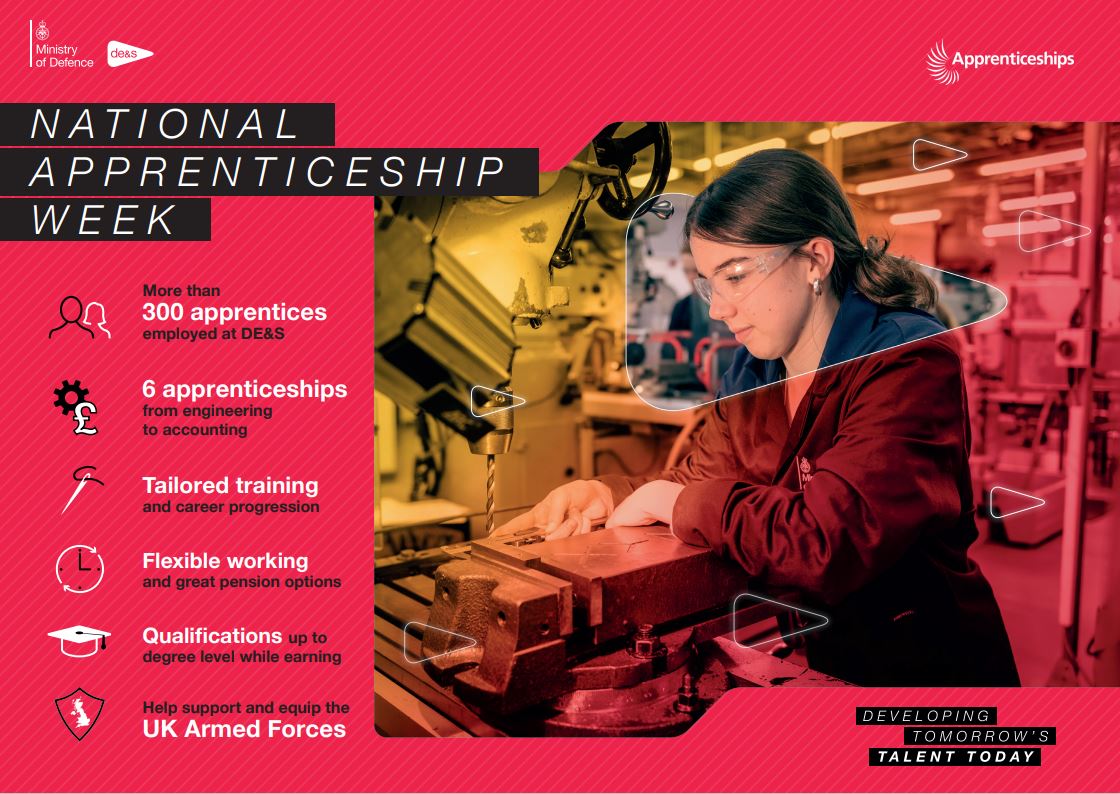 As well as the tailored training and competitive pension, Juliet has made great use of the six days' paid special leave DE&S employees can use every year for volunteering and charity work.
Juliet added: "In my spare time I do a lot of girl guiding, so I get six days to go and take the girls away on a guide camp.
"This year, we're taking them to the Royal Air Tattoo at RAF Fairford, so for me it's quite special to show the girls what I do for my job and it's a bit more interesting than giving them a Powerpoint presentation as they get to see the aircraft up close."
There are currently four DE&S apprenticeship schemes open to apply for. To find out more, please visit https://des.mod.uk/careers/graduate-schemes-and-apprenticeships/.