DE&S Apprenticeship & Graduate Schemes
We offer unique Apprenticeship and Graduate opportunities. As an integral part of our team, you'll experience tailored training and support across a range of projects.
If you're leaving school or university, or you're seeking a career change, discover more information about our schemes below.
Please note, the Defence Commercial Schemes are no longer coordinated by DE&S.
Our latest Apprenticeship & Graduate vacancies
Apprenticeships & Graduate Schemes
We offer Apprenticeships and Graduate Schemes in Engineering, Finance, Project Professional and Corporate Services. Whichever opportunity you choose, you'll receive tailored training and support across an exciting range of projects, fantastic benefits and brilliant career opportunities. Our schemes offer:
Great rewards in a diverse and inclusive environment where results are recognised.
Support throughout your role from a dedicated management team who have a genuine interest in helping you develop and succeed.
The opportunity to move into a permanent position if you're successful in completing your scheme.
Alongside training and development, you'll receive the following great benefits:
Flexible working arrangements so that your work fits in with your lifestyle.
25 days holiday a year, increasing one day a year to 30 days after five years.
A competitive remuneration package and access to two Civil Service Pension options.
Use of our on site gym, restaurants and cafes.
A huge variety of high street discounts and savings.
Take a look at our Employee Benefits and Apprenticeships and Graduate Schemes below.
Engineering
The Engineering function at DE&S are responsible for ensuring the equipment supplied to the front line customer is safe to operate, meets user requirement and is supportable through life. Our Engineering opportunities will develop your technical knowledge alongside management competencies for projects, processes and people. On our schemes you'll exploit cutting edge technology, solve complex engineering problems, ensure compliance with engineering policy standards and regulation, test and trial new equipment, and much more.
We offer two established Apprenticeships, as well as a unique Engineering Graduate Scheme.
Engineering Advanced Apprenticeship
Our Engineering Advanced Apprenticeship could be your ticket into an exciting new career. This scheme is designed to ensure that you receive the necessary skills, knowledge and experience required to embark on a rewarding career in the Ministry of Defence's current and future programmes. On the scheme, you'll experience technical focused work based placements within a wide range of specialist defence project teams.
You'll also experience a comprehensive mix of practical and academic training, including the opportunity to work towards a Level 4 HNC Engineering Qualification.
To apply you'll need five full GCSEs including English Language, Maths and a Science/Engineering subject, plus two additional academic subjects all at grade A-C or 4-9, or equivalent.
Applications for the Advanced Apprenticeship open Autumn 2020.
Engineering Degree Apprenticeship
If you're interested in studying for a degree and earning while you learn, this is the engineering scheme for you. The first three years provide practical, vocational and academic training towards an engineering foundation degree. If you've the aptitude and desire to continue your studies, you can continue a further two years towards a BEng degree. Alongside your studies you'll participate in work based placements in your selected discipline of either Aerospace, Nuclear or Weapons Ordnance Munitions and Explosives.
To apply you'll need:
5 GCSEs inc. English Language, Mathematics and a Science/Engineering subject all at grade C/4+, or equivalent, and
3 A Levels at B/B/C+ inc. Mathematics, Physics or Chemistry, or another Engineering related subject, or BTEC Level 3 Engineering alternative.
Applications for the Degree Apprenticeship open Autumn 2020.
Engineering Graduate Scheme
Our two year scheme attracts engineers and scientists and is designed to develop your technical knowledge, skills and professional competence. You'll undertake interesting and unique work placements in a variety of locations across the UK and potentially overseas. There'll be opportunities to work on exciting, innovative and in some cases, highly classified projects. This will enable you to build a portfolio of evidence towards professional registration at IEng or CEng and gain knowledge in a variety of areas within your technical discipline. Some Graduates receive sponsorship towards studying for an MSc degree.
To apply you'll need a minimum 2:2 degree in an accredited subject by either the UK Engineering Council or Science Council. Certain disciplines will require a minimum 2:1 degree.
We're aware that some nuclear degrees are not yet accredited and we'll consider all nuclear disciplines.
Applications for the Graduate Scheme open Autumn 2020
Finance and Accounting
The Finance and Accounting function ensure that DE&S meets its financial and management responsibilities for recording, communicating and driving financial performance. Our Finance opportunities will develop your knowledge and skills in forecasting budgets, providing financial analysis to support decisions, aligning costs to contracts, using financial systems and much more.
We offer exciting Finance opportunities for both Apprentices and Graduates.
Finance and Accounting Apprenticeship
Our Finance and Accounting Apprenticeship is a three year training and development programme. On the Scheme you'll rotate through a number of placements, you may also have opportunities to work in other finance roles supporting the MOD's vast estate and front line commands.
Your hands on experience will be underpinned by MoD/DE&S specific training, as well as study towards achieving Association of Accounting Technician (AAT) Levels 3 & Level 4 qualifications. Training is delivered by a Bristol based AAT training provider.
To apply you should have 5 GCSEs inc. English Language at C/4+ and Maths at B/6+, or equivalent. A Levels are desirable, but not essential.
Applications for the Finance and Accounting Apprenticeship Scheme open Spring 2021.
Finance and Accounting Graduate Scheme
The Finance and Accounting Graduate Scheme is a two year development programme built around finance and accountancy roles across different areas of DE&S. You'll rotate through several placements within DE&S and may also have opportunities to work in other finance roles supporting the wider Ministry of Defence (MoD) and Armed Forces. Your hands on experience will be underpinned by MoD specific training, as well as study towards achieving a nationally recognised CIMA qualification.
To apply you'll need a minimum 2:1 degree in any discipline.
Applications for the Graduate Scheme open early 2021.
Corporate Services
The Corporate Services Group (CSG) function utilises the expertise of nine specialisms that collectively enables the operational day to day running of the business. These specialisms are Business Support, Occupational Health Safety and Environment, Communications Media and Marketing, Infrastructure and Estates, Sales and Disposals, Executive Support, Policy and Parliamentary, Security and Resilience and Quality Management.
CSG are the 'corporate glue' that ensures DE&S' day to day operations are run effectively to meet business objectives.
We offer the following Apprenticeship.
Business Administration Apprenticeship
As a Business Administration Apprentice, you'll participate in an 18 month development programme containing challenging and stimulating placements across the Business Support specialism. Throughout the Apprenticeship you'll gain key experience and development in delivering office services, planning and reporting, managing resources, business change and improvement, and much more. You'll also receive quality support towards the attainment of a Level 3 NVQ in Business Administration.
To apply you'll need 5 GCSEs inc. English Language and Mathematics at grade C/4+, or equivalent.
In response to the COVID-19 pandemic we are adapting our priorities and, as a result, recruitment for this Scheme is currently paused.
 Project Professional
The Project Professional schemes bring together aspects of both Project Management and Project Controls into a single development opportunity.
Our Project Management function enables the delivery of policies, processes and procedures and leads portfolio, programme and project management. Our Project Controls function is the right arm to Project Management and is responsible for providing the crucial information to support better decision making.
These schemes will develop your skills and knowledge of project planning, scheduling, identifying and monitoring project risks, reporting, stakeholder management and much more.
Project Professional Apprenticeship
Our Project Professional Apprentices are at the heart of our delivery. You'll experience structured career development throughout the two year Apprenticeship gaining the technical and leadership skills to shape the future of the organisation. We'll also provide dedicated support as you work towards an Associate Project Manager Level 4 NVQ.
To apply you'll need:
5 GCSEs inc. English Language and Mathematics at grade C/4+, or equivalent, and
3 A Levels at grade D+, or equivalent.
The next intake for the Project Professional Apprenticeship Scheme will open Spring 2021.
Project Professional Graduate Scheme
This two year scheme will see you undertake a variety of work placements across our Land, Fleet, Air, Joint Enablers and Corporate domains. You'll be provided with real experience in a large project delivery organisation, working alongside military and industry partners to successfully deliver outputs within performance, time and cost parameters. You'll also be provided with a directed and supported study framework to achieve an APM Project Management Qualification.
To apply you'll need a minimum 2:2 degree, preferably in a Business, Project or Leadership Management discipline.
The next intake for the Project Professional Graduate Scheme will open late November 2020.
Benefits and discounts
We truly believe that DE&S is a great place to work, and we offer a unique experience for our graduates and apprentices.
We want to ensure that every single employee feels appreciated and fairly rewarded and being part of the Civil Service allows to offer a very unique and attractive benefits package including discounts on cinema tickets, sport and leisure and your weekly shop.
Discover all the ways we can help you make life easier.
"You get the chance to work, gain qualifications and progress all at the same time. DE&S is very supportive, as there are lots of people with vast amounts of experience to learn from who are always happy to help."
– Rachel, Project Professional Scheme
Turn your job into a career with DE&S. Find your place in our team today.
Frequently Asked Questions
Yes. Should you require support with the application process or require any technical assistance please contact the DBS team on 0800 345 7772.
A provisional offer informs you that you have been successful at interview subject to pre-employment checks.  At this stage we will initiate the necessary pre-employment checks, such as security clearance and medical questionnaires. If you are an external candidate, you are strongly advised not to give notice to your current employer until pre-employment checks have successfully been concluded.
Your provisional offer will inform you of the pre-employment checks.  The security checks, which are undertaken by National Security Vetting (NSV) Agency, usually take the longest to complete so you will be invited to commence this aspect once you have been informed that you have completed your interview, as this reduces delays. An invitation to begin the security clearance process is not a guarantee that you will be given an offer.
All candidates will be required to undertake security clearances to the level the role requires prior to commencing employment.  Assuming the candidate completes their security forms and references are returned in a timely fashion, and that no further checks or documents are required, we would expect the individual to be advised that we are in the position to make a formal offer of employment and start discussions to agree an appropriate starting date.
The Disability Confident scheme aims to help employers make the most of the opportunities provided by employing disabled people. It is voluntary and has been developed by employers and disabled people's representatives.
DE&S is proud to be a Disability Confident Leader.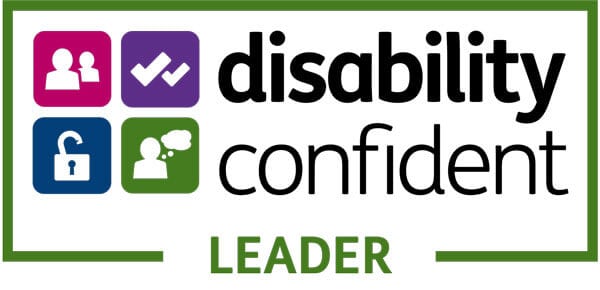 Want to know more about DE&S?