Published 08

Feb 2022
DE&S and the Submarine Delivery Agency (SDA) are celebrating their talented workforce during National Apprenticeship Week (Feb 7-13). Each day up to Friday we will be featuring case studies from across the sister agencies. Hear from Philip Duncan, an Engineering Degree Apprentice with the SDA who is looking forward to working on cutting-edge technology as he hopes for a long and rewarding career in defence…
Share this story
Earning and learning at the same time was a huge incentive for Philip Duncan as he weighed up his apprenticeship options.
As an Engineering Degree Apprentice specialising in nuclear with the Submarine Delivery Agency (SDA), he feels he has found the perfect balance.
The 24-year-old is in his first year, studying at Weston college, having previously worked as a mobile phone insurance claims handler before opting for a career change.
Phil said: "I chose a DE&S apprenticeship because the education was paid for and I was earning a wage at the same time as gaining very useful experience in the field that I would be going into.
"Coming out of the apprenticeship I will be ready to go into a full-time job in engineering, with plenty of experience and all the knowledge I need."
"I will be ready to go into a full-time job in engineering, with plenty of experience and all the knowledge I need."
Phil initially applied through the DE&S apprenticeship route before being allocated a place on one of the schemes at the SDA.
He added: "So far, the most enjoyable thing is getting to see all the amazing things you wouldn't get to see if you weren't employed by DE&S or the SDA.
"My proudest moment so far was when my colleagues decided to make me the representative for our cohort of nuclear apprentices at college. I was quite proud that they had that confidence and trust in me to represent them."
Even though he only started in September, Phil is aiming for a long career in the organisation.
"The Civil Service pension is still one of the best pensions in the country and it's one that a lot of people have always dreamed of having. Another benefit people don't necessarily think about is the sheer range of opportunities that you have for things like your placements.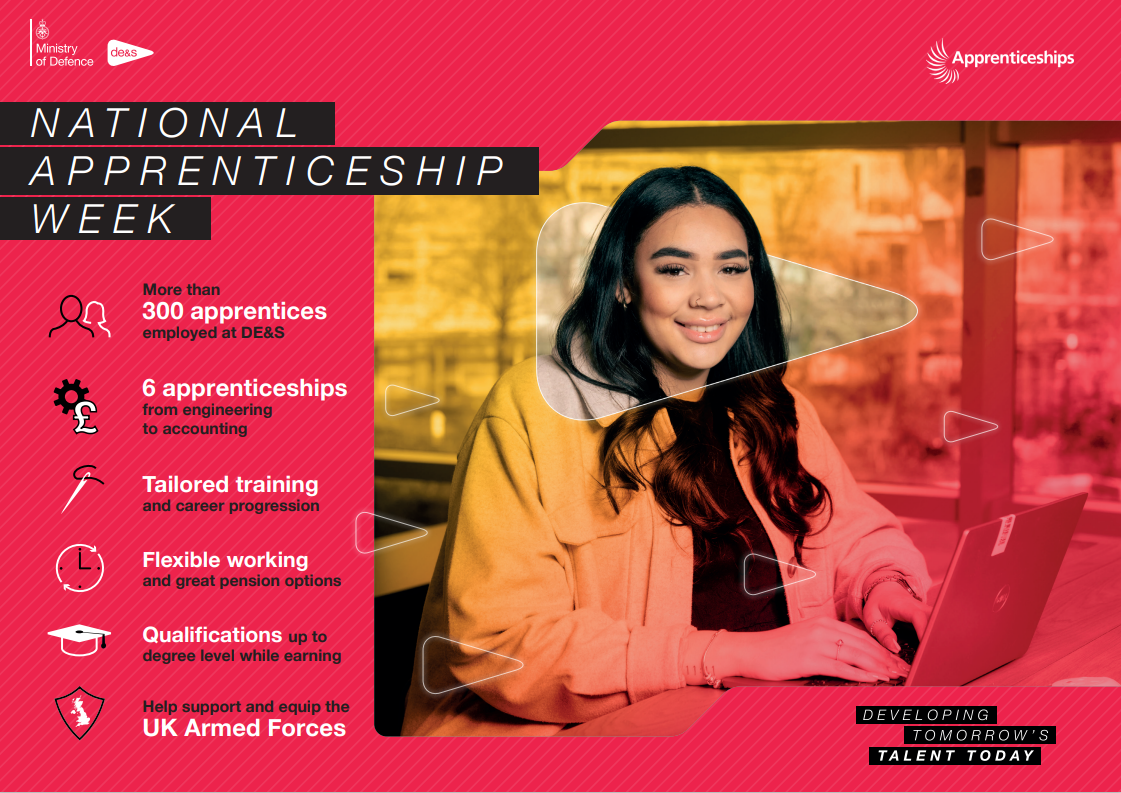 Phil added: "You could be based down in Cornwall or up to RAF Lossiemouth on the coast of Scotland. There's such a breadth of knowledge you can gain from working with all these different people and different opportunities.
"I'm really looking forward to getting involved with the cutting-edge technology we're involved in, certainly on the submarines.
"The apprenticeship scheme I'm on is just so well-rounded. You're getting the degree as part of the apprenticeship scheme, you're getting that technical knowledge, but they're also making sure you get the practical knowledge and understanding of how things should be done."
The first apprentice we featured this week was Juliet, who works in military aircraft certification. Hear her story. 
There are currently four DE&S apprenticeship schemes open to apply for. To find out more, please visit https://des.mod.uk/careers/graduate-schemes-and-apprenticeships/.