Hurricanes caused devastation across the Caribbean when they struck last month. Desider editor Tom Morris visited the DE&S Defence Support Chain Operations & Movements (DSCOM) operations room to see how the team reacted to the humanitarian disaster.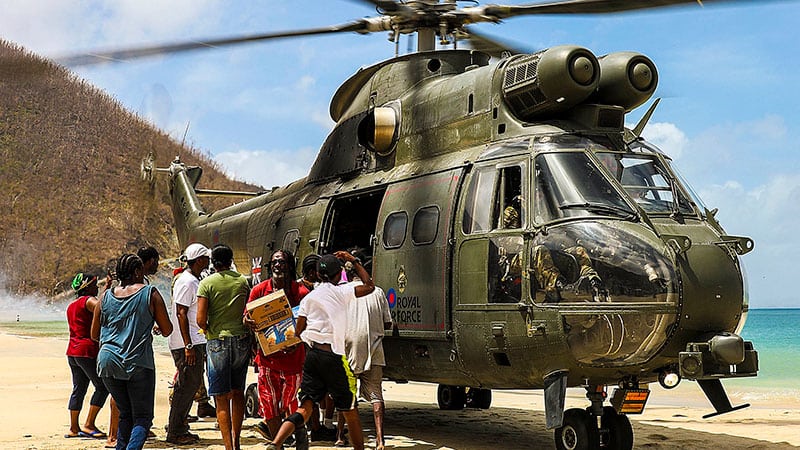 Watching colleagues deep in conversation, staring at screens, scrutinising documents and manning the phones reminded me of the buzz that throbbed through a newsroom of old when a big story broke.
Of course what was happening in the DE&S Defence Support Chain Operations & Movements nerve centre was of far greater significance than the words filling column inches of a newspaper. The actions of the people in the operation room were helping to save lives, restoring normality to those who had endured chaos, and delivering hope to those who believed it no longer existed.
Hurricane Irma raged through the Caribbean and United States causing catastrophic damage in Barbuda, Saint Barthélemy, Saint Martin, Anguilla and the Virgin Islands. The category 5 hurricane, the worst the region had seen for a decade, claimed at least 102 lives, as well as decimating numerous communities, leaving thousands homeless.
This was followed by Hurricane Maria which first wreaked havoc in the islands of Dominica, Guadeloupe, Martinique and the US territory of St Croix, before turning its relentless rage on Puerto Rico and the Dominican Republic claiming at least a further 54 lives. While all territories subjected to the storm suffered smashed buildings, landslides, flash flooding – Dominica and Puerto Rico were worst hit with electrical and communication systems left crippled.
A third weather system – Hurricane Jose – then threatened to hit an already devastated Barbuda but thankfully altered course and largely spared the island another battering.
"This was a humanitarian disaster and we were in a privileged position of being able to help people who had their worlds torn apart – what more motivation would you need?"
Lieutenant Colonel Ceri Morton, acting assistant head of DE&S Defence Support Chain Operations & Movements Operations told me when I asked how the team had managed to battle on during 16-hour days.
At MOD Abbey Wood things started to heat up in the very early hours of Friday, September 8 – when DSCOM were engaged and Operation Ruman – the most complex and demanding no-notice contingent deployment since DE&S formed in 2007 – got underway. The next 72 hours was a frenzy of activity with the team providing 24/7 cover for operations, air planning and commercial capability, all the while dealing with the changing logistical landscape brought about by the nature of a destructive tropical storm.
Within 24 hours DE&S Defence Support Chain Operations & Movements had initiated a contingency planning team and published a DE&S warning order putting teams on notice that they may be called into action to help in the effort.
Within seven days DE&S had enabled the deployment of 1,015 passengers and 316 tonnes of freight via 18 aircraft including C17, A400M and Voyager. This included tonnes of medical and humanitarian aid including ration packs and bottled water.
September figures stated DE&S Defence Support Chain Operations & Movements had deployed 1,293 passengers and 734 tonnes of freight respectively all aimed at stabilising communities shattered by the weather systems.
Wing Commander Seamus McGowan, who heads up the Africa-America desk within DE&S Defence Support Chain Operations & Movements, said: "There was a buzz in the operations room because everyone had seen the news and seen the devastation that had been caused so wanted to know what we could do to help. We had to balance multiple tasks and requirements that were constantly changing so communication was key.
"It was great to see how everyone pulled together and how forward-leaning the rest of DE&S are and it showed that DSCOM have exceptional operational flexibility."
DE&S Defence Support Chain Operations & Movements received enormous help from teams within DE&S including the British Forces Post Office which delivered swift and agile Defence Courier Services to support Op Ruman, while strategic partner Team Leidos responded within hours to provide medical supplies, water and ration packs.
While Op Ruman took centre stage the other challenge DE&S Defence Support Chain Operations & Movements faced was – by diverting aircraft, ships and supplies to the Caribbean – making sure existing worldwide defence commitments were impacted as little as possible. To do this the they maximised its use of joint, multi-national and commercial aircraft arrangements, and coordinated with the front line commands to ensure all aircraft available were being used to their optimal capacity.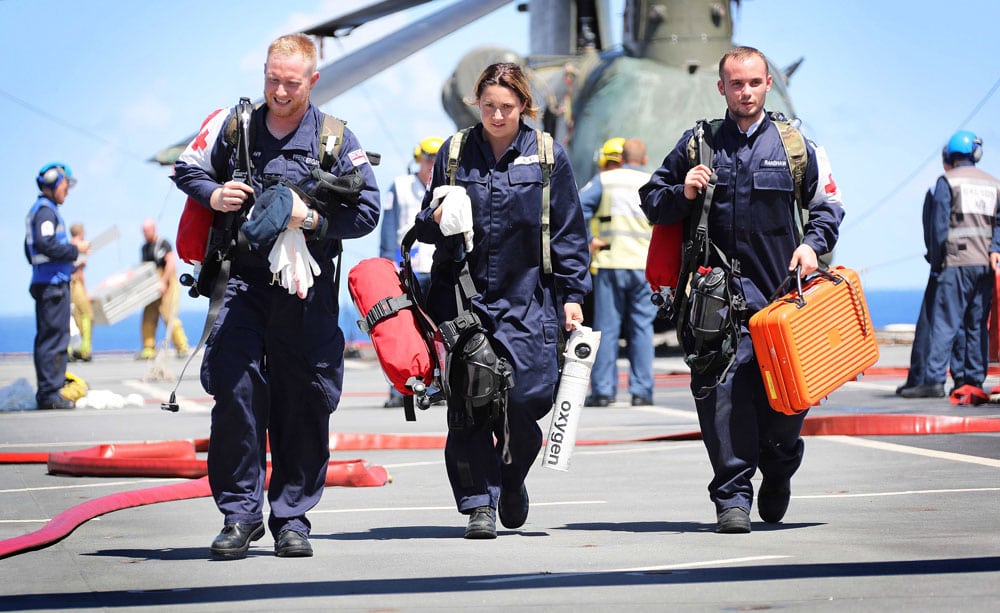 The agility the team offers is well-illustrated by Squadron Leader Gareth Evans of Air Support within DE&S Defence Support Chain Operations & Movements who bought precious time by chartering space on non-military aircraft – in this instance an Antonov cargo aircraft via the Movement Coordination Centre Europe (MCCE).
Gareth said: "This allowed us to have immediate access to an airframe. It was the first aircraft to go out to Barbados and allowed Joint Task Force HQ to be set up. This bought us time, prevented delays on other vital resources and personnel reaching the affected areas and minimised the impact on military activity elsewhere."
Elsewhere the team bent over backwards alongside Team Leidos, to ensure that HMS Ocean was able to depart Gibraltar for the Caribbean as soon as possible by flying out on military and commercial aircraft the relevant supplies and materials needed at the drop of a hat.
Air Cdre Damian Alexander CBE, Head DE&S Defence Support Chain Operations & Movements said:
"I am extremely proud of what the DSCOM team has achieved in such a short timeframe, which enabled essential DE&S support to be provided to the Caribbean.
"What has been particularly impressive is the pace of our response, especially given the complexity of the situation. What the Team achieved in the first few days was remarkable and our positive contribution to help counter this natural disaster was made possible because of an exceptional team effort across DE&S, industry and the wider Armed Forces. This obviously remains a terrible disaster for those in the region but I am privileged to be part of the team that has helped initiate the UK's relief effort."
Gallery
For more DE&S stories like this, download Desider magazine