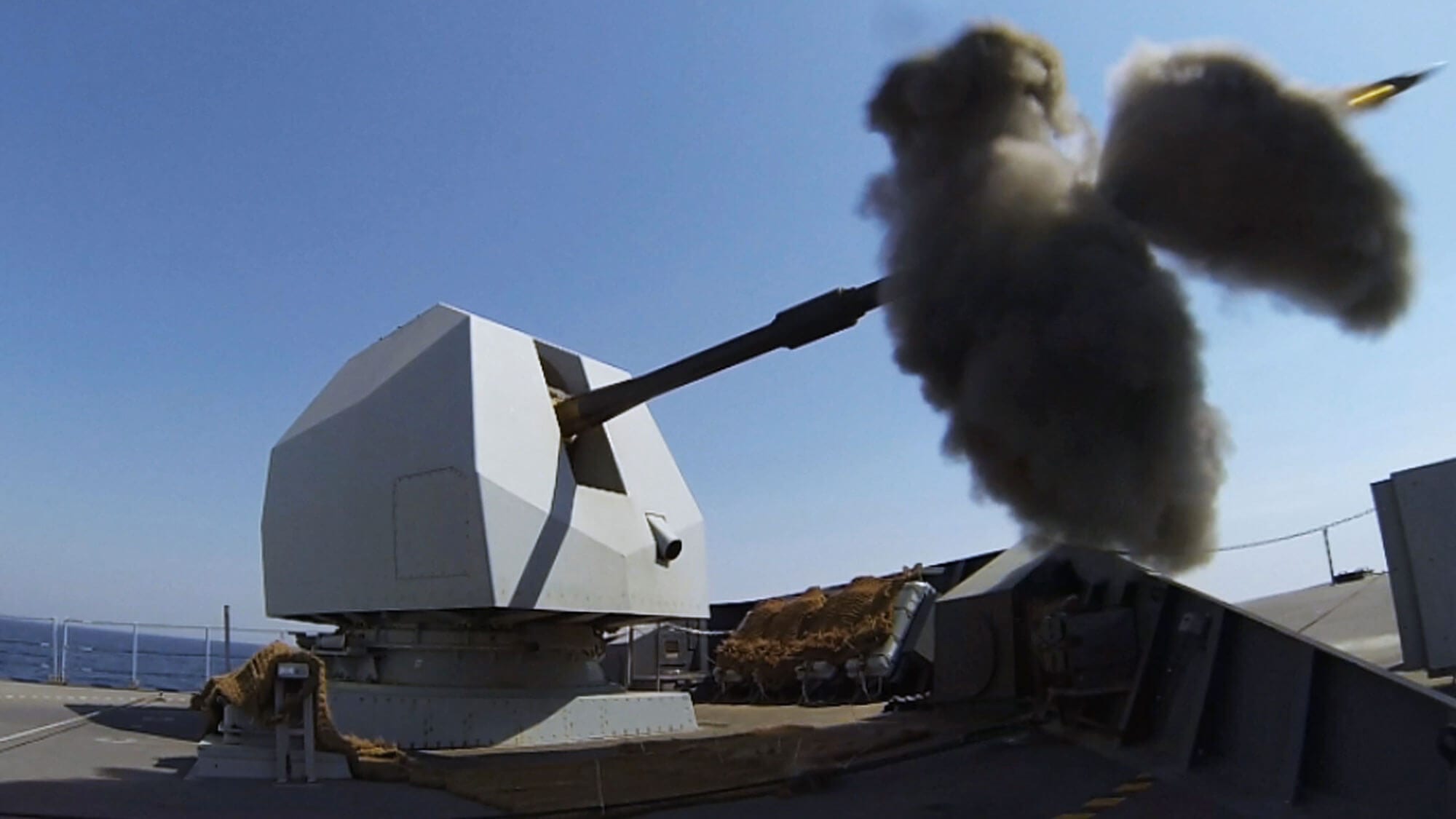 Published 23rd October 2018.
One of the most powerful weapons in the Royal Navy's arsenal has proven its mettle during spectacular tests overseen by Defence Equipment and Support (DE&S) employees.
Share this story
Newly-released footage shows a Mk.8 naval gun firing a 4.5" shell out to sea from shore in a display of the weapon's stopping power.
The trials, carried out at a Cumbrian range through a £41 million contract with Babcock signed in May 2016 to improve the gun and extend its service life, involved the first land-based firing of a fully-turreted 4.5" gun since 2001.
Overall, work to fulfil the contract is sustaining 35 jobs across the supply chain including 25 at Devonport and 10 at Barrow-in-Furness.
DE&S International Guns, Missiles and Rockets Project Team Service Delivery Manager, Matthew Norris said:
"DE&S is dedicated to delivering essential improvements to ensure this weapon remains available for Royal Navy operations into the future and being part of these tests was extremely rewarding.
"To feel the thump of a 4.5" shell being fired first-hand was a good way to finish the last 12 months of work."
For more information on a career at Defence Equipment and Support go to our careers page or check out our latest vacancies
Mk. 8 naval gun
The Mk.8, which arms the Royal Navy's Type 23 Frigates and Type 45 Destroyers, is based on a design which has been in active service for nearly half a century. The modern, semi-automatic variant can rapidly fire high explosive rounds against land and sea targets with pinpoint accuracy.
DE&S provided the full gun system for the test, inspected and re-certified the barrel and breech involved in the firing and worked with suppliers to ensure the firings were carried out in a safe and effective way.
Lt Cdr Daniel Gatenby, Royal Navy Offensive Surface Warfare officer, said:
"Royal Navy Frigates and Destroyers are at sea every day in defence of the UK's national interests and security, supported by Defence Equipment and Support and their partners across industry.
"These tests will ensure these warships, the backbone of the surface fleet, will remain at sea armed with this formidable weapon for years to come."
Carried out in partnership with QinetiQ over a five-day period at the MOD Eskmeals Range, the firings were tested against various ranges, altitudes and accuracy criteria.
Results from the successful trials will now be fed into the programme as the five-year contract continues.
DE&S, employing more than 12,000 talented civil servants, military personnel and private contractors at more than 150 global locations, ensures the Royal Navy, British Army and Royal Air Force have the equipment and support they need to carry out their duties effectively. Find out more.