Published 9 March 2020.
Find out more about the talented scientists working at DE&S across a wide range of activities in our Science Week 2020 coverage
Share this story
Run by the British Science Association, British Science Week is an opportunity to celebrate science, technology, engineering and maths (STEM) across the UK.
As an organisation heavily involved in science, technology and engineering, we have many talented colleagues who are experts in a wide variety of topics ranging from lasers and radio waves to data and artificial intelligence.
Throughout this (9-13 March), we'll introduce you to several of our expert colleagues – keep an eye out on the intranet.
Today, meet Matt Wilson, an expert in the Electromagnetic Environmental Effects and Initiation Systems team within the Defence Ordnance Safety Group (DOSG) Science & Technology division.
"There's a national shortage of STEM people and the beauty is the subject may take you in directions you did not expect"
How long have you worked at DE&S?
I've worked in the MOD for 13 years; 11 of which have been in DOSG. I came into the MOD as a fresh-faced physics graduate; I had no idea what I wanted to do nor what DE&S really did. I meandered around the graduate scheme not really taking to project management and was gearing up to leave DE&S – but fortunately found DOSG. It was refreshing to find a posting that actively used my physics degree.
If you were to explain your job to a child, what would you say?
I look at the effects that radio waves can have on explosives and circuits controlling explosives, and I help try to stop them exploding when they shouldn't!
Were you always set on this career?
I originally wanted to join the police but was understandably told I was too young and lacked life experience. Physics was one of my better subjects at school, so I decided to pursue it at university. With the benefit of hindsight, I would have been better suited to electronic engineering, however, I don't regret the choices I made.
What's the most exciting thing you've done in your job?
Too many to mention! Looking at the sort of things I do, I've ended up in a number of weird and wonderful places across the world looking at weapons or transmitters. Some highlights include going down to the Falklands, and looking at the measures put in place to protect London during the Olympics.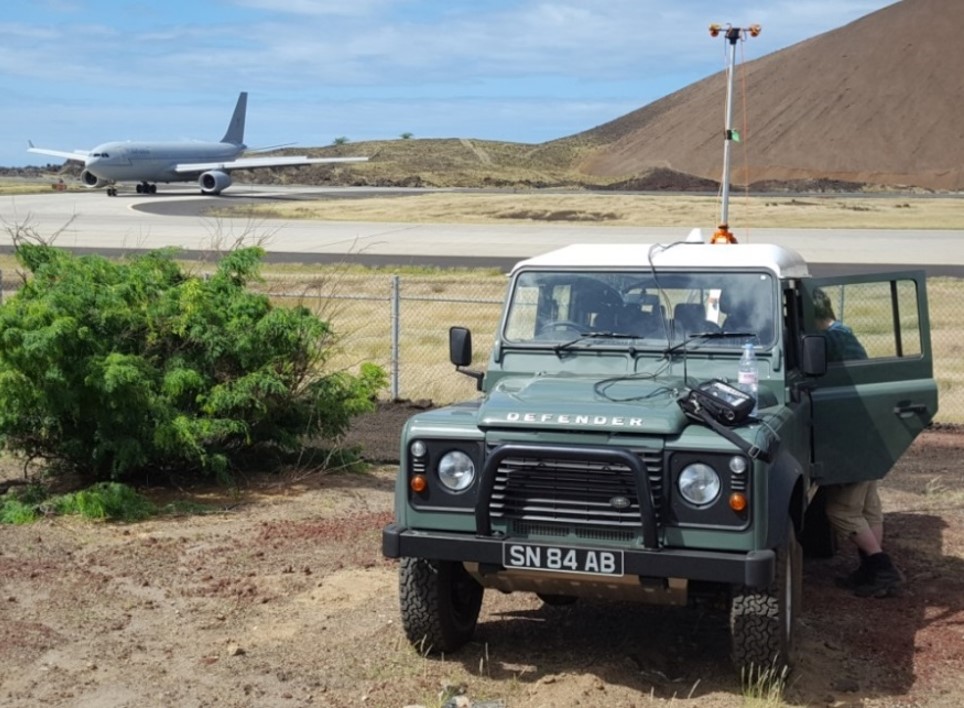 And what are you most proud of in your career?
I've been lucky in my career and had a few things to be proud of. With regard to my role, I'm most proud of representing the UK at a NATO E3 RADHAZ Working Group as the UK weapons SME. Personally, I'm most proud about achieving Chartered Physicist and DE&S Fellow status. Having these goals to aim for helped drive my career and learning in the direction it took.
What's the most interesting development in science – or STEM more generally – right now?
Terribly boring to most but coming from a physics background I enjoy astronomy. Right now, the space world is abuzz with theories on why the star Betelgeuse was randomly dimming. One theory was that it was in the process of going supernova (where it would have been visible during daytime here), however, it's begun to brighten again. The work is on to understand why and what caused the dimming in the first place – and whether it'll happen again.
What would you say to someone considering a career in STEM?
I would look into the different disciplines that STEM covers, find something that interests you or you have a passion for, and pursue it. There's a national shortage of STEM people and the beauty is the subject may take you in directions you did not expect.
Find out more about how you could join our team, and the STEM vacancies that we available here.