Published 30 January 2023
A specialist ship bought by DE&S to host a suite of cutting-edge autonomous mine hunting systems to support the Royal Navy has arrived in Plymouth.
Share this story
The vessel, currently named MV Island Crown, arrived at HMNB Devonport on 29th January where it will now undergo limited conversion work, before being renamed and handed over to the Royal Fleet Auxiliary (RFA) later this year.
The 96.8 metre long ship – the length of two Olympic swimming pools – has been delivered at pace due to the rapidly evolving threat posed by naval mines and the need for effective measures.
When deployed the platform will carry systems including the joint FR/UK Maritime Mine Counter Measures (MMCM) system, the Combined Influence Sweep (SWEEP) system, Medium Underwater Autonomous Vehicles (MAUVs), and equipment deployed as part of Project WILTON in service at HMNB Clyde.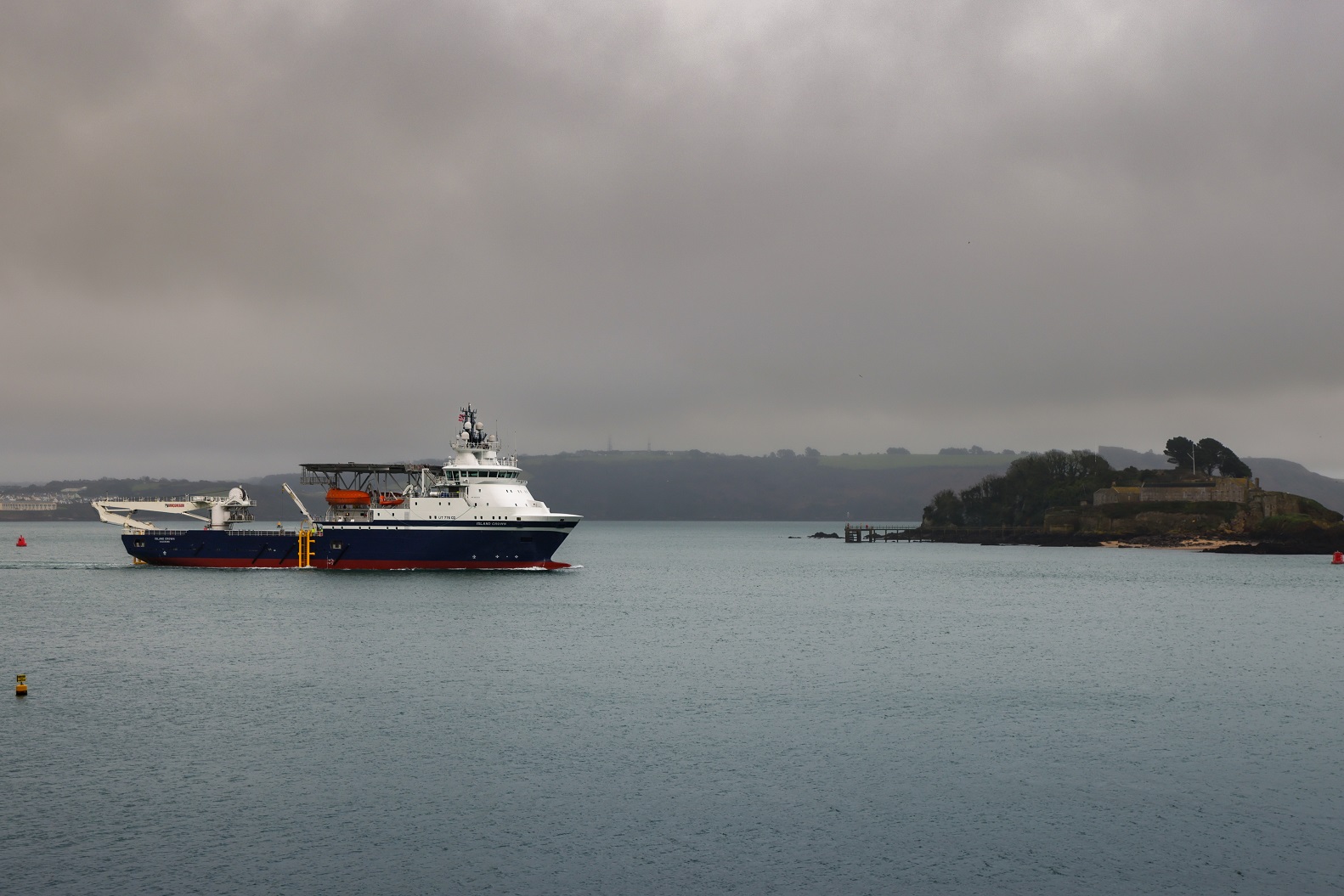 Operated by specialist teams on board these innovative systems will allow the Royal Navy to meet the offshore operational requirements for UK homeland defence, and in the North Atlantic and European waters if required.
The arrival of MV Island Crown follows that of Topaz Tangaroa, a Multi-Role Ocean Surveillance (MROS) ship, in Merseyside less than two weeks ago.
Once renamed and in service with the RFA, Topaz Tangaroa will carry equipment that will protect Britain's critical subsea cables and pipelines from hostile attack.
Gareth Morris, who has project managed both purchases for DE&S, said:

"It' a proud moment to see both vessels arrive safely in their destinations. The success of both projects is testament to the desire of all stakeholders to work collaboratively to ensure key capabilities for the Royal Navy and Royal Fleet Auxiliary can be delivered as quickly as possible."
DE&S Director General Ships, Vice Admiral Paul Marshall, said:

"Our team undertook extensive research and market analysis to identify a vessel for the Royal Navy that would meet the vital capability it needs, and could be delivered at pace whilst also provide value for money to the taxpayer."

"The result of that agile working is the delivery of a highly effective ship which will be converted to purpose at HMNB Devonport. Once militarised, it will play a key role in countering the evolving threats posed by mines at sea."
The intention is for the ship to enter service in Spring 2023.
Commodore Steve Prest, Director Navy Acquisition, said:

"The delivery of this ship is an important step in the Navy's transformation to conducting mine countermeasures using distributed offboard systems-of-systems.

"The ship will be used to extend the range of our Maritime Autonomous Systems from coastal waters to conducting offshore survey operations in Defence of the homeland."