Published 07 October 2020.
The armoured six-wheelers are a key asset for carrying out chemical, radiological and nuclear survey and reconnaissance missions.
Share this story
A £16-million contract has been placed to upgrade and sustain the British Army's critical fleet of specialist CBRN (Chemical, Biological, Radiological and Nuclear) surveillance and reconnaissance vehicles.
FUCHS are six-wheeled, all-wheel drive, armoured vehicles which have been adapted into a protected platform to carry out chemical, radiological and nuclear survey and reconnaissance missions.
The vehicles are equipped with automatic systems and sensors for detecting nuclear radiation as well as CBRN agents and other toxic substances.
The importance of the UK's counter-CBRN capabilities have been highlighted both in the conflict in Syria and the response to the Salisbury nerve agent incident in 2018.
Minister for the Armed Forces, James Heappey, said:
"With the military landscape rapidly changing, it has never been more important to develop our capabilities and continue to strive for innovation and adaptability."
Mr Heappey added: "This impressive contract award is a strong and positive step to evolve our traditional equipment into nimble and ground-breaking technologies."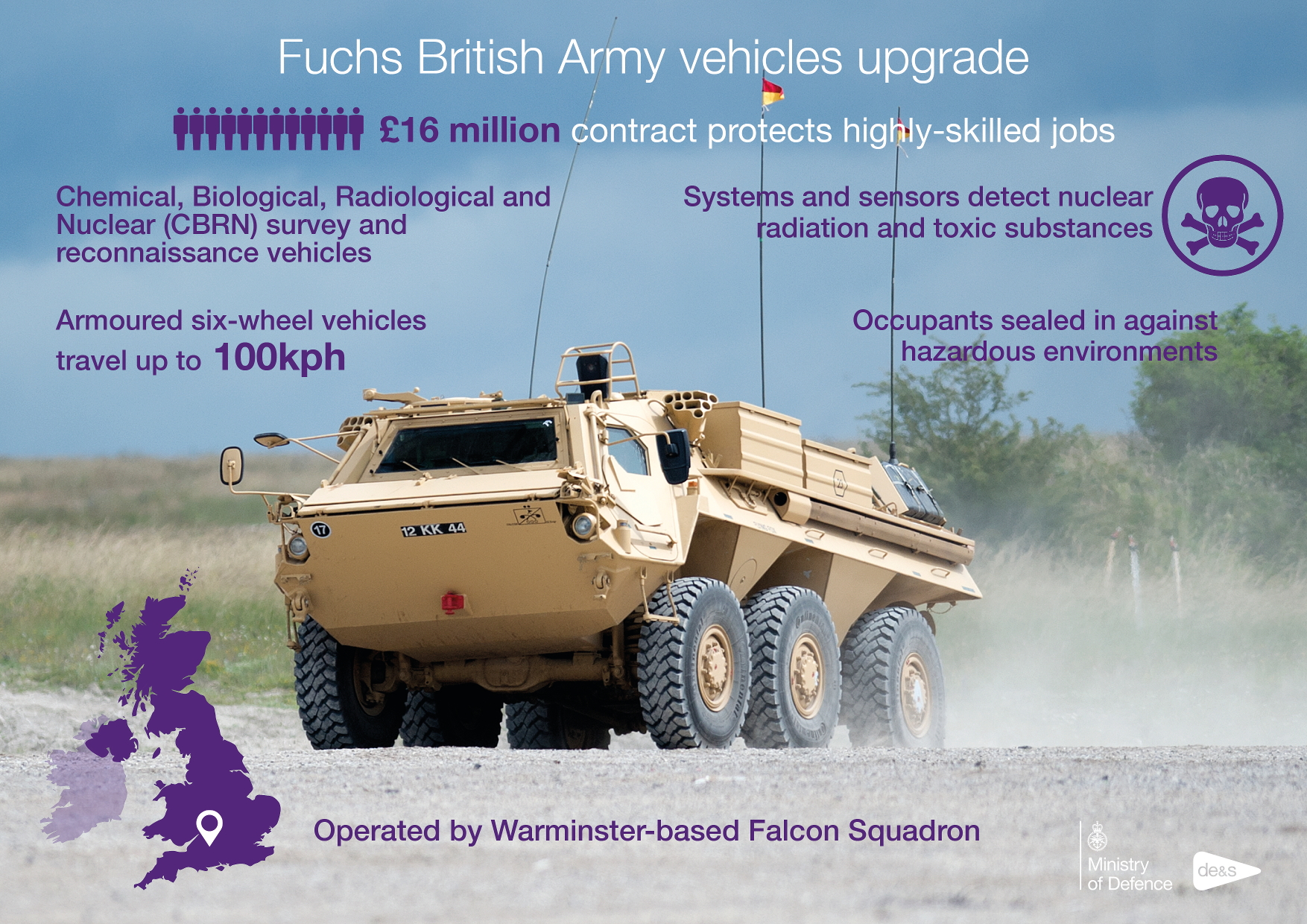 The agile vehicle, which can travel at speeds of up to 100kph, is operated by a four-strong team who are sealed in against hazardous environments and can establish the severity and location of any chemical or radiological threat.
The nine-strong fleet of FUCHS are complemented by a training simulator – also to be updated and sustained under the contract – which ensures the specialist operators within the Warminster-based Falcon Squadron can undergo regular training on site.
The contract, placed with Rheinmetall BAE Systems Land (RBSL), was negotiated by Defence Equipment and Support (DE&S) – the procurement arm of the MOD – and will protect highly-skilled jobs in engineering and manufacturing.
Dr Simon Dakin, DE&S Director ISTAR, said: "This important vehicle provides a critical element of the Army's battlefield reconnaissance and counter-CBRN capability.
"This significant contract will not only support the platform to the end of its planned service life but will also update the platform's comprehensive sensor suite, allowing it to detect the full spectrum of hazardous substances that may be encountered on the modern battlefield.
"This contract award is the result of excellent teamwork between the CBRN delivery team, users, industry and DSTL."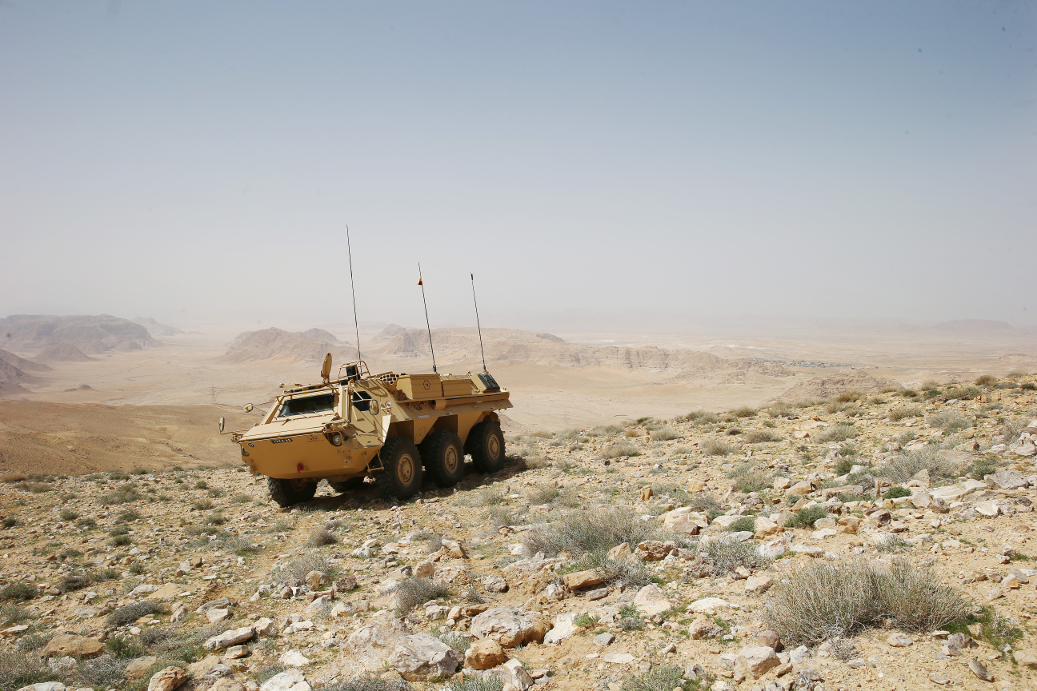 Work will see RBSL remove obsolescence issues associated with equipment and upgrade it with the latest generation of sensing capabilities to ensure that it is able to continue to perform its role successfully.
Col Tim Chapman, Assistant Head Counter-CBRN Army HQ, said: "The Army, on behalf of Defence, are pleased to welcome RBSL as industry partners to sustain our specialist FUCHS vehicles into the future.
"The provision of world class Area Surveillance and Reconnaissance (AS&R) capability is a cornerstone of the UK's Defence C-CBRN policy, which seeks to avoid the hazard, protect the force and preserve fighting power in order to maintain operational freedom of action post a CBRN incident. 
"The contract will ensure this vital capability is updated and maintained, providing reassurance to allies and partners whilst bolstering our deterrence to would-be aggressors."
RBSL will also make some planned safety modifications and implement a new support contract, which will include technical support, provision of spares and repairs, maintenance, training and design services to the end of the planned service life.
The work will take place at RBSL's facility in Telford, West Midlands, with the support of the UK supply chain.