Digital Technology Degree Apprenticeship Scheme
] As a DE&S Digital Technology Degree Apprentice, you'll follow a comprehensive framework of practical and academic training including a BSc Degree in Digital Technology Solutions. At the same time, you'll complete several work-based training placements and defence specific Cyber Security and Software Engineering related training at various locations within the UK.
You'll be on a core programme for the first year of the apprenticeship before following a more specialised course either in either Cyber Security or Software Engineering.
Cyber Security specialism
As a Cyber Security Specialist, you'll be involved in the implementation, maintenance and support of the security controls that protect our systems and data assets. The cyber teams' responsibilities ensure the equipment we purchase, and support, for the UK Forces' weapons, vehicles, ships, aircraft, communications systems etc… are secure and properly protected.
Cyber specialists ensure that security technologies and practices are operating in accordance with the organisation's policies and standards to provide continued protection. They require a broad understanding of network infrastructure, software and data to identify where threats and vulnerabilities can occur.
Software Engineering specialism
The primary role of the Software Engineer is to ensure that what's been designed, coded and delivered by our manufacturing partners performs as intended. To do that our Software Engineers need to be able to design, build and test high-quality software solutions.
This software may be for a complex weapon, a communications system, a ship, armoured vehicle, a helicopter or anything else in the huge range of equipment we supply to the UK armed forces.
As a Software Engineer you'll need to apply engineering principles to all stages of the software development process, from requirements, analysis and design, development and data requirements while ensuring our systems are secure.
All apprentices will attend Weston University College on a day release basis. For more information about the apprenticeship standard, please visit the Institute for Apprenticeships website
Structure
Years One and Two 
You'll attend a University College on a day release basis to undertake a BSc Degree in Digital Technology Solutions, while also undertaking work- based placements which will be within Defence Equipment & Support/Submarine Delivery Agency teams at Abbey Wood or other defence or military sites. There may also be the opportunity to work alongside our trusted suppliers.
Your placements on the Digital Technology Degree Apprenticeship will provide you with much of the experience that you'll need to take on a role within the business as well as evidence to meet the Degree Standard Criteria.
End of Year Two 
At this point you will have completed enough of your academic studies and spent time in both software engineering and cyber security placements for us to make a joint decision on your specialism going forward.
Years Three and Four
With a further year of study, you'll continue with your part-time degree in Digital Technology Solutions.
You'll also continue to move around the business gaining even more knowledge and experience to prepare yourself for permanent employment as a Cyber Security Specialist or Software Engineer.
End point Assessment (EPA) – towards the end of your apprenticeship you'll complete your EPA. This is an independent review and assessment of everything you've done and learnt over the last four years.
Bespoke Training
Across all four years you'll also undertake a range of defence-specific courses that are expected to provide you with knowledge of technologies that, in many cases, are unique to the UK Armed Forces.
End of scheme
DE&S has an exceptional record of finding jobs for successful apprentices. This is only the start of your career. Many of our apprentices gain promotions and continue with more specialised study such as a master's degree.
Entry requirements
Your CV must demonstrate the following essential criteria:
Candidates must have 5 GCSEs at grade 4-9 (C to A*) including English Language, Maths and Science (preferably Physics),
and
Candidates must already have, or will achieve, 3 A Levels including Maths minimum grade C, plus two others preferably including a science preferably physics or computer science minimum grade C (excluding general studies),
or;
Candidates must already have or will achieve a BTEC Extended Diploma in Computer Science at triple merit level.
or;
Candidates must already have or will achieve a T-Level in digital Production Design and Development.
Plus
Have some demonstratable knowledge of coding/programming in languages such as Python, C++, C#.
Help and support
There are several ways that you'll be supported. You'll have:
A dedicated manager throughout your apprenticeship.
Assistance from an independent training assessor.
Experienced and knowledgeable placement supervisors.
In addition to the end point assessments, you'll be assessed and reviewed every eight weeks to make sure you're progressing as expected in both your academic and vocational studies.
Selection process
When applying, you'll complete an initial online application and be required to undertake an online numerical, verbal and Civil Service judgement test.
If you pass all tests, you'll then complete a full application and upload your CV (please note the specific CV requirements on the job advert).
Finally, the top scoring candidates will be invited to an assessment centre in Bristol.
Following completion of all pre-employment checks candidates can expect to start employment in September 2023.
This scheme is due to open in late 2023.
We truly believe that DE&S is a great place to work, and we offer a unique experience for our graduates and apprentices.
We want to ensure that every single employee feels appreciated and fairly rewarded and being part of the Civil Service allows to offer a very unique and attractive benefits package including discounts on cinema tickets, sport and leisure and your weekly shop.
Discover all the ways we can help you make life easier.
"You get the chance to work, gain qualifications and progress all at the same time. DE&S is very supportive, as there are lots of people with vast amounts of experience to learn from who are always happy to help."
– Rachel, Project Professional Scheme
Turn your job into a career with DE&S. Find your place in our team today.
Frequently Asked Questions
Yes. Should you require support with the application process or require any technical assistance please contact the DBS team on 0800 345 7772.
A provisional offer informs you that you have been successful at interview subject to pre-employment checks.  At this stage we will initiate the necessary pre-employment checks, such as security clearance and medical questionnaires. If you are an external candidate, you are strongly advised not to give notice to your current employer until pre-employment checks have successfully been concluded.
Your provisional offer will inform you of the pre-employment checks.  The security checks, which are undertaken by National Security Vetting (NSV) Agency, usually take the longest to complete so you will be invited to commence this aspect once you have been informed that you have completed your interview, as this reduces delays. An invitation to begin the security clearance process is not a guarantee that you will be given an offer.
All candidates will be required to undertake security clearances to the level the role requires prior to commencing employment.  Assuming the candidate completes their security forms and references are returned in a timely fashion, and that no further checks or documents are required, we would expect the individual to be advised that we are in the position to make a formal offer of employment and start discussions to agree an appropriate starting date.
The Disability Confident scheme aims to help employers make the most of the opportunities provided by employing disabled people. It is voluntary and has been developed by employers and disabled people's representatives.
DE&S is proud to be a Disability Confident Leader.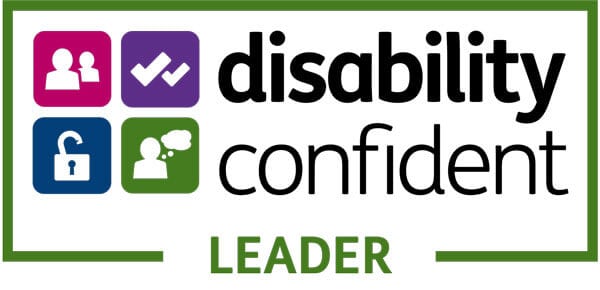 More about Defence Equipment & Support