Published 22  December 2020
More than 2,500 turkeys and 235,000 kilograms of potatoes will be delivered to UK Armed Forces deployed in the South Atlantic to keep spirits up this Christmas.
Share this story
The festive season can be a difficult time for personnel, especially those stationed thousands of miles from their families and friends.
It means some home comforts like a Christmas meal – as well as a few cards from loved ones – can do wonders in boosting morale. With that in mind the British Forces Post Office sent 134,420kg of post home and abroad in November – the same weight as an astonishing 2.2 million mince pies.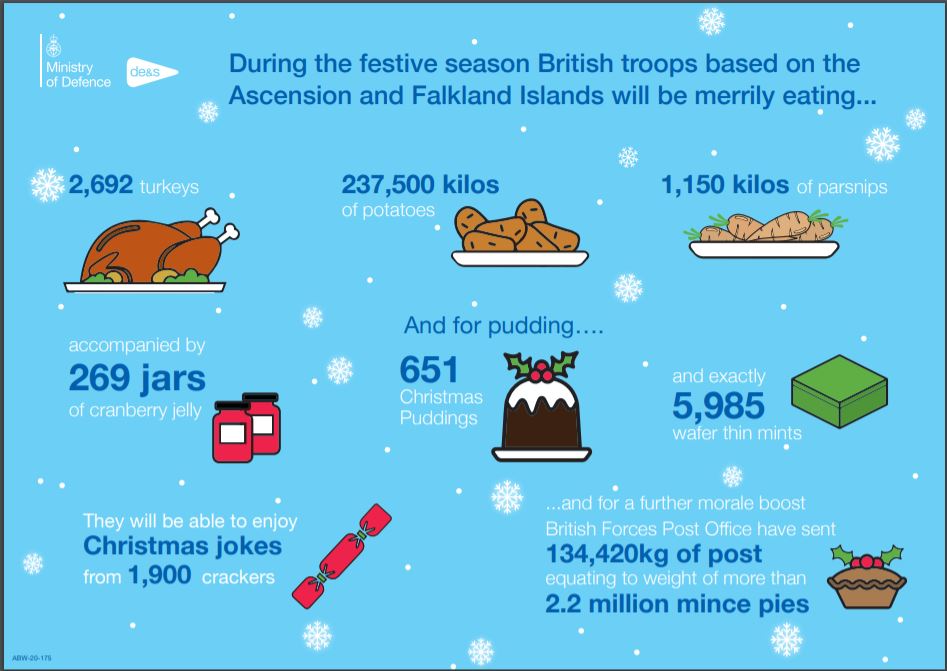 Along with the usual staples including 1,150 kilos of parsnips and 269 jars of cranberry jelly, those currently stationed in the Ascension and Falkland Islands can look forward to other tasty treats, including 651 Christmas puddings and 5,985 wafer thin mints, all of which can be enjoyed while pulling one of almost 2,000 Mistletoe and Holly Christmas crackers.
Captain Richard Whalley, chief of staff, Logistics Delivery Operating Centre (LDOC), said: "Food plays a key role in maintaining morale when you are working under trying circumstances so far from home.

"This is never truer than during the festive season when the desire to see your loved ones is understandably high. A Christmas dinner can make a big difference."
In 2017 DE&S signed two multimillion-pound deals to provide food for the UK Armed Forces deployed across the globe; a deal which is contributing to savings of up to £10 million across the next five years.
The contracts, worth a total of £133 million, consist of the UK and overseas elements of the Deployable Food Programme (DFP), a vital scheme which transports fresh, chilled, tinned and frozen food to the British Army, Royal Navy and Royal Air Force when on operations or exercises, both here at home and around the world.
The DFP ensures troops are able to perform at their very best on operation and exercises in some of the most challenging environments around the world.
Chris Bushell, Director General Land at DE&S, said: "Our contracts, delivered with our industry partners, continue to ensure our Armed Forces receive the best quality nutritional food to help them remain healthy and operationally focussed when faced with some of the most complex and demanding situations in the world."
The DFP also incorporates the criteria outlined in the Department for Environment and Rural Affairs (DEFRA) Balanced Scorecard. This is a UK Government initiative which ensures factors such as animal welfare, nutrition, ethical trading and engagement with small businesses is prioritised in the delivery of food to the public sector.