Published 29 March 2023
New innovative software that will map the Defence supply chain to identify risks and areas of fragility has been unveiled today.
Share this story
Defence Equipment and Support (DE&S) have created a supply chain management system which is the first of its kind in Defence. Developed with defence suppliers and industry partners, the software has been built by the Supplier Management and Resilience Team (SM&RT) at DE&S.
The software – called SCRIPT – imports data from a range of external sources, suppliers and internal information, providing a 360-degree view of the supply chain from the financial health of a supplier to its environmental and social governance (ESG).
Andy Start, Chief Executive at DE&S, said:
"Our role is to equip our armed forces with the edge to protect our nation. This new technology means that we have even greater supply chain visibility, insight and intelligence. We've worked across UK Defence to develop an integrated solution so that we can continuously monitor and scan for threats, risks and fragilities and be ready to respond quickly to new opportunities and challenges."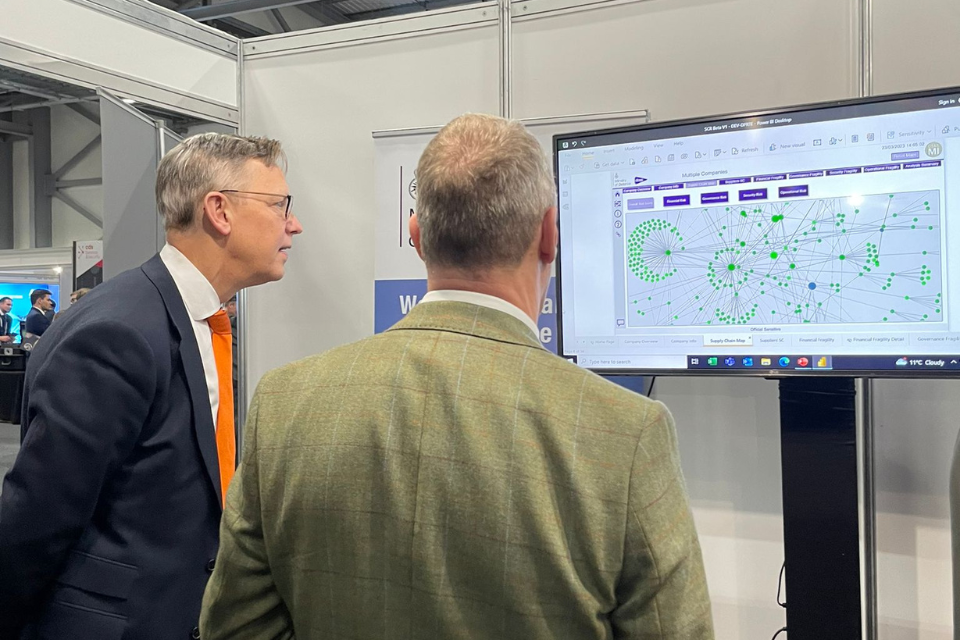 Our CEO, Andy Start, is shown the software at DPRTE 2023.
The software maps the supply chain to small and medium sized enterprises (SMEs), through prime contractors. If risks are identified, action can be taken to support those vulnerable companies with a unique capability within the supply chain that cannot be delivered by other suppliers. It also provides information on where suppliers are based and to track the social, economic and environmental impact of projects.
David Carter, Director of Supply Chain Management at Raytheon UK, said:
"Raytheon UK has worked collaboratively with the DE&S team to share knowledge of the tiers of the supply chain. By working together we have developed a more detailed picture than working individually. While the output is a 'work in progress', we remain committed to improving it over time. The tool provides a user-friendly way to jointly identify, assess and mitigate risk. Great progress has been made and, as more data is loaded into the tool, DE&S will also be able to assess the risks that span multiple programmes."
The supply chain management system was unveiled by DE&S today (Wednesday 29th March) at the Defence Procurement Research Technology at Exportability (DPRTE) event at Farnborough International Exhibition & Conference Centre.