Published 13 May 2021
Chinook is the UK Armed Forces only heavy-lift helicopter and is deployed in both military and domestic situations.
Share this story
A £1.4 billion programme to start modernising the UK's Chinook fleet over the next decade has been agreed with the US Government.
The deal negotiated by DE&S will see British forces benefit from 14 of the latest iconic heavy-lift helicopters.
The order for the new aircraft signals the commitment made in the recent Defence Command Paper to invest more than £85 billion on military equipment over the next four years to reform and renew our Armed Forces.
Proven in battle and operated in every major conflict since the Falklands War, the Chinook is a highly-versatile aircraft. It can operate in a diverse range of environments, from the desert to the Arctic, and transport up to 55 personnel or ten tonnes of cargo.
With a top speed of 300kph, the new H-47(ER) will have a range of new capabilities, including an advanced digital cockpit, a modernised airframe to increase stability and improve survivability, and a digital automatic flight control system to allow pilots to hover in areas of limited visibility.
Defence Secretary Ben Wallace said: "From assisting emergency repairs to UK flood defences, providing vital logistics support during Covid-19 to its warfighting role on Afghan battlefields, the Chinook has been the workhorse of the Armed Forces for over 40 years.
"The cutting edge H-47 (ER) will be at the forefront of our specialist requirements in dealing with threats and logistic support. Our £1.4 billion investment will mean we will be one of very few air forces with this capability."
The 14 aircraft will be purchased from the US via a Foreign Military Sale and the new helicopters will be based at RAF Odiham, the home of the Chinook fleet.
DE&S Head of Helicopters 3, Air Commodore Paul Rose, said: "This announcement signifies a fantastic achievement on the part of DE&S and our colleagues across the Ministry of Defence, United States Government and Department of Defense, who have worked together to deliver this important element of the Chinook Capability Sustainment Programme.
"We look forward to further developing the capabilities of the Chinook Force, giving our customer the best possible equipment to meet their needs."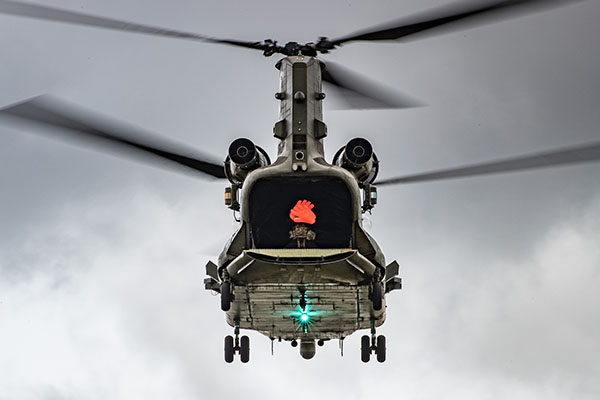 In addition to traditional warfighting roles, the Chinook supports a wide variety of specialist tasks, including the Military Aid to the Civil Authorities.
Most recently, it was part of the Joint Helicopter Aviation Task Force which transported NHS paramedics, equipment and patients during peak of the COVID-19 pandemic.
Introduced into service in 1981, the 40th anniversary of the first Chinook was recently celebrated with a new commemorative colour scheme. The oldest of the fleet will be retired, enabling investment in the new aircraft to modernise the UK's heavy-lift capability.