Published 19 July 2021
From crocodiles in the lake to James Bond style rocket launchers in the atriums – there have been many weird and wonderful rumours about MOD Abbey Wood.
Share this story
Although the reality is not as dramatic, the vital work that has taken place at the site for the last 25 years has ensured the UK's security and prosperity.
Working with the biggest defence companies in the world and collaborating with our international allies from governments and the Armed Forces, the site, which pre pandemic had an 8,500 capacity, has been a hive of activity.
The civil servants and military colleagues who have worked at the Filton site have provided our military with everything from boots to fighter jets over the years and have continually innovated to ensure they maintain the edge on the battlefield.
Not only has the site has been one of the region's biggest employers it has also become a sanctuary for a range of wildlife including Canadian Geese and bees.
Each year our staff at DE&S, the procurement arm of the MOD, still deliver a programme of work worth over £10 billion, delivering in excess of 80% of the MOD's largest and most complex equipment projects and supporting more than 88,000 jobs.
When our Armed Forces are involved in conflict, as they have been in Iraq and Afghanistan, teams have worked under immense pressure to negotiate contracts for urgently needed equipment to the front line.
And it's an exciting time with technology development dictating we now have to work with industry to examine innovative developments in the world of robotics, cutting-edge radars and laser weapons.
DE&S CEO Sir Simon Bollom said:
"I'm incredibly proud of the diverse workforce at MOD Abbey Wood who are committed to supporting our Armed Forces.

"It's a very exciting time in Defence and we are enjoying the challenge of working with industry to innovate and deliver cutting-edge equipment at pace to stay one step ahead of our adversaries, while also delivering best value to the taxpayer.

"With so many interesting roles, opportunities and projects available, including apprentice and graduate programmes, I truly believe MOD Abbey Wood is one of the very best places to work in the region."
Leader of South Gloucestershire Council and Cabinet Member for the Local Economy and Devolution, Cllr Toby Savage added:
"Abbey Wood is the largest employer in South Gloucestershire and is a valued asset to our district, bringing thousands of high-skilled jobs and contributing to our vibrant local economy.

"We are proud of the many years of history that the MOD has here in South Gloucestershire, with many employees living in the area and being integral to our local communities."

It was a colossal task to build MOD Abbey Wood, with workers having to install 30,000 light fittings, 2,600 doors to 13 buildings including the unique croissant-shaped structures that appeared on the 120,000 sqm site and within its 3km (1.86 mile) perimeter.
To avoid becoming a faceless base a decision was taken to install a lake as protection rather than a high fence. Filled with 30 million litres of water, the lake also acts as flood defence and a haven for local wildlife including cormorants, newts and kingfishers.
Going forward DE&S will play a key role in protecting the planet and aim to have net zero carbon emissions by 2040. To help achieve this we will embrace smart power usage, identify green energy solutions, offset the carbon footprint of our operations and reduce reliance on fossil fuels.
By the time the site, chosen ahead of Solihull, Sunderland and South Wales, was officially opened by Her Majesty the Queen on July 19, 1996, MOD Abbey Wood was regarded as an asset for the region and as a welcome boost to the local economy and jobs, veteran local journalist Tim Davey says.
Tim, who worked on the Bristol Post and Western Daily Press for over 40 years, remembers:
"People saw it the same way others saw MI5, GCHQ or like the UK's version of the Pentagon.

"That is why weird stories abounded, such as there being crocodiles in the lake and missile launchers under the atriums.

"We heard about all sorts of staff facilities such as a dentist, a swimming pool, even a supermarket and to this day I don't know how many are true – if any!

"These found their way into the news – people wanted to believe the myths. At the time it was a scheme of huge magnitude, very futuristic and had a mystery about it.

"There was some grumbling locally around the planning consents and, as I recall, from anti-war protesters, too. However, I think in general people saw it then – and now – as a big plus for the community."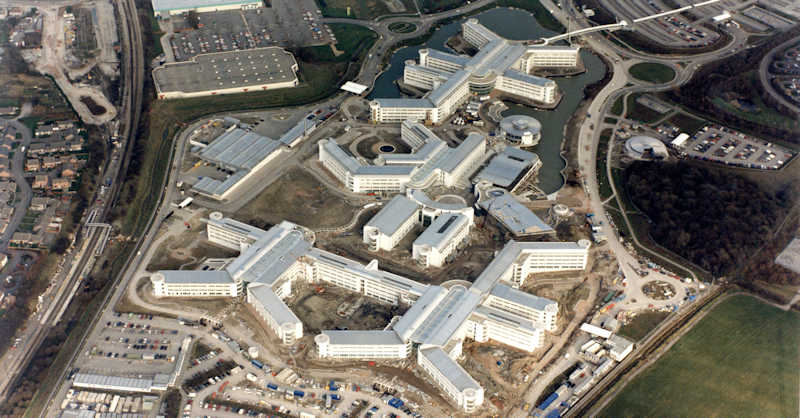 Much of this intrigue centred around the buildings futuristic design, a concept developed by local architect John Rudge who was determined the project complemented rather than alienated the surrounding community.
While incorrect rumours of an Olympic swimming pool were rife, it is true to say the site does feature a gym, hairdresser, shop, coffee stations and restaurant.
John, of the Royal Institute of British Architects (RIBA), said:
"As an architect it was phenomenally exciting. Back then it was the largest project that was available for design and construction in the whole of the UK.

"For us, the key factors were very simple. We wanted to build something visually stunning, with ground-breaking energy and environmental performance that met stringent energy and carbon dioxide targets.

"The look of the site was a major factor in making it feel like part of the local community. That is why we battled so fiercely against there being a fence around the lake, which we believed was a good enough defence – and we won the argument."
Initially, like all large-scale projects, there was some local opposition, and in truth many staff within the MOD were not keen about the development as it meant uprooting their families and moving to this unknown territory in the South West.
Pete Ginnever, who still works on the site today, had the job of 'facilitating' the move for staff who were being transferred from sites including Portsmouth, Weymouth, Bath and London.
"It's fair to say people were reluctant to move. You can understand there was an awful lot of uncertainty. Thankfully people responded to the working environment very well."
Helen Wheatley from the Cotswolds, James Millar from South Gloucestershire and Sean Cutler from North Somerset all have fond memories of coming to work at the site in the 1990s and have been so happy they are still here!
"When you arrived, there was definitely a bit of a 'wow' factor. The fountains were going and all the buildings were glistening and shiny," Helen said.
James said: "It was a completely different working environment for the MOD. It was open plan, computers with email, and you were sat next to your boss!"
Sean added: "When I arrived for my interview it was a mud bath really. When I arrived having got a job I was astounded by the change. It was almost space age!"
Abbey Wood Fast Facts
Construction: begins September 1993
Cost of site: £254 million
Size of entire site: 40 Hectares (98 acres) the equivalent of 50 football pitches
Volume of water in the lake: 30 million litres
Original capacity: 5,500
Usual capacity (pre Covid): 8,500
Perimeter of the site: 3km (1.86 miles)
Trees planted: 5,000
Doors: 2,600
Light fittings: 30,000
MOD Guard Wayne Blake has seen much over the years and but also one of the few who gets to enjoy the site at its most tranquil.
"Abbey Wood is a different beast at night. It's a wildlife sanctuary, you get badgers, foxes, rabbits and even deer. I have seen the space station going over and meteor showers – it's an amazing site."
And as someone who has witnessed many things over the years including searching for a missing pet skunk and student japes Wayne has many stories to tell.
"Many if the stories aren't for a public audience but I will say that just before the Queen visited a muddy bank was covered in hessian bags and painted green.

"Many of the guards refer to one of the original buildings as 'Spooky Farm' because there have been sightings of ghosts."
Stanley Farm
Stanley Farm, tucked away in the south-east corner of the Abbey Wood site, was part of the 98 acre plot purchased by the MOD in 1991. It was built by Thomas Proctor for the bailiff of Wallscourt farm in the 1800s and during its life housed a piggery and stables,and was even used as student accommodation. After being pilfered by metal thieves and standing derelict for many years the farm was in a sad state when the MOD stepped in, but as a listed building it could not be demolished. Initially the stables were offered to a local disabled riding school, but, after they declined, the decision was taken to renovate Stanley Farm to its former glory. With the help of traditional stonemasons, ironworkers and carpenters, the farm was transformed into an on-site management and training centre, Over the years, several security staff have reported seeing ghosts and hearing noises. Some of those that believe Stanley Farm is haunted have renamed it 'Spooky Farm'.
Wildlife
MOD Abbey Wood is surrounded by a surprising amount of wildlife. Splatts Wood is a small beautiful and peaceful area which is managed as a nature reserve for biodiversity. It was once part of a much larger area of semi-natural ancient woodland. Evidence suggests the woods date back 400 years with some trees estimated to be more than 150 years old. As well as a resident community of small mammals, woodland and water birds there maybe even a chance to spot something rarer including a kingfisher, nesting kestrels, a heron, bank voles, grass snakes and possibly even a visiting cormorant.
What local leaders/politicians say about MOD Abbey Wood:
Jack Lopresti, MP for Filton and Bradley Stoke:
"It is no secret I am passionate about defence having served as an Army reservist in Afghanistan. The hard work undertaken at MOD Abbey Wood over the past 25 years was, and continues to be, crucial to the success and reputation of our Armed Forces. I look forward to it remaining an asset to our community for many years to come."
Minister for Defence Procurement, Jeremy Quin, said:
"Congratulations to all at MOD Abbey Wood for everything they have achieved over the last quarter of a century.

"With significant investment in Defence and the need to constantly update to meet the threat, we look forward to the next 25 years of the employees on the site supporting our servicemen and women across the globe."