Published 02 December 2022
The Royal Navy's Merlin helicopters have been upgraded so they can embark on and operate from vessels anywhere in the world, extending the life of the platform to 2030.
Share this story
In total,19 Mk3 aircraft and 6 Mk3a have been upgraded to the Mk4/4a standard to ensure the Commando Helicopter Force (CHF) have the capability to provide air support to 3 Commando Brigade Royal Marines and other UK forces.
CHF, the wings of the UK Commando Force, also support the Carrier Strike Group, carry out Search and Rescue operations and can enact counter narcotics and anti-piracy operations, maritime security and hurricane relief support if required.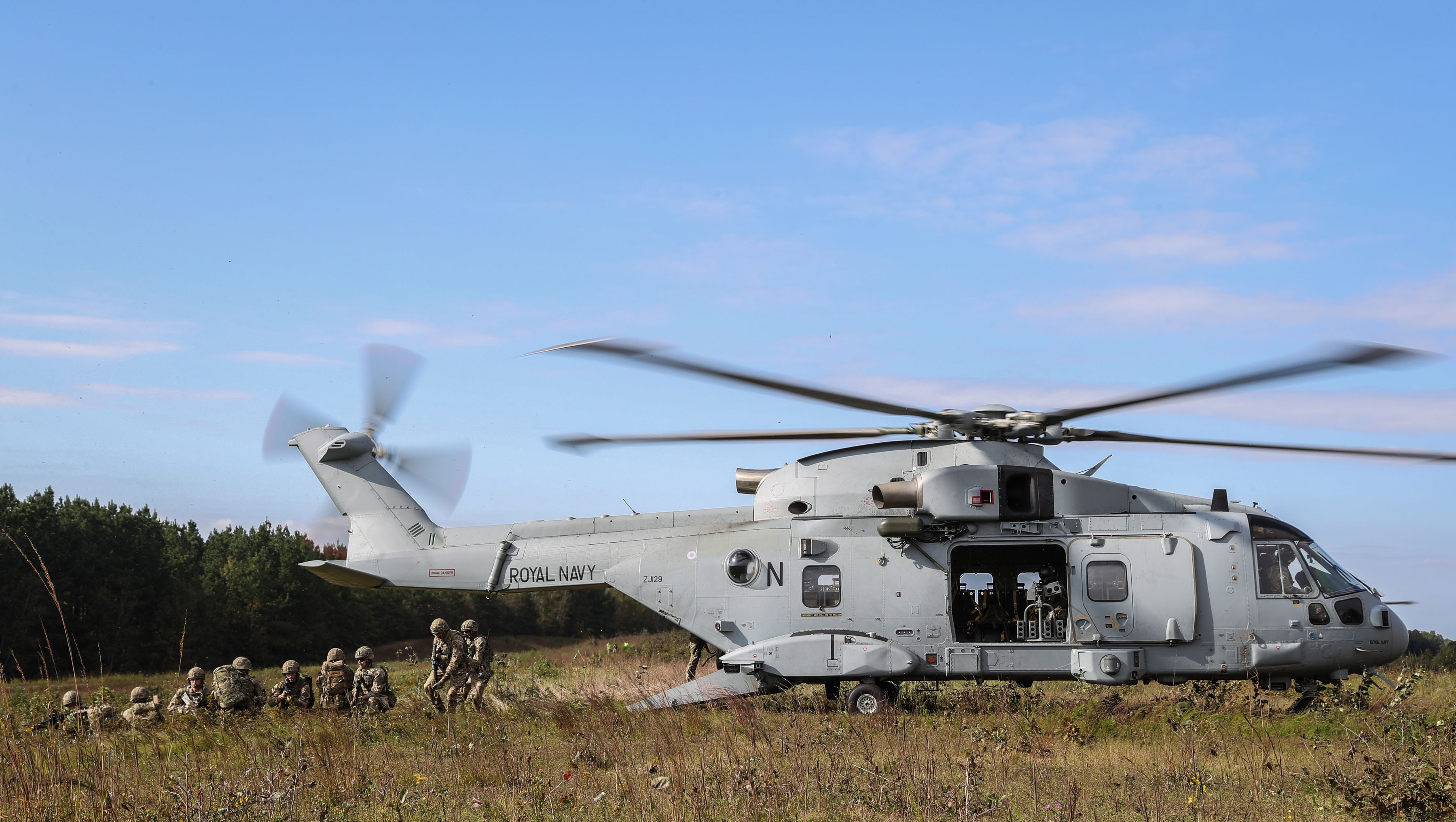 Key upgrades include a new folding main rotor head and folding tail which allows two of the aircraft to fit on just one of the carriers' aircraft lifts, and an improved defensive aid suite with a system that warns against and locates hostile laser guided weapons. These upgrades mean that many consider the Merlin Mk4/4A to be the worlds most advanced amphibious battlefield helicopter.
The 25 aircraft have been updated by Leonardo Helicopters under the Merlin Life Sustainment Programme (MLSP) negotiated by DE&S.
Captain Nick Sargent RN, the Merlin Team Leader at DE&S said:
"Delivery of the Merlin Mk4/4A and the associated Synthetic Training Environment within budget has been a challenging programme for the combined enterprise but has resulted in increased Availability, improved Capability and a sustainable world beating helicopter for UK Defence.  I am proud of the collective team achievements through this demanding programme."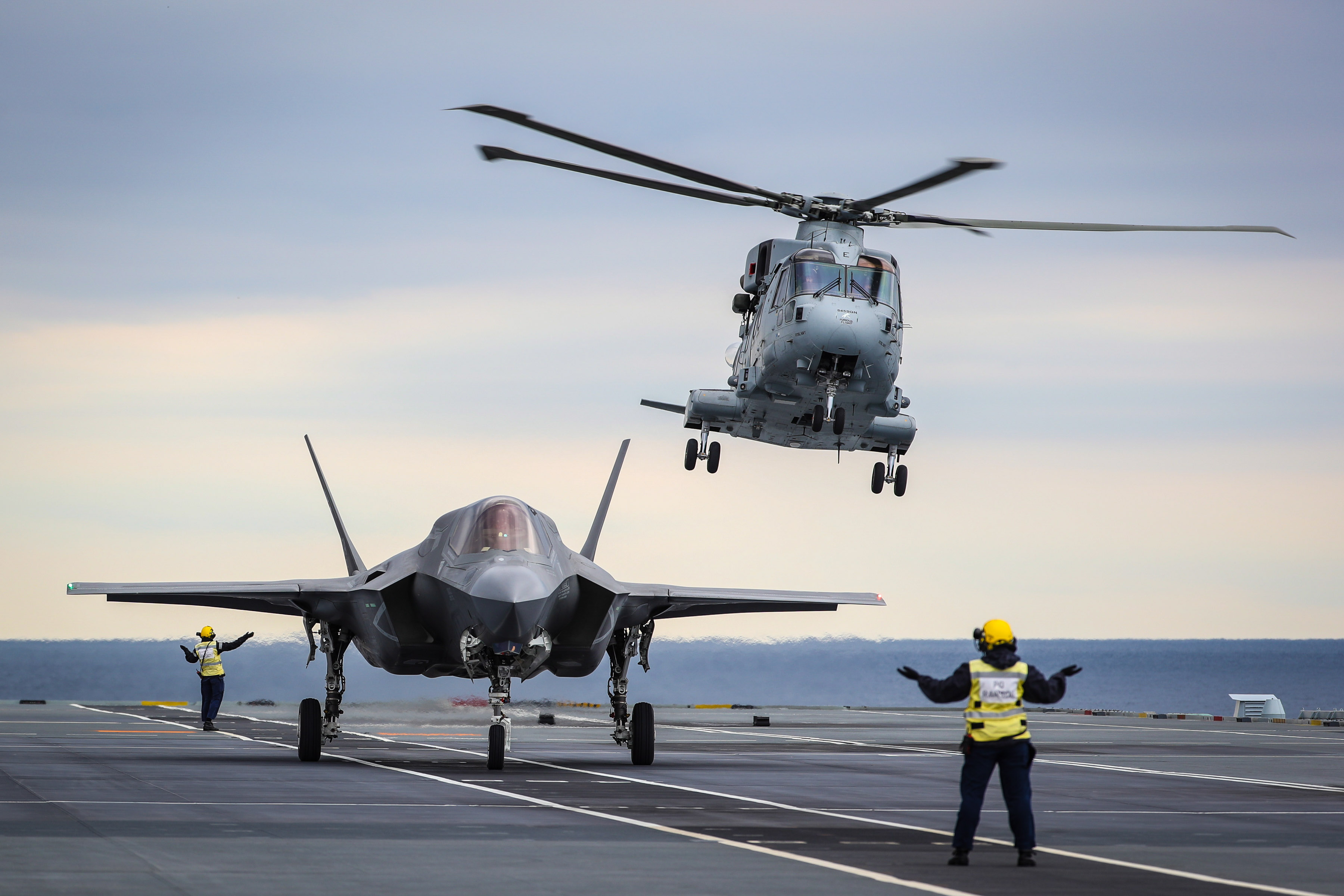 Additionally, a synthetic trainer includes two new pilot simulators, a procedures trainer and a rear crew training device, employing augmented reality systems.
For the first time, this is co-located at RNAS Yeovilton with CHF, providing a step change in training capability for new aircrew and front-line mission training.
Merlin is cleared to operate from the Royal Navy's aircraft carriers, amphibious assault ships, Type 23 frigates and will operate from the Type 45 destroyer.
Colonel Mark Johnson, Royal Marines, Commanding Officer of CHF, said:
"The Merlin Mark 4 – colloquially known as the Commando Merlin – is proving to be a game-changing capability upgrade for the CHF. It has already demonstrated itself to be a critical enabler of the Royal Navy's strategic outputs – contributing to the security of the UK, enabling the Carrier Strike Group to deliver the F-35 from the maritime, and delivering the United Kingdom's Commando Forces in the littoral.

"Furthermore, it has already successfully deployed across the globe, and in all environments. I very much look forward to leading the development and integration of this helicopter into the Royal Navy and Royal Marines in 2023 and beyond."
MLSP is delivered through a single source contract with Leonardo Helicopters.
Adam Clarke, Managing Director of Leonardo Helicopters UK, said:
"MLSP has seen industry and government collaborate closely, working together to develop ideas and ensure maximum capability for mission success.

"The collective efforts of all stakeholders will provide CHF with a high-end Merlin helicopter, with new cockpit avionics, and limited ship optimisation, supplemented by state-of-the-art synthetic training equipment, to support its missions."