Published 17th May 2019.
Former Olympian brings two-day Inspiring innovation event at MOD Abbey Wood to a close with rousing speech
Share this story
Olympic athlete Kriss Akabusi MBE provided a high-octane finish to the two-day Inspiring innovation event at MOD Abbey Wood as he challenged DE&S' workforce to dream big.
"I'm going to speak to you about the thing I love most – and that's me," he told the packed audience which immediately erupted.
Best known for his achievements as an athlete and for presenting BBC 1 favourite Record Breakers, Kriss served in the British Army for 15 years with the Royal Corps of Signals and Army Physical Training Corps where his sporting ability was first identified.
And while Kriss often had the audience in stitches – those bold enough to arrive late certainly wished they hadn't – he spoke movingly about his youth, parents, love of athletics and those that had inspired him to be the best he could be, including fellow athlete Roger Black.
"I'm a firm believer that all of us know more than one of us," he said.
"You can get 100 people in a room and looking at the same stuff and bring a different perspective because we all see the world that little bit differently. Innovation is in our diversity – be brave and bring your stuff to work.
"It is very easy to operate in the 21stcentury on 20thcentury information. You saw it at school, you saw it at college, but you have to put stuff aside and dare to operate in the here and now with those 100 people in the room. Life is about we see things and we all see things that little bit differently."
"When we talk about innovation it's not down to the innovation department, down to one person, it's down to us – it's teamwork – that's what works"
He outlined this beautifully by explaining the impact Roger Black had on British athletics when he burst onto the scene and challenged the norm.
He said: "For us it was about getting on the plane, you wanted to go to the (Olympic) games, get your nice GB jacket, feel good about yourself – we left winning to the big boys. Roger didn't read the script – he went to the European Championships aged 19 and won.
"It was his ignorance and naivety that bust open the possibilities before us. From then on none of us could accept that wining was getting on the plane. From then on the names roll off the tongue – (Linford) Christie, (Sally) Gunnell, (Colin) Jackson, (Steve) Backley, (John) Regis, (Tessa) Sanderson and (Fatima) Whitbread – a whole litany of athletes who wanted the same sort of action.
"That's why it's really important when we talk about innovation that you have people who have not seen it before and not been immersed in the 'it's how we do stuff around here" attitude.
"They don't worship the model, they challenge things. You need new blood, you need new ways of seeing the world to come in and challenge your environment so you can reach new horizons."
For Kriss, Roger, John Regis and Derek Redmond that 'new horizon' was a belief that they, working as a team and being innovative, could topple the unbeatable Americans in the 4x400m relay final at the World Championships in Tokyo in 1991.
"There's a very thin line between confidence and complacency and the Americans got the wrong side of the line," Kriss said.
"Little did they know we were so focussed on this goal that we were prepared to innovate, take risks and develop a plan. That was to put the very best runner first – totally against convention – but we had to do something different, put the Americans under pressure and make them think."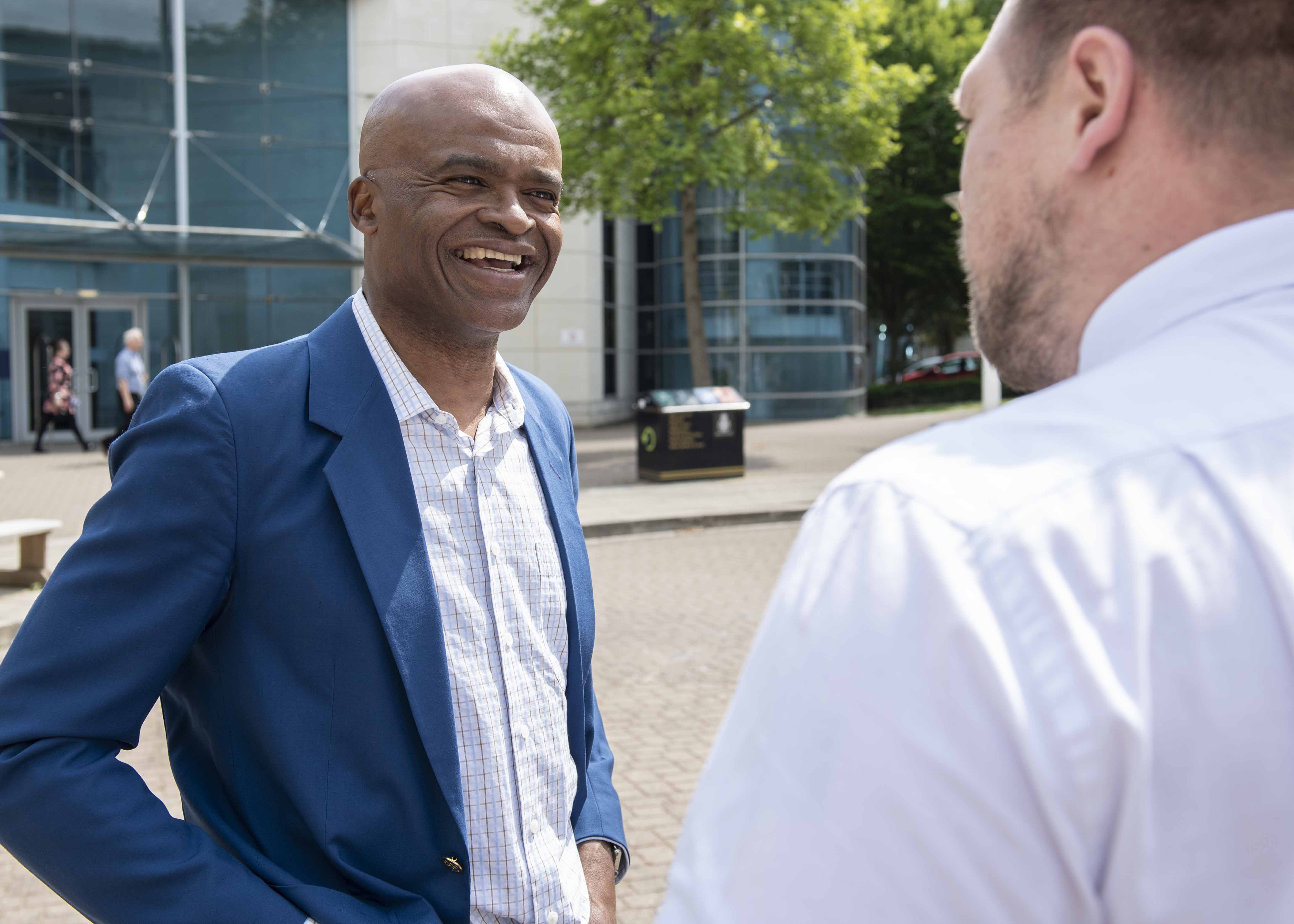 As the audience stares up at the projector screen to watch the race famed commentator David Coleman bellows "has the British gamble failed?" before Kriss digs deep and overtakes his American counterpart to secure an unbelievable gold and the audience erupts as though it was live.
As the noise died down, Kriss adds: "When we talk about innovation it's not down to the innovation department, down to one person, it's down to us – it's teamwork – that's what works.
"When we talk about innovation and creativity we must always keep hold of what we are about, and not lose sight of our unifying dream – the anchor that keeps us together. What are you trying to achieve at DE&S and how will innovation and creativity help you achieve it?
"We have a great history in Defence of creativity and innovation but we can't live in the past, we can't do the things we have always done. We have to dare to take the best elements out of the past and then collaborate together in our present for our preferred and better future."
Kris Akabusi won three medals at the Olympic Games (Silver at Los Angeles in 1984 – 4x400m relay), (Two Bronze at Barcelona in 1992 – 400m hurdles and 4x400m relay) as well as numerous other major medals but is best remembered for running the dramatic final leg alongside Roger Black, Derek Redmond and John Regis and bringing home Gold in the 4x400m relay in the 1991 World Championship in Tokyo.