Published 11 June 2021
Giant cargo aircraft delivers new Poseidon simulator to RAF Lossiemouth
Share this story
A giant Antonov AN-124 cargo aircraft touched down at Glasgow Prestwick Airport on Friday (June 11) to deliver the second Operational Flight Trainer (OFT) which will be based at RAF Lossiemouth, the home of the UK's submarine-hunting Poseidon MRA Mk1 Maritime Patrol Aircraft fleet.
Weighing more than 9.5 tonnes, the simulator is one of two being installed in a £100-million strategic facility built by Boeing Defence UK and Scottish firm Robertson Construction.
It was offloaded from the specially chartered Antonov AN-124 – which took off from Tampa, Florida – and is being transported by road to Lossiemouth, where it is due to arrive late on Friday evening (June 11).
The simulators and facility managed by Defence Equipment and Support (DE&S) are part of a £470m UK Government investment in the coastal RAF base in Moray, north-east Scotland.
Mark Corden, the Project Manager for Training in the Poseidon delivery team at DE&S, said:
"The simulators will provide specialist training for RAF pilots who will be flying the Poseidon MRA Mk 1. They are exact replicas of the aircraft cockpit and will incorporate very high-definition visual display systems to enhance the training benefit.

"They are also designed to link up with the mission simulators used by the rear crew, allowing them to train together. It's an essential part of making sure that the aircrew are fully prepared to operate the growing fleet of aircraft.

"Although this is the second Poseidon simulator to be delivered to the UK, it is still very exciting to see it arrive in Prestwick on the Antonov. Its size makes it too big to be transported by any RAF aircraft. The Antonov is one of only a few aircraft in the world large enough to carry it."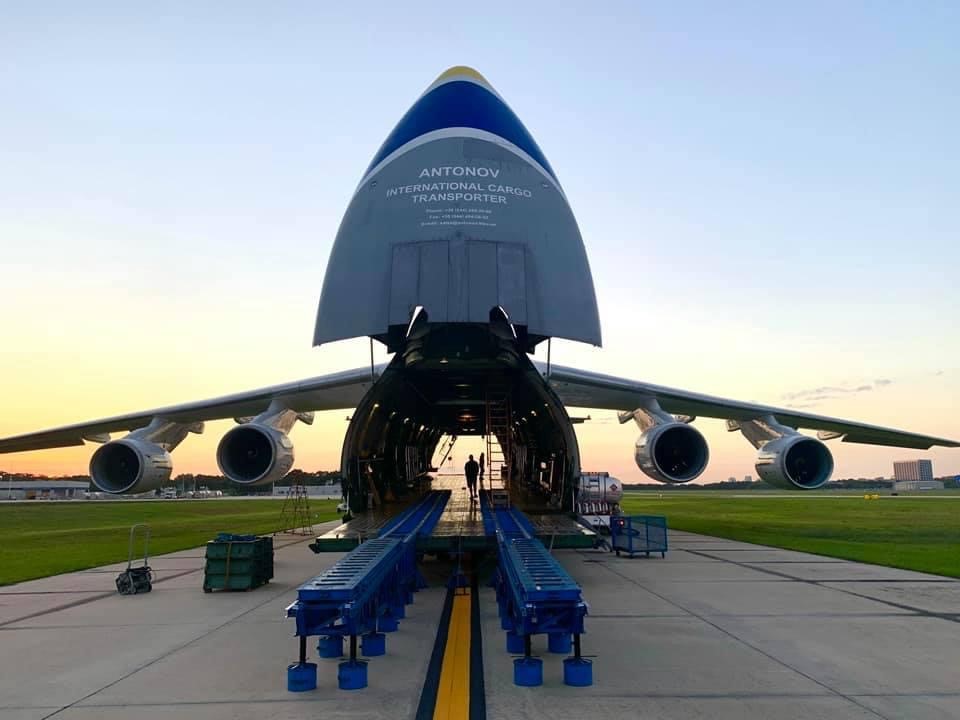 Known as an OFT, the simulator is provided by Boeing but originally manufactured by CAE. It is 7.26m long, 4.39m wide, 3.71m high and weighs 9,591kg (9.5t).
Two OFTs and two rear-crew simulators will be installed in the new strategic facility at RAF Lossiemouth, along with part-task mission crew trainers, virtual maintenance trainers and electronic classrooms.