Published 29 April 2020.
DE&S staff are have played a vital role in creating and supporting the launch of NHS Nightingale Hospital Bristol
Share this story
Defence Equipment & Support (DE&S) staff have played their part in the impressive team effort to get the new NHS Nightingale Hospital Bristol up and running in less than four weeks.
The facility inside the University of the West of England's (UWE) exhibition and conference centre officially opened on Monday and could provide up to 300 intensive care beds for coronavirus patients, if local health services need them.
The new facility is being managed by North Bristol NHS Trust and is one of seven Nightingale hospitals to be set up around the country as part of a massive NHS effort to respond to the greatest global health emergency in more than a century.
Making the hospital a reality has been a tireless effort involving 2,000 volunteers from various organisations and Government departments, plus more than 100 companies.
"Everyone is coming together with completely different skillsets to get a hospital up and running within a really short amount of time"
The Army has been heavily involved in the project logistics and 17 men and women from DE&S – the procurement arm of the Ministry of Defence based near UWE at Abbey Wood – have been seconded to roles including project management, human resources, equipment procurement, clinical management support and administration.
Charlotte Nodwell has been using her skills as the casework transformation lead at DE&S in her role as the Nightingale's HR project manager, ensuring staffing needs have been met in time for the opening.
She said: "I was keen to be part of anything that was helping with this national issue. Everyone is coming together with completely different skillsets to get a hospital up and running within a really short amount of time.
"It's nothing I've ever done before, so from a personal point of view it's a challenge. It's also a really unique experience and a great opportunity to be part of something that's really important."
Ieuan Davies usually looks after simulated Army training systems. Now he is working for the Department for Health and Social Care: "So far, I've been buying syringe drivers and volumetric pumps to create ICU beds in the new Nightingale hospitals," he said. "It's been an honour to be asked to use the skills developed in DE&S to be a part of the national effort."
If needed, the Nightingale can now be used to increase capacity for health trusts across Bristol, Gloucestershire, North Somerset, Bath, North East Somerset, Wiltshire, Somerset and South Gloucestershire.
The scale of the temporary hospital is reflected by the fact 10,400m2 of flooring has been laid, seven miles of copper pipework and 25 miles of data cables installed, plus 5,656 double plug sockets fitted.
Kim Surry is normally a business manager at DE&S. Now she is working as a personal assistant to the Nightingale's chief medical officer and chief nurse.
She has also been involved in booking accommodation and organising inductions for people who will be working at the hospital.
"The roles I have done during my 11 years in the Ministry of Defence have prepared me for doing this important role on the NHS project," Kim said.
"I was a member of the Executive Assistant Forum at Abbey Wood and I have been on training courses focusing on assertiveness and excellence in customer service, so those experiences have also helped me."
Felix Wright, an executive assistant in Land Equipment at DE&S, has been redeployed to support the Nightingale's clinical management team.
He said: "It has been intensely rewarding, though sometimes challenging, to be able to use the skills I've developed at DE&S to support the national effort.
"From a personal perspective – as nice as working from home can be – it has been great to rediscover a daily working routine after a long month."
Only a small number of beds have been opened at the Nightingale initially but, as the clinical picture and patient requirements evolve, the hospital will be able to adapt accordingly.
At its potential maximum of 300 beds, it would have six times the intensive care capacity of a typical large hospital in the South West.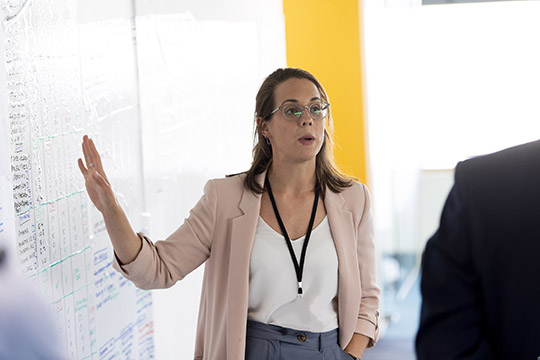 Margaret Reed, from the DE&S Typhoon delivery team, is working there in admin support: "I decided to volunteer as I wanted to be part of the solution to the crisis we find ourselves in. It has been challenging, but like stepping into a fast running river, you quickly learn to swim along with the tide."
Hayley Davies, another DE&S employee, has gone from business support in Combat Air to health and wellbeing support at the Nightingale: "I'm proud to be supporting our NHS and grateful to DE&S for giving me this opportunity," she said. "Everyone is working incredibly hard and a lot of work has gone in to the Nightingale Hospital in such a short space of time. However, I really do pray that we don't ever have to use it."
Julie Jordan, deputy HR director for the Nightingale, said: "We are delighted to have been working in partnership with the volunteers from DE&S at Abbey Wood who have supported us in our human resources and administration teams.
"Their expertise and enthusiasm have been invaluable in helping us to get to where we are today – ready to care for patients with coronavirus if we are needed."
Find all the latest information and government recommendations about COVID-19 here: www.gov.uk/coronavirus