Published 15 September 2023
Share this story
Our CEO has delivered a wide-ranging, insightful and optimistic keynote speech to a packed audience at DSEI 2023, the UK's biggest defence and security exhibition.
In his first DSEI keynote, Andy spoke of the multiple threats we face, what DE&S has delivered for Ukraine and UK Armed Forces, and detailed our Today, Tomorrow, Together strategy.
He explained our operational model redesign including the innovative new control centres, and our collective determination to become a more agile, efficient, integrated and collaborative business.
"The pace of what we've delivered is really significant," Andy said of our support to Ukraine. "We've gifted in kind over a billion pounds worth of equipment. But even more exciting we've acquired over £1.5 billion of new capability from industry representatives, many of whom will be here at the show.
"This year we've added six more F-35 to the UK inventory. We've put 44 AJAXs into the hands of the Army. We've delivered the 22nd A400M, the final A400M in the UK fleet.
"We've enhanced the Navy by delivering RFA Stirling Castle and RFA Proteus. Overall, the scale of delivery is huge. More than 2,600 contracts, 550 programmes, and collectively with our industry partners, our overall performance of delivery is good."
Andy went on to outline our strategy and the ongoing Op Model redesign, which will revolutionise how DE&S works to protect our nation and help it prosper.
Andy added:
"Within the DE&S Strategy, we align our mission to that 'protect and prosper' top level mission of defence, to make sure that our Armed Forces have the difference; have the edge to be able to deter against our adversaries.

We underpin that mission with a strategy that's very simple, and it's summarised in three words: 'Today, tomorrow, together'."
"Within DE&S, we're also driving significant changes to the way that we operate. We've had over 1,000 people from across defence, including hundreds from industry involved in co-creating what a powerful and more effective DE&S will look like.
"We have designed a DE&S that will give a far better integrated output. We're changing the way we operate from a series of vertical stovepipes in the four domains of land, sea, air and joint, to an organisation that has a coherent front door and gateway that considers the needs of our international allies.
"It considers the needs of exports, it considers the operational needs of our frontline commands, and it considers the innovative ideas and concepts of industry."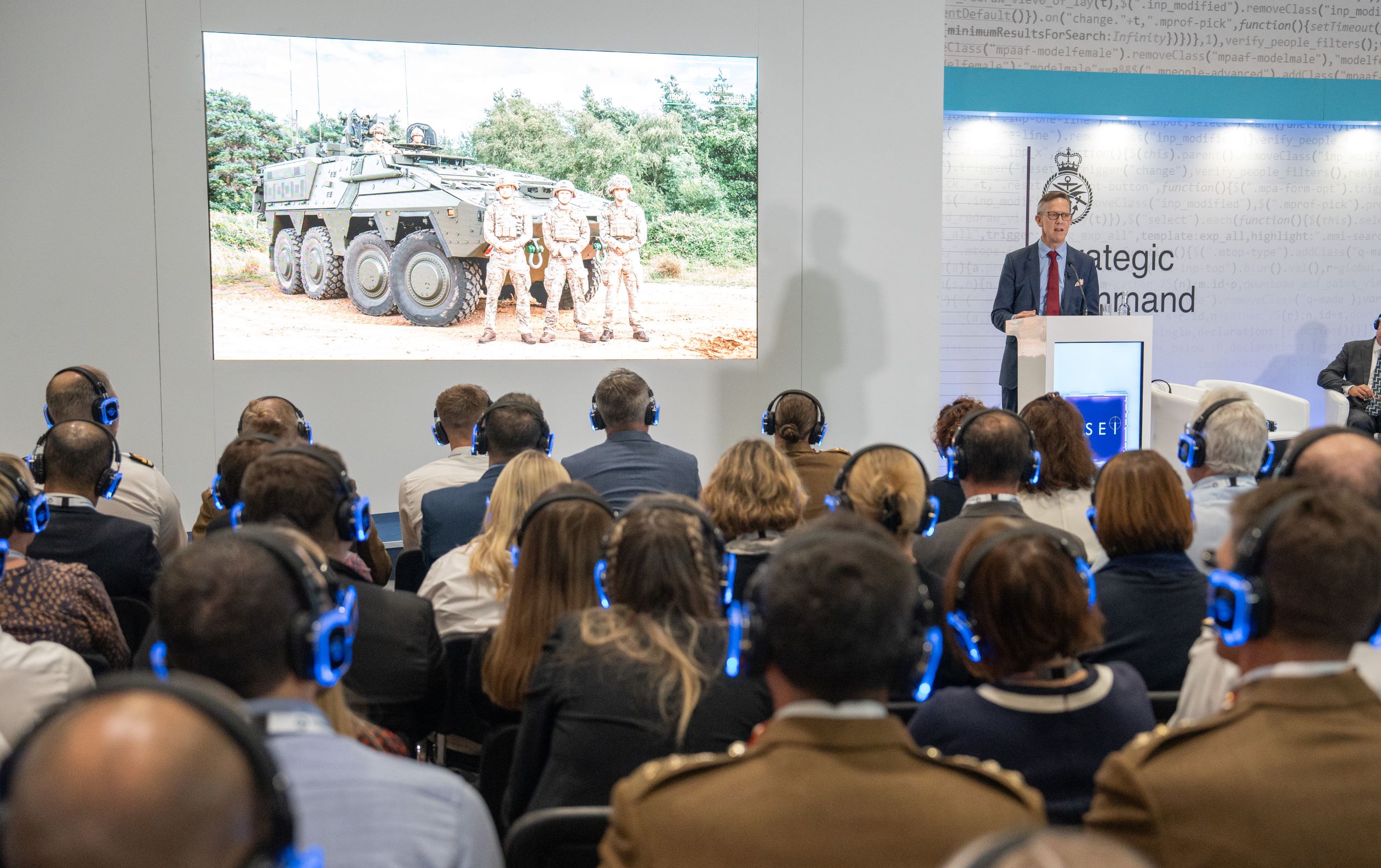 And despite the challenges we are all working together to meet, Andy ended with a message of hope.
"In a world where threat is really profound and challenging, we should feel optimistic about our opportunity to make a difference today, tomorrow and, most importantly, together."
The full speech can be read on the gov.uk website.