"Our people bring our projects to life and leave their fingerprints on them, making a genuine difference to military capability, like everyone here, I hope that my efforts make a positive difference to our output."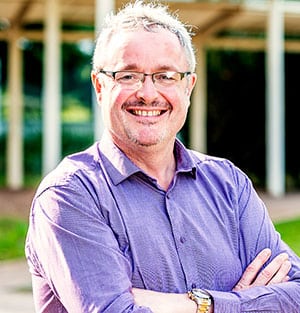 How long have you worked for DE&S?
I have worked in the DE&S since it was formed around 12 years ago. I have worked in previous incarnations since I joined as a graduate in 1988 although I started my working career as a Technician Apprentice in the Naval Weapons area at Copenacre, Corsham. Over my career I have worked in all environments and several operating centres covering maritime, land, and air projects.
Why did you choose to pursue a career in DE&S?
Having been an apprentice and sponsored to study engineering at university, I was familiar with the Ministry of Defence (MOD) environment and had an excellent exposure to a range of acquisition programmes, the MOD provided a good graduate/development scheme leading towards Chartered Engineer status and I enjoyed the variety of opportunities that being in defence acquisition and support offered me.
If I am brutally honest, at the time having a reasonably paid job and good training straight from university was not available to everyone and I am not sure I started work thinking about a career as such.
What are the opportunities to develop and progress within your area?
Similarly to when I moved into Project Management soon after completing the graduate scheme, the DE&S retains many opportunities for developing functional skills, whether through APM (Association for Project Management) accreditation (and hopefully Chartered Project Management status very soon), qualifications or learning through what for me is the best way, on the job delivering projects. Progression is up to individuals, it really depends on what people want.
My experience here is that the vast majority of people are very competent and do a good job, if people are willing and able to take on more responsibility associated with higher grade the organisation is willing to let them.
What do you most enjoy about your job?
I enjoy a daily engagement working with, and occasionally sparring with, people across the DE&S. People bring our projects to life and leave their fingerprints on them, making a genuine difference to military capability, like virtually everyone I hope that my efforts make a positive difference to our output. I also particularly like working with the military people, learning a little about their jobs, why they need what they do and how we can help deliver it.
What's the greatest achievement to date?
I have always enjoyed working on projects at the point of delivery, the more difficult or uphill the task the better. I recently spent six years in the A400M project, working with my team to take it from a virtual pariah to delivery of the first of what is already shaping up to be a fantastic aircraft delivering a critical capability.
Would you recommend DE&S to others as a great place to work?
DE&S provides a variety of work, opportunity and work-life balance that is not easy to find. Many of my friends and peers from university may have had better paid jobs than me, had company cars and so on, but none of them have driven a Challenger tank, been in a T23 frigate off Norfolk, Virginia doing high speed turns/crash stops, been in a submarine at depth off Florida, driven an amphibious bridge into the River Weser, had a helicopter transfer onto HMS Invincible in the Mediterranean, been on low level test flights of a new transport aircraft, visited the F35 production line and so on, the list is almost endless. You cannot buy these opportunities, but they come with taking responsibility for projects and committing to delivery.
What are the social benefits of working for DE&S?
Bristol is a fantastic city to live in or near, it has a wealth of culture, history and plenty of variety, it is also very well placed for Wales, the south west and even London. Having this on the doorstep is a bonus and having a group of people you work with (or have previously worked with) to take advantage of it is great. In sporting terms, sadly we have to travel a little further afield for premiership action in both football and rugby at the moment, but one day…
How do you build a successful career at DE&S?
Commit yourself to what you are doing every day, make sure everything you do has a purpose, seize responsibility, find a way to enjoy every job, have some fun, know why you do things, make a difference every day. It's no surprise how hard-working people are also lucky.
Latest Project Delivery vacancies
Can't find a Project Delivery job for you today? Search all our vacancies.