Project Marshall enables vital air traffic management services at 65 MOD-operated airfields in the UK and overseas, including Cyprus, Gibraltar and the Falkland Islands.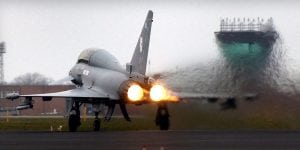 Project Marshall at a glance
Project Marshall is investing in new control tower equipment, including radar displays, ground-to-air radios, voice communication and control systems and record and replay equipment.
It is also acquiring navigation aids, landing aids, and deployable air traffic management systems.
The project will provide cost-effective and assured services until 2037.
Several teams across the DE&S Air Support and Combat Air domains have oversight of contracts signed within the framework.
The DE&S Project Marshall team is based at Abbey Wood in Bristol and Henlow in north London, and currently comprises of 87 DE&S civilian and Air Command Military posts.
More about Defence Equipment & Support