The F-35B Lightning is a powerful multi-role, fifth-generation stealth aircraft flown by both the Royal Navy and the Royal Air Force, providing the UK with a world-leading survivable, sustainable, expeditionary air capability.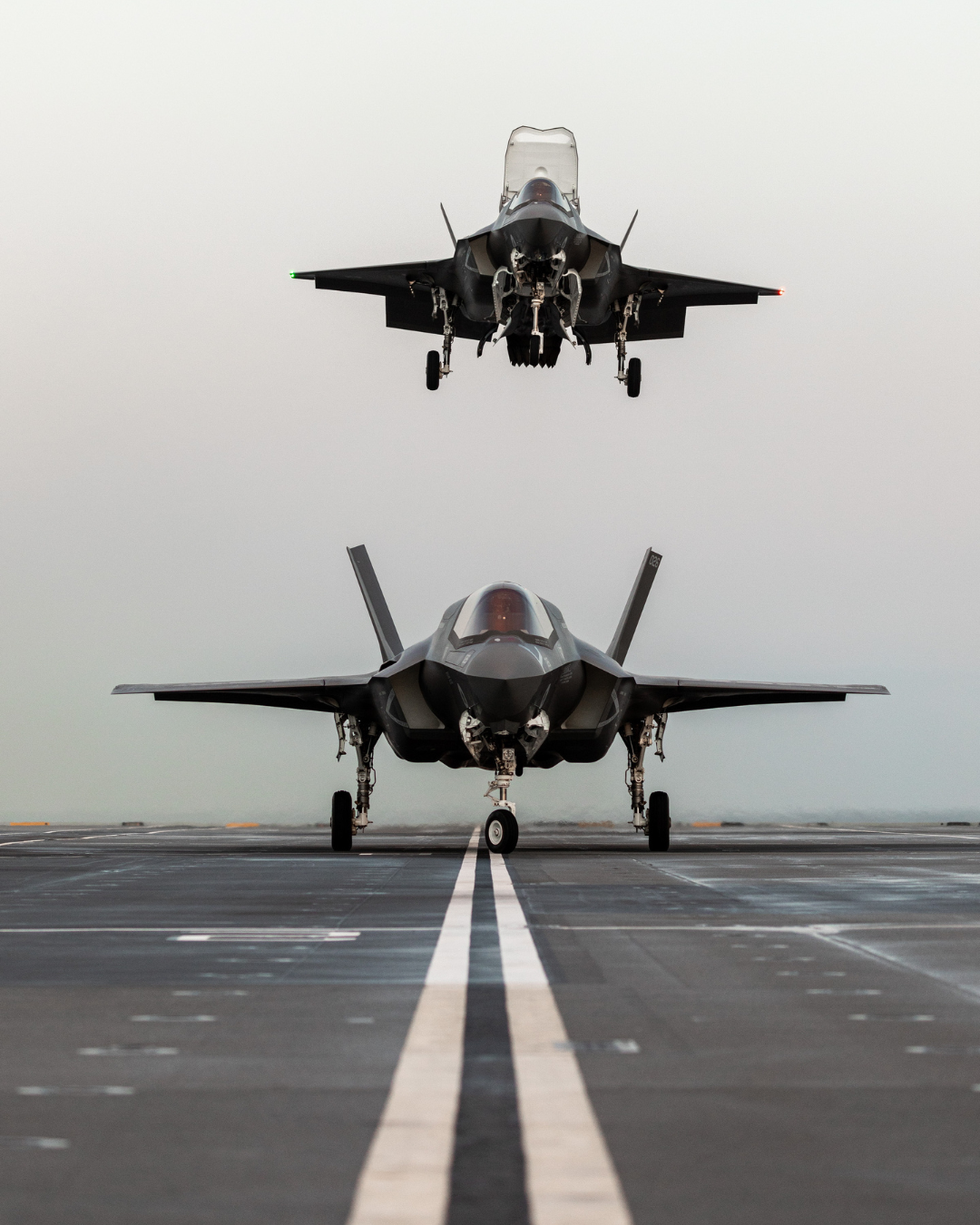 What is F-35B Lightning?
The F-35B Lightning is 'multi-role', meaning that a single aircraft can conduct multiple roles and missions. Operating from land and sea, these include air-to-surface, electronic warfare, intelligence gathering and air-to-air missions.
F-35 stealth jets are a formidable fighting force, putting the UK at the cutting-edge of air-borne military capability. Sensor fusion and data linking provide the pilot with unprecedented situational awareness, and low observable technology minimises detection in hostile environments. Combined with advanced mission systems, radar and electronic warfare systems, F-35B is a true fifth-generation combat aircraft.
The F-35B is jointly operated by the Royal Air Force and Royal Navy. The aircraft are based at RAF Marham in Norfolk and, with short take-off and vertical landing (STOVL) capability, can operate from the new Queen Elizabeth-class aircraft carriers, as well as deployed operating bases with short airstrips. 
How is F-35B Lightning delivered?
F-35 is the world's largest defence programme and UK industry is providing 15% by value of every one of over 3,000 jets set for the global order book, supporting thousands of British manufacturing and engineering jobs. The F-35 Programme was founded by eight international partners – the U.S, United Kingdom, Italy, Netherlands, Australia, Norway, Denmark and Canada and is managed collaboratively by the F-35 Joint Program Office (JPO).
Participating in System Development and Demonstration since 2001, the UK's first aircraft, engaged in the US-based Operational Test programme, were received in 2012. Establishing the first Front Line Lightning unit, 617 Sqn ('The Dambusters') arrived at RAF Marham with an initial four aircraft in June 2018. The UK has now received a total of 33 aircraft. A second operational unit, 809 Naval Air Squadron (NAS) is being established at RAF Marham.
The infrastructure project to accommodate Lightning at RAF Marham and investment in Industry partnership provides the UK with dedicated facilities and expertise on aircraft maintenance, bespoke training courses for pilots, groundcrew and engineers, and logistical and technical support for the fleet.
The value to the UK economy for manufacture, production and sustainment of the F-35 global fleet is estimated at over £50Bn through-life.
Meet the DE&S Lightning delivery team
Become part of the team
The Lightning delivery team includes civilians, military personnel, and contractors. The team are situated within the Air Domain and comprise a variety of grades and specialities, offering a wide range of competence and experience.
Our staff are principally located at MoD Abbey Wood, RAF Marham and Arlington, Virginia in addition to a number of other US sites.
We are supported by the F-35 Joint Programme Office (JPO) based in Arlington, Virginia which leads the management of F-35 for all Partners and Foreign Military Sales customers.
F-35 – Fifth generation fighter
Capable of flying at 1,200mph, the arrival of F-35s to the UK marks the start of 5th Generation of fighter planes for the Royal Air Force and Royal Navy. Take a fly through the history of the UK's iconic fighters.
F35 Lightning ski jump trial
British Army Platoon Commanders and Platoon Sergeants underwent the Live Firing Tactical Training course in Brecon, which simulates realistic live firing in a battle setting.
F-35B Lightning jets arrive in UK
The first four of Britain's new F-35B Lightning fighter jets arrive at RAF Marham and we spoke to the Minister for Defence Procurement Guto Bebb for his reaction.
Sir Stephen Hillier on F-35 arrivals
Hear from Air Chief Marshal Sir Stephen Hillier about what this means for the Royal Air Force & Royal Navy and the collaborative effort behind their delivery.
More about Defence Equipment & Support