Fleet Solid Support Ships will be the Royal Fleet Auxiliary's modern solid stores replenishment ships, an essential supporting element to the delivery of the Maritime Carrier Strike Group.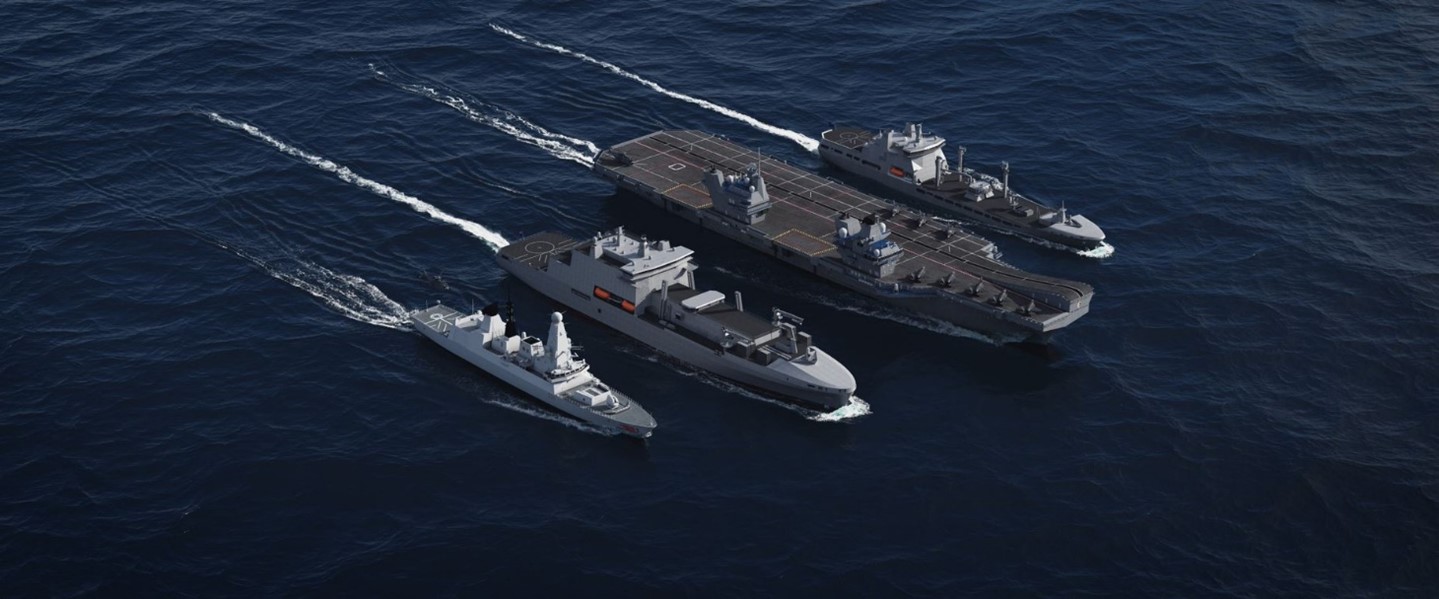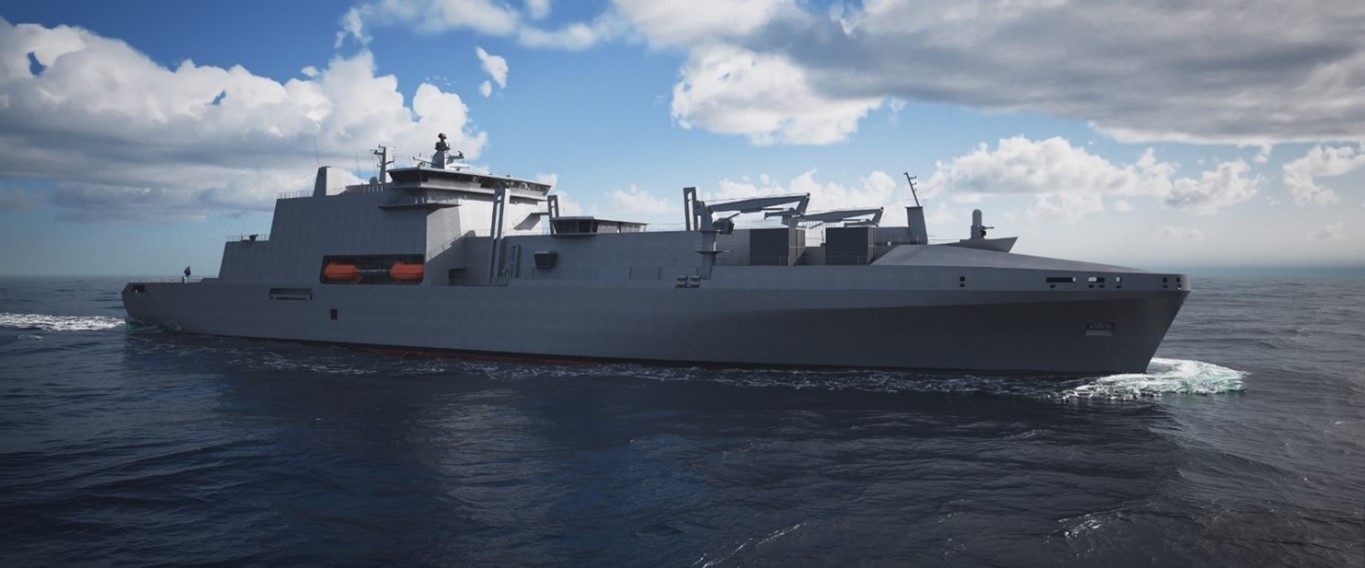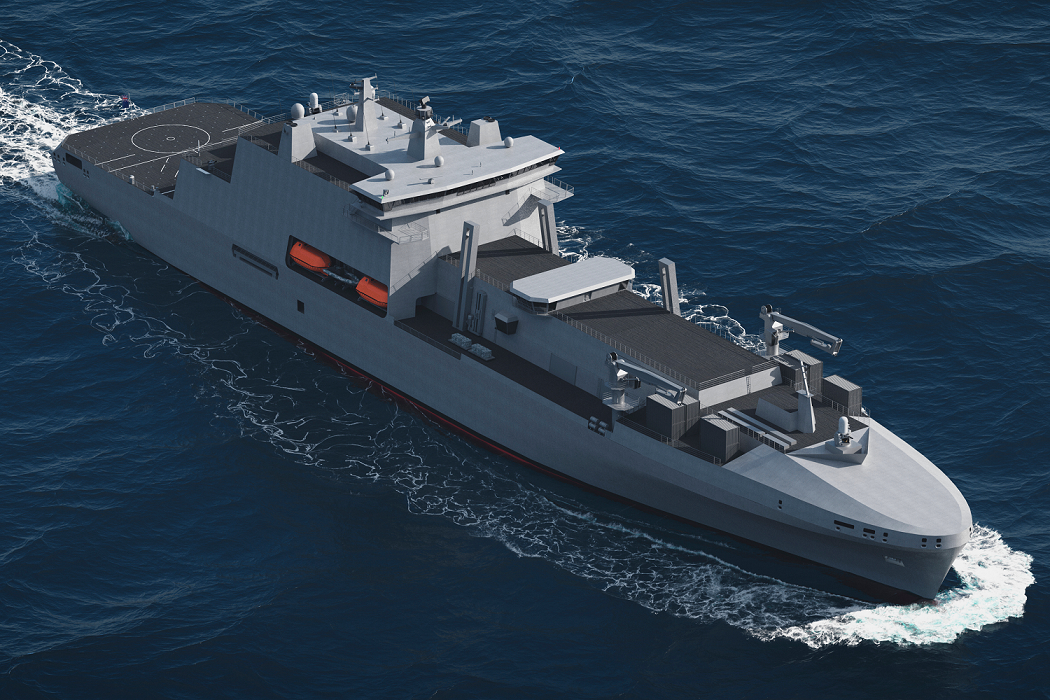 What is Fleet Solid Support?
Fleet Solid Support (FSS) will provide support ships designed to deliver crucial munitions, supplies and provisions to the Royal Navy while at sea. They will provide logistical and operational support, including counter-piracy and counter-terrorism missions and will collaborate with allies on operations.
Each ship will have a core RFA crew of 101, with accommodation provided for an additional 80 personnel operating helicopters, boats, or performing other roles when required.
The ships are designed with an emphasis on minimising carbon emissions, equipped with energy-efficient technologies to decrease power consumption and are adaptable to reduce their carbon footprint by using low-carbon, non-fossil fuels, and future sustainable energy sources. They are also designed to be adaptable from the outset to achieve a Carbon Zero status by the end of their 30-year operational lifespan.
The production of the first FSS is expected to begin in 2025 across three shipyards and all three ships will enter service after final equipment fits and military trials, by 2032.
FSS's predecessor, RFA Fort Victoria, will continue operations to maintain solid support ship availability during the capability transition period.
The ships are designed with an emphasis on minimising carbon emissions, equipped with energy-efficient technologies to decrease power consumption.
How is Fleet Solid Support delivered?
In January 2023, DE&S awarded a contract worth £1.6 billion to Team Resolute, comprised of Harland & Wolff, BMT and Navantia UK, to deliver three Fleet Solid Support ships to the RFA.
The construction of the ships, being built to BMT's British design, will take place in both the UK and Spain. Long-term improvement in UK shipbuilding capacity and capability will be supported through the investment of in £77 million in shipbuilding infrastructure at H&W yards.
Blocks and modules will be built in Harland & Wolff's shipyards in Belfast, Northern Ireland, and Appledore in Devon, and at Navantia's shipyard in Cadiz, Spain, so that skills and technology can be transferred to the UK from a world-leading auxiliary shipbuilder.
The majority of the ship build, along with final outfitting, integration of blocks and modules and sensitive systems, plus all testing and commissioning, will take place at Harland & Wolff, Belfast.
FSS will create around 1,200 shipyard manufacturing jobs at Harland & Wolff, in addition to an estimated further 800 in the UK supply chain. There will be 180 jobs in design, logistics support and programme management at BMT and Navantia UK.
A 200 further education opportunities such as graduate schemes and apprenticeships will be created, and Harland & Wolff's welding academy is set to produce 300 new UK welders during the contract.  Investing in welders and steelworkers will reduce the UK shipbuilding industry's dependency on overseas labour.
Meet our Ships Domain Team
Become part of the team
The FSS team is responsible for managing the delivery of the ships, yard investment, logistic support package, transition into service and supporting contracts to quality, time and cost.
In addition to the delivery of three ships, the project team will oversee Team Resolute's commitment to invest in local skills to ensure development of the supply chain and to improve ship construction infrastructure to increase the UK's competitiveness in the global ship construction sector.
The team is based primarily based at DE&S, Abbey Wood, Bristol.
Robin Boulby, FSS Team Leader: "Fleet Solid Support is an exciting transformational project, delivering high availability ships that unlock the capability of the new Queen Elizabeth-class aircraft carriers whilst enhancing UK shipbuilding capability and reducing the impact of both the enterprise and platform operation on the environment."
More about Defence Equipment & Support