Atlas A400M C.Mk1 is the Royal Air Force's flexible transport aircraft providing tactical airlift and strategic oversize lift capabilities for global air mobility.
What is Atlas?
The Atlas A400M is a four-engine Turboprop transport aircraft used by the Royal Air Force to transport troops and equipment to where it is needed anywhere in the world. It supports the Armed Forces across the spectrum of operations, from strategic airlift to tactical combat operations.
The Fleet is based at RAF Brize Norton and utilised by four RAF squadrons but also has a persistent presence in the Falklands where it provides for search and rescue, transport, and maritime patrols. Atlas A400Ms have also been used on military and humanitarian operations around the world such as in the delivery of equipment to Ukraine and capability development trials in the US in the case of the former and the delivery of flood relief to Pakistan, cyclone relief to Mozambique, civilian evacuation from Afghanistan and earthquake relief to Turkey and Syria in the case of the latter.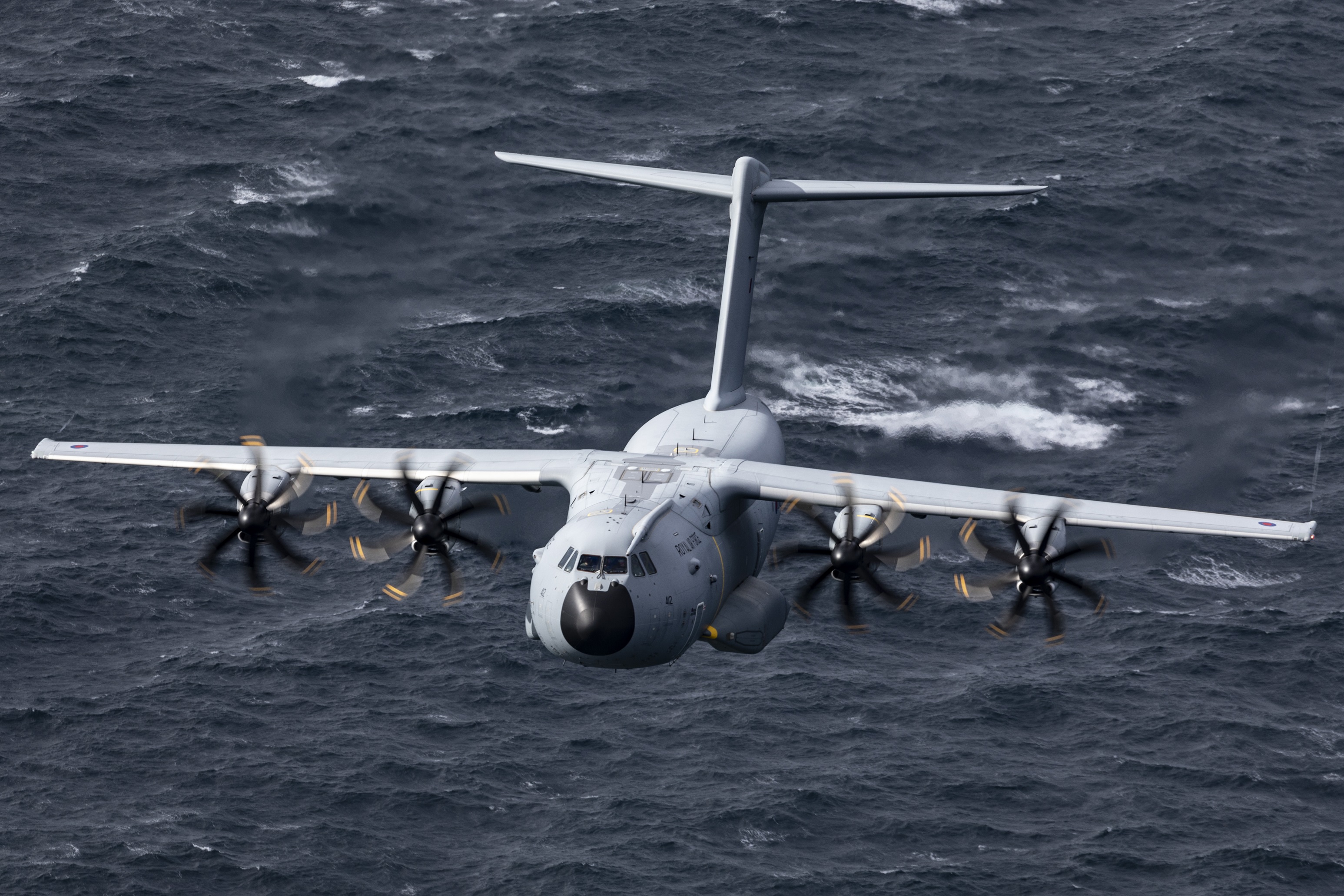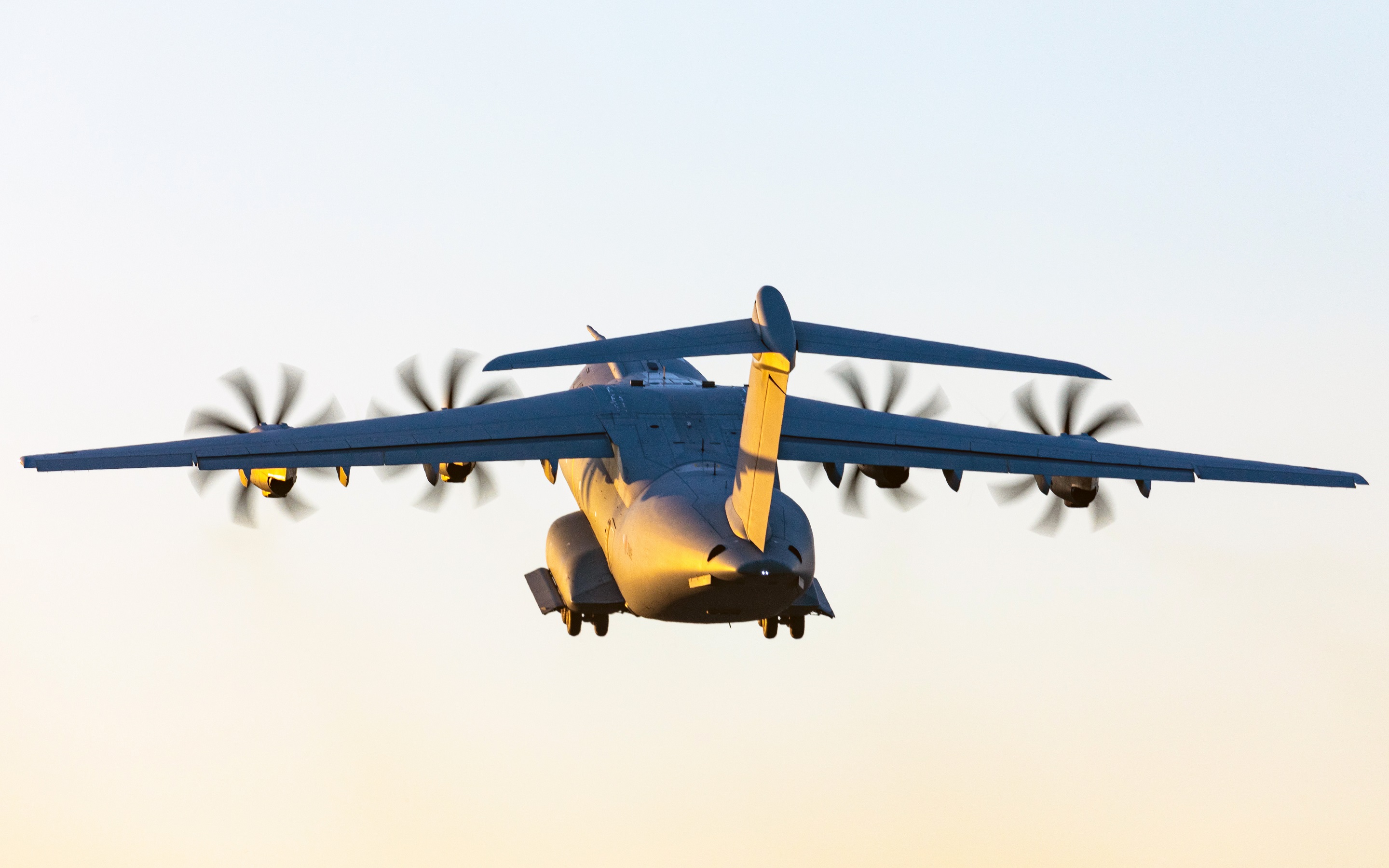 About Atlas A400M 
Capable of delivering 25 tonnes of cargo over 2,000 nautical miles at impressive speed.
Can use civilian, military and short or even unprepared / improvised runways.
Can accommodate as many as 116 fully-equipped troops, vehicles and helicopters, nine aircraft pallets and 54 passengers, up to a max payload of 37 tonnes.
Can be configured to provide airborne intensive care treatment for up to four stretcher-bound patients, having achieved its full aeromedical evacuation capability for high dependency and highly infectious patients in 2018. Since then, it played a key role in the UK's covid-19 response, air-lifting a patient from the Shetlands to Aberdeen hospital.
Can deliver payloads by parachute, gravity extraction from the rear ramp, or by landing. In 2018, Atlas A400M broke the record for the heaviest load ever delivered by parachute from a UK aircraft. As part of DE&S aircraft qualification trials, A400M dropped 23 tonnes of cargo on Salisbury Plain.  By comparison, the maximum cargo weight deliverable via the Container Delivery System from a C-130J Hercules is approximately 15 tonnes.
Atlas A400M is capable of delivering 25 tonnes of cargo over 2,000 nautical miles at impressive speed. The aircraft can use civilian, military and short or even unprepared / improvised runways.
How is Atlas delivered?
The Atlas A400M is an advanced tactical and strategic transport aircraft manufactured by Airbus Defence and Space through a multinational European collaborative project including Belgium, France, Germany, Spain, Turkey and the UK via the 'Organisation Conjointe de Coopération en matière d'Armement' – the 'Organisation for Joint Armament Co-operation' – otherwise referred to as OCCAR.
The international A400M programme is being delivered in partnership with Airbus and supports around 8,000 jobs in the UK. It entered service with the RAF in 2014. In October 2022, the UK Atlas A400M fleet grew to 21 with ZM420 touching down at RAF Brize Norton. In total the UK has ordered 22 Atlas aircraft. The final aircraft is due to be delivered in May 2023.
Meet the DE&S Atlas delivery team
Become part of the team
The DE&S Atlas delivery team, based at MOD Abbey Wood and RAF Brize Norton, is proud to be delivering the Atlas aircraft and providing the UK with a world-leading tactical and strategic airlift capability. The Atlas delivery team has a currently operates with a headcount of 117-121 team members.
More about Defence Equipment & Support