Ajax is an advanced, fully digitised, land vehicle system delivering transformational change in capability to the British Army.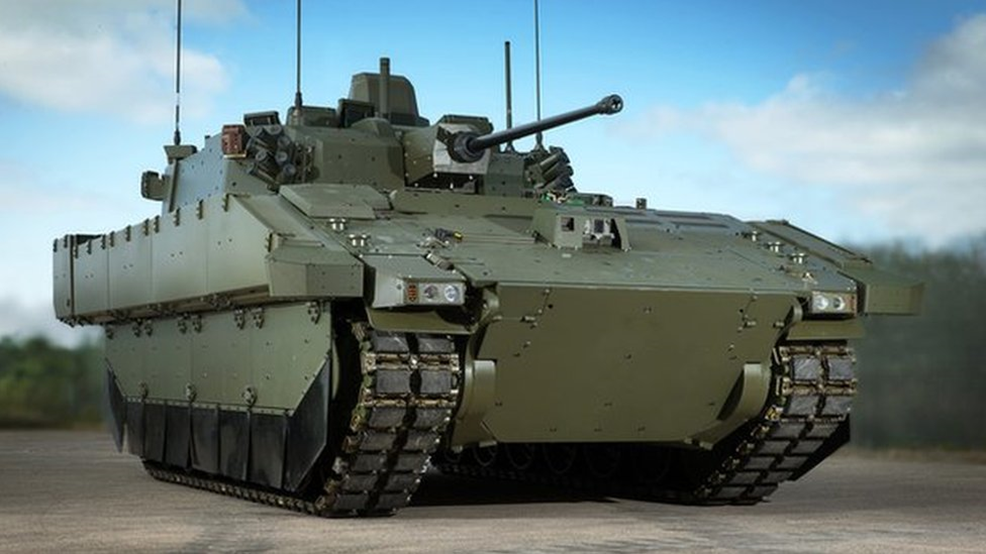 What is Ajax?
The Ajax family has been designed to be at the heart of the British Army's future armoured fleet, offering enhanced lethality, survivability, reliability, mobility and all-weather intelligence, surveillance, target acquisition and recognition (ISTAR) capabilities through its advanced sensor suite.
There are six variants in the Ajax family, all based upon a common base platform. The programme will provide a world leading competitive advantage delivering 589 vehicles that will allow the Army to operate in all weathers, 24 hours a day.
About Ajax
The turreted versions of Ajax will be the first British vehicle to be fitted with the jointly (UK & FR) developed Case Telescoped 40mm Cannon (CT-40 Cannon). The cannon is designed to fire a number of different types of ammunition including High Explosive, Armour Piercing and Training rounds.
All non-turreted variants have a Remote Weapon Station (RWS) which is capable of mounting 7.62 mm General Purpose Machine Gun (GPMG), 12.7 mm Heavy Machine Gun (HMG), or 40mm Grenade Machine Gun (GMG).
Ajax is currently in the Demonstration and Manufacture phases of its lifecycle. Following successful Noise and Vibration trials conducted in the autumn of 2022, the platforms will now undertake further battlefield specific trials at the Armoured Trials and Development Unit (ATDU) in Bovington, Dorset.
Platforms will continue to be delivered to the Field Army in 2023, with the Household Cavalry Regiment and 6th Battalion Royal Electrical and Mechanical Engineers (REME) being the first Army units to convert to Ajax.
There are six variants in the Ajax family, all based upon a common base platform. In total, 589 vehicles are due to be built.
How is Ajax being delivered?
Assembled predominantly at General Dynamics in Merthyr Tydfil, the 589 Ajax vehicles due to be delivered will bolster the Army's land-based reconnaissance capability. The programme supports a UK-wide supply chain of more than 230 companies, supporting more than 4,000 jobs throughout the UK, including hundreds in South Wales.
Some of the vehicles are currently undergoing Reliability Growth Trials, testing the durability of the platform and components through a series of battlefield missions.
Since starting trials, AJAX (Reconnaissance variant), ARES (Deliver and support specialist troops including overwatch and dismounted support), APOLLO (Repair Equipment Support variant) and ATLAS (Recovery Equipment Support variant) variants have driven across different terrains. They have completed a variety of representative battlefield tasks such as operating across a range of speeds and terrains, firing weapon systems, using the vehicles systems and communications and completing specialist tasks such as vehicle recoveries and repairs using the integrated crane.
Full Operating Capability will follow between October 2028 and September 2029, when the Army has trained and converted forces to the Ajax platforms to deliver Armoured Cavalry capability to the Deep Reconnaissance Strike Brigade and its two Armoured Brigade Combat Teams.
Meet the DE&S Ajax delivery team
Become part of the team
The Ajax portfolio is one of the 6 subordinate teams in the DE&S Land Equipment Operating Centre (LEOC). The team is responsible for managing the delivery of Ajax, a support package, transition into service and supporting contracts to quality, time and cost.
The team is primarily based at DE&S, Abbey Wood, Bristol but has staff based at General Dynamics in Merthyr Tydfil and Oakdale, Blackwood to help drive the programme forward.
More about Defence Equipment & Support