The Wildcat Mk1, flown by the British Army, is a highly-capable helicopter, able to operate in extreme conditions and at high altitudes. The Wildcat Mk2 is the next-generation maritime attack helicopter, operated by the Royal Navy.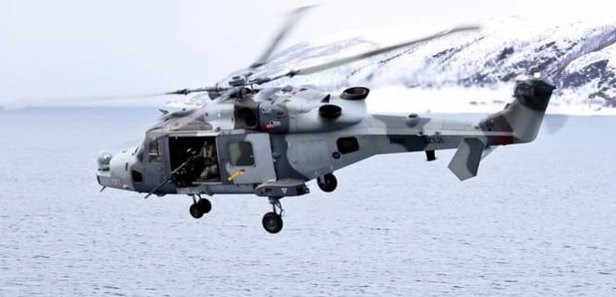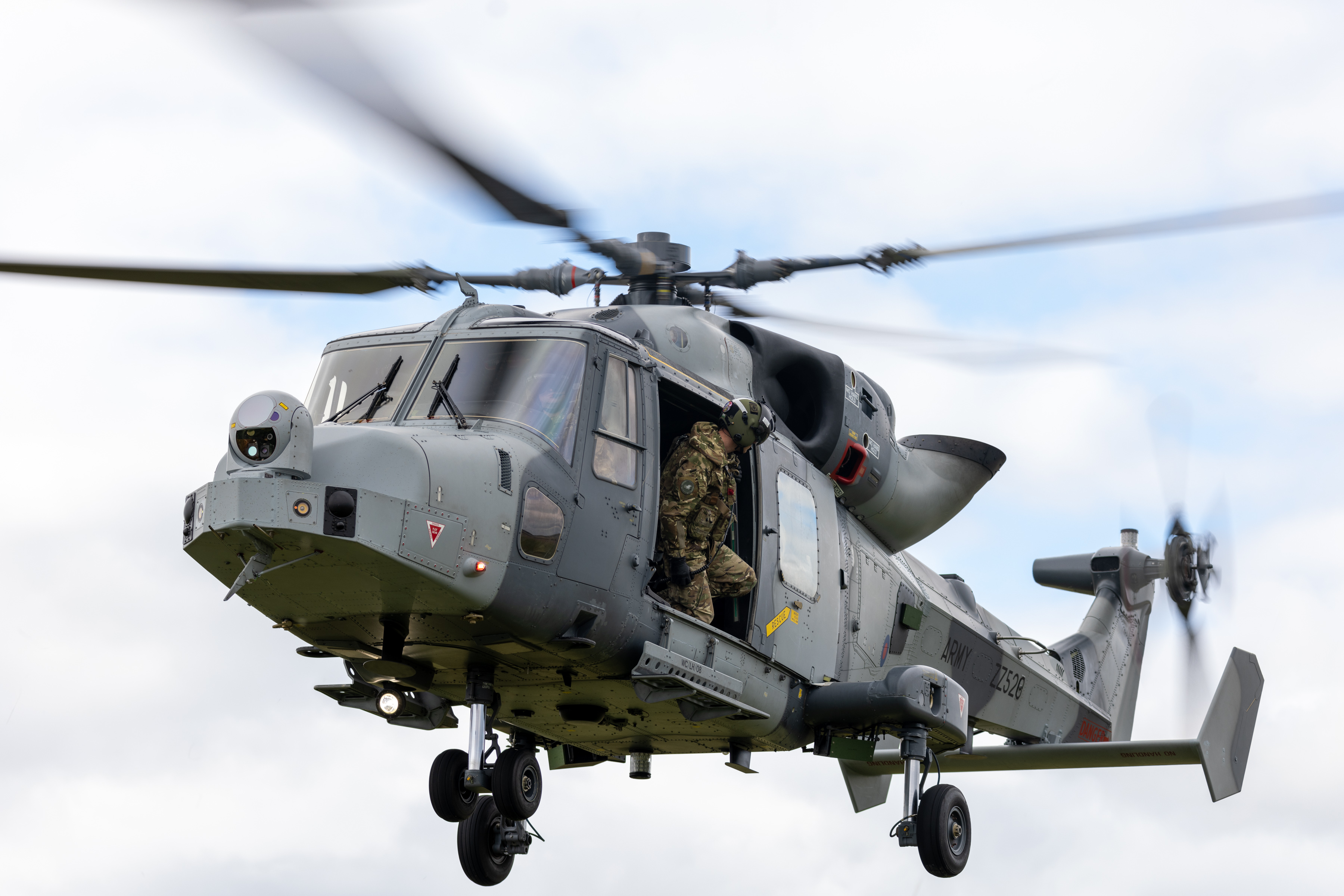 About the Wildcat Army Helicopter (AH) Mk1
Wildcat Mk1 is operated by the British Army's 1st Aviation Brigade Combat Team and Commando Helicopter Force. It performs a range of roles on the battlefield, including reconnaissance, transportation of troops and supplies, command and control, and force protection.
Able to be rapidly deployed in both land and littoral environments, the Wildcat Mk1 augments the capabilities of support helicopters and the Apache attack helicopter. It has an offensive capability through its 12.7mm M3M Heavy Machine Gun or 7.62 mm General Purpose Machine Gun.
Wildcat Mk1 can operate in extreme environments from -26 to +50 degrees. It is fitted with new Light Helicopter Turbine Engine Company (LHTEC) CTS800-4N engines, which are significantly more powerful than those in its predecessor, the Lynx, enabling it to operate in extreme conditions and at high altitudes.
The Wildcat is fitted with a nose mounted MX-15 Wescam Electro Optical Device (EOD) enabling it to detect targets by day and night at significant range. Additionally, it has a glass cockpit and integrated central warning system.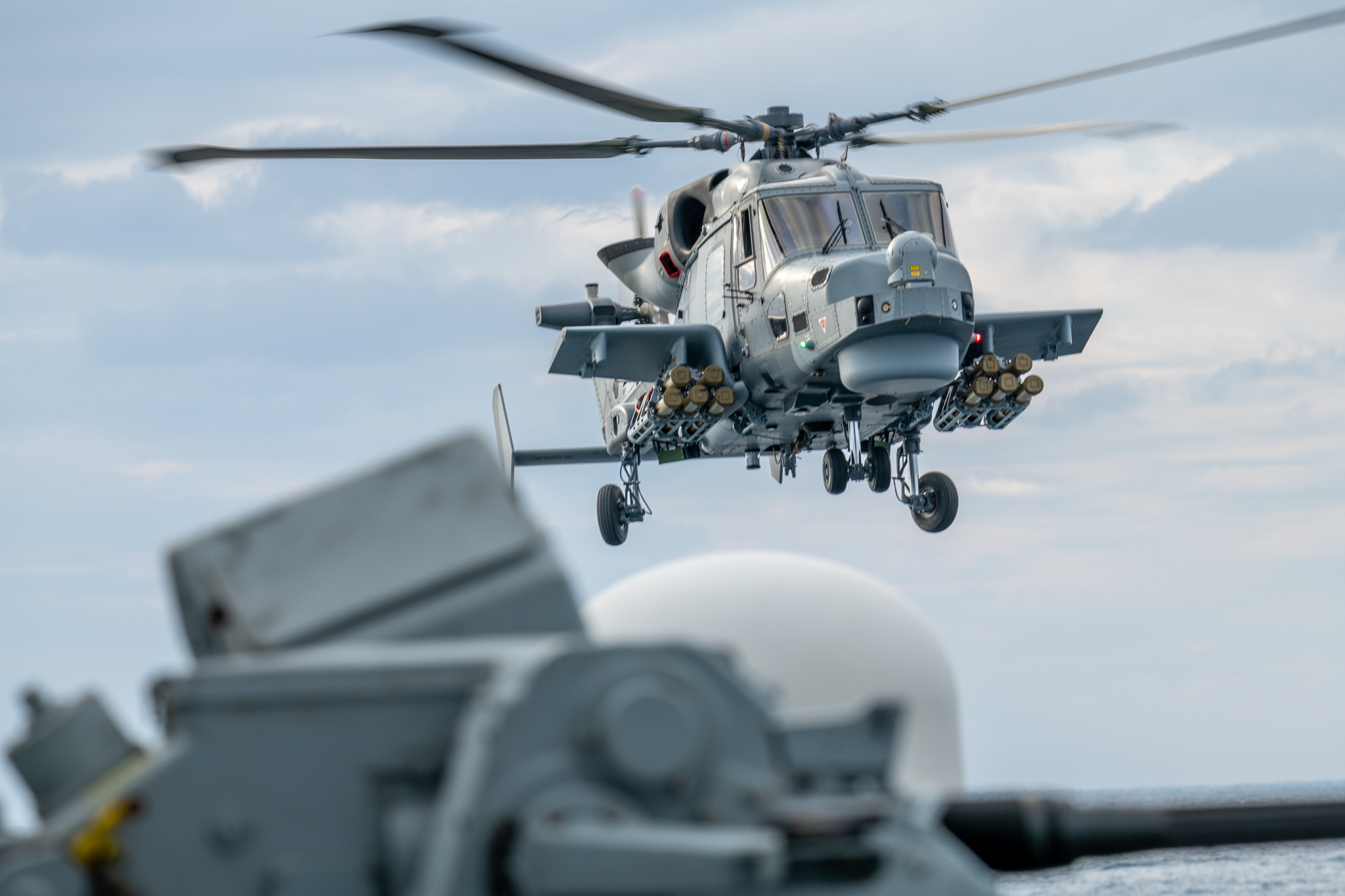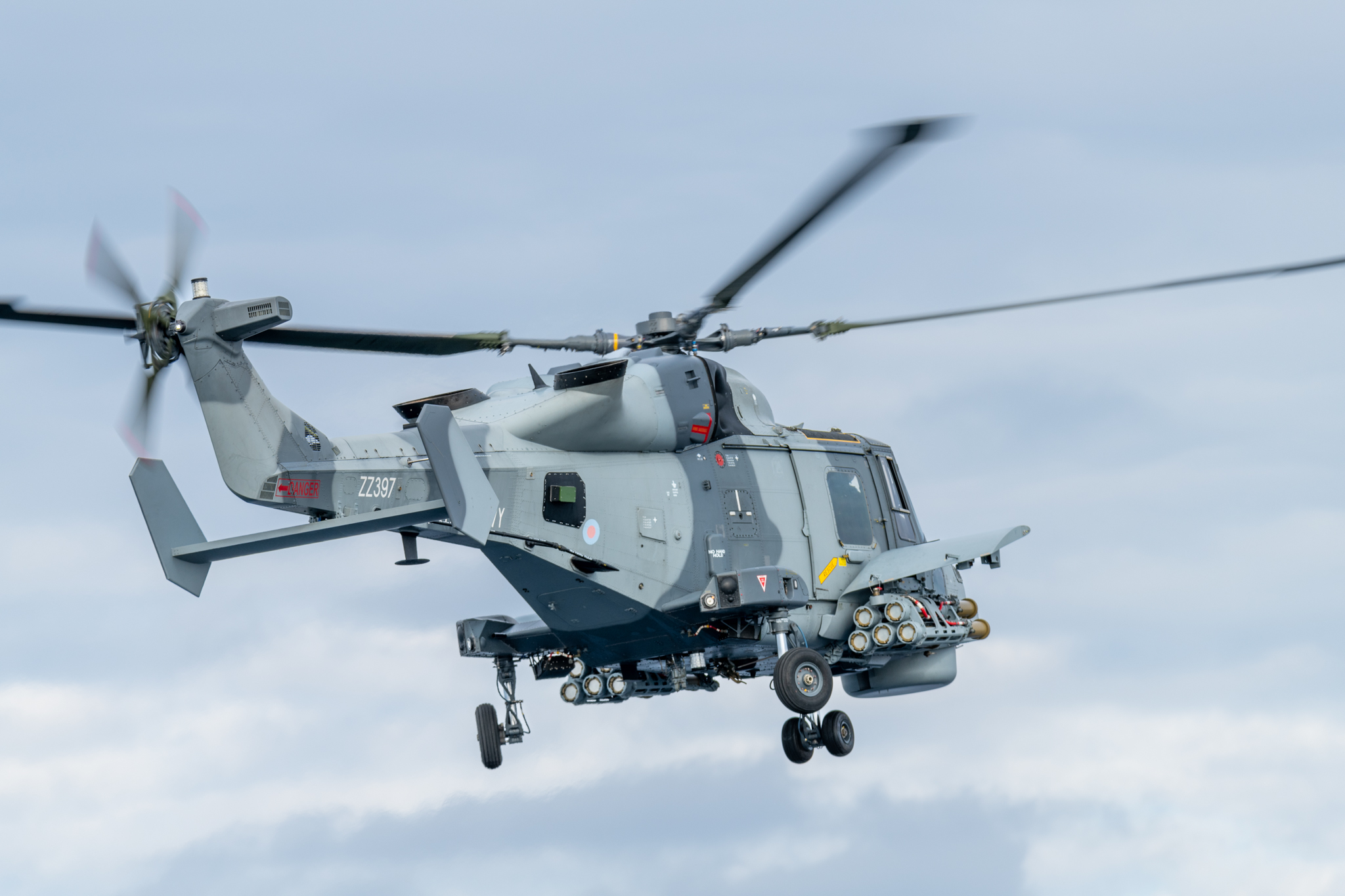 About the Wildcat Helicopter Maritime Attack (HMA) Mk2
Wildcat Mk2 is the next-generation multi-role helicopter, specifically procured to operate from Royal Navy frigates and destroyers. As a ship-borne helicopter, Wildcat can be deployed to tackle a range of threats at sea.
With state-of-the-art sensors, equipment and weapons, the Wildcat Mk2 keeps the Royal Navy at the cutting-edge of worldwide maritime operations. It has a powerful engine, allowing it to be flown in extreme conditions. It is capable of being armed with Sting Ray torpedoes, a 12.7mm calibre M3M cabin-mounted machine gun, and Martlet and Sea Venom missiles – providing the Royal Navy with greater firepower.
The Wildcat HMA Mk2 is operated by the Wildcat Maritime Force and delivers anti-surface warfare, maritime security, force protection, counter-piracy and counter-narcotics, maritime counterterrorism, anti-submarine warfare, and intelligence, surveillance, and reconnaissance operations.
It is an incredibly versatile helicopter, also capable of maritime lift tasks, search and rescue, intra-theatre lift, and limited troop insertion. Additionally, Wildcat can be called upon to support humanitarian relief and evacuation operations.
How is Wildcat delivered?
In 2006, the Ministry of Defence (MOD) awarded AgustaWestland (now Leonardo Helicopters), the contract to build 70 Future Lynx helicopters. These helicopters are now called Wildcat.
In 2008, following the Strategic Defence and Security Review, the MOD announced that this contract would continue, albeit with the order reduced to 62 aircraft (34 Army and 28 Navy). The effect of reducing the number of aircraft, along with other factors, reduced the forecast cost of the project from the original main gate approval of £1.966bn to the current £1.689bn forecast.
All 62 aircraft have been delivered, with the Wildcat AH Mk1 achieving Initial Operating Capability (IOC) in August 2014 and the Wildcat HMA Mk2 achieving IOC in January 2015.
Wildcat is the first UK military helicopter to enter service with a fully integrated support and training solution at the outset. The Wildcat Integrated Support and Training (WIST) is a 34-year Integrated Operational Support arrangement with 5 year pricing periods, providing robust aircraft availability, aircraft technical and logistic support, and a training service.
At Yeovil, Leonardo Helicopters employs nearly 2,800 employees producing helicopters on-site such as the Super Lynx 300, AW159 Wildcat and AW101 Merlin.
Meet the DE&S Wildcat delivery team
Become part of the team
The Wildcat delivery team is responsible for the in-service support of both the Mk1 and Mk2 variants. The team shares a building with our industry partner, Leonardo Helicopters, on their Yeovil, Somerset, airfield site.
Wildcat Team Leader Cdr Mark Kingdom said:
"The Wildcat delivery team is a unique place to work. The whole team is on site with our main supplier and only eight miles from the Navy and Army Main Operating Base. We literally see our results fly past the window each day. Being close to the action creates an amazing team spirit and a clear understanding that everyone is making a difference every day for our end users."
More about Defence Equipment & Support