Sky Sabre represents the forefront of ground-based air defence technology, providing unprecedented speed, accuracy, precision and target acquisition for the British Army.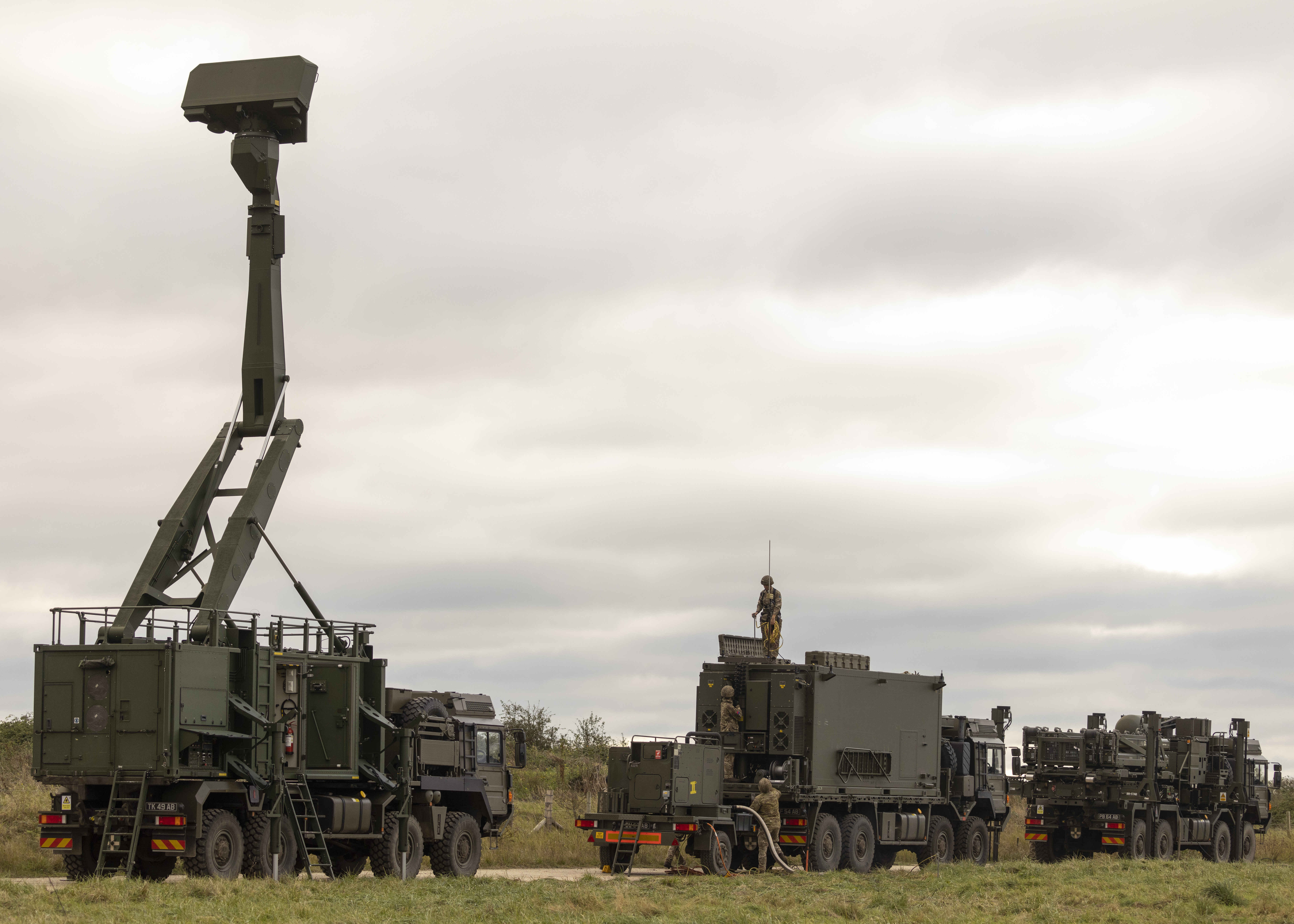 About Sky Sabre
Sky Sabre has replaced Rapier, which served the UK Armed Forces for more than 40 years. It is composed of three main elements: "the brain", "the sensor" and "the missile system".
"The brain", supplied by Rafael, refers to the Surface to Air Missile Centre (SAMOC) command and control system. This includes the Link 16 tactical datalink that allows Sky Sabre to communicate with Royal Navy and Royal Air Force ships and aircraft, as well as UK allies.
"The sensor", supplied by Saab, is the Giraffe Agile Multibeam (GAMB) radar, which provides 360-degree coverage over a range of up to 1,200km.
The Land Ceptor launcher and missile system is supplied by MBDA and fires Common Anti-Air Modular Missiles (CAMM) missiles.
Sky Sabre is so accurate it is capable of hitting a tennis ball-sized object travelling at the speed of sound. It is so sophisticated it can control the flight of 24 missiles simultaneously while in flight, guiding them to intercept 24 separate targets.
How is Sky Sabre delivered?
Sky Sabre was delivered by DE&S to the Royal Artillery (RA) in 2021.
It is operated by 16 Regiment Royal Artillery, part of 7 Air Defence Group, based at Baker Barracks on Thorney Island, West Sussex.
Since the start of Russia's illegal invasion of Ukraine, Sky Sabre has been deployed in Poland with about 100 personnel to help Poland protect its airspace.
In-service support for Sky Sabre is provided by Rafael, SAAB and MBDA.
Meet the DE&S Sky Sabre team
Become part of the team
The Joint Sensor and Engagement Networks (JSENS) team, which manages the Sky Sabre programme.
The team also procures radars for UK Armed Forces such as Saab's Giraffe 1X and oversees programmes including the British Army's Land Environment Air Picture Provision, (LEAPP).
Team Leader Steve Wyatt said:
"As a team we are very proud that DE&S has played such a key role in delivering Sky Sabre – a world-class air defence capability to the British Army.

"It has been a complex, collaborative endeavour, working closely with the Army, Royal Air Force and DE&S weapons teams, together with domestic and international industry partners."
More about Defence Equipment & Support