The Apache AH-64E is a world-leading attack helicopter which is replacing the Apache Mk1 fleet currently in service with the British Army.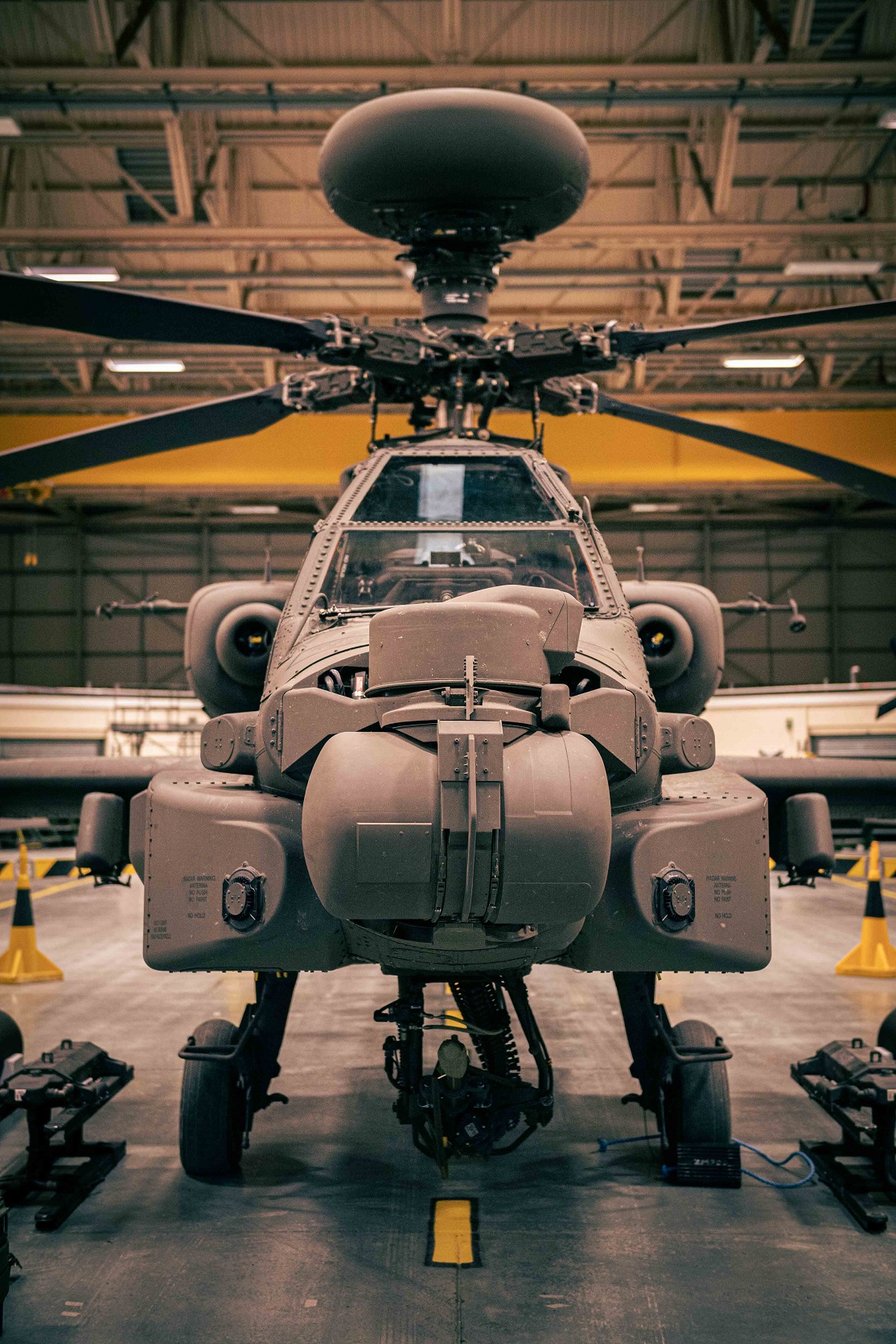 What is Apache AH-64E?
The Boeing manufactured Apache 64E is a twin-engine, tandem-seat helicopter designed to accomplish a variety of operations at day or night, in a range of climactic conditions.
Primarily designed to find and destroy air defence units, tanks and armoured vehicles, it is armed with a 30mm automatic cannon, wing-mounted 70mm Hydra rockets and Hellfire missiles.
The AH-64E flies faster, has a greater capability and range than the Mk1, which has been in service with the British Army since 2001 and proved itself in conflicts in Libya and Afghanistan. It also has improved sights and sensors, allowing targets to be accurately identified and engaged at greater ranges.
It is capable of Intelligence, Surveillance Target Acquisition and Reconnaissance (ISTAR), escort/force protection and Command and Control (C2). Using the distinctive Longbow radar above the main rotor blades, the Apache 64E can detect and classify up to 256 potential targets, display 128 of these to the crew and prioritise the top 16 threats, all in a matter of seconds.
It is also equipped with optical and thermal imaging sights that are used to identify potential targets and pilot the aircraft at night and in low visibility conditions. Range and endurance can be increased using wing-mounted fuel tanks and the new Apache will have a fully integrated Defensive Aid Suite to protect the aircraft and two crew.
The Apache AH-64E has two GE T700-GE-701D Turboshaft engines and is equipped with 16 hellfire missiles, 70 Hydra-70 rockets, 1,200 30mm cannon rounds.
How is Apache delivered?
In 2020, DE&S finalised a Foreign Military Sale (FMS) with the US Government to buy 50 AH-64Es, worth approximately $2.3 billion.
The first two aircraft arrived at Wattisham Flying Station in November 2020 and deliveries have continued since then. In May 2023 the Apache 64E Initial Operating Capability was declared, the final aircraft are due to be delivered in 2024 with a Full Operating Capability on track for early 2026.
While the Mk1 fleet is maintained by Leonardo Helicopters until they retire from service, we awarded a contract to Boeing Defence UK to provide the Long-Term Training and Support Service (LTTSS) for the new fleet, replacing the initial support and conversion training provided by the US Government under the FMS.
The 20-year agreement with BDUK will cover aircraft design organisation services, maintenance, logistics support, pilot, maintainer and groundcrew training. It is creating more than 200 jobs in the UK, including 165 for the Army Aviation Centre at Middle Wallop in Hampshire and 45 at Wattisham Flying Station in Suffolk.
A large number of parts from the Mk1 are being used in the production of the E model, which reduces costs and aims to be more environmentally sustainable.
Meet the DE&S Apache delivery team
Become part of the team
The Apache programme and support arrangements are managed by DE&S' Apache Delivery Team, which works closely with BDUK and the British Army to deliver the upgraded fleet.
Part of DE&S' Helicopters Operating Centre, the team has 137 posts based primarily at MOD Abbey Wood, Yeovil and Wattisham but also in other locations around the UK and beyond.
Andy Howarth, Apache Delivery Team Leader and Mike Stansfield, Programme Lead:
"The Apache Helicopter is delivered by a team drawn from across DE&S, industry and our Front-Line Command colleagues who share a common goal who to deliver this outstanding battle-winning equipment into service.
"We are incredibly proud to work on such a cutting-edge helicopter programme while creating and supporting jobs in the UK."
More about Defence Equipment & Support