Published 18 November 2022
DE&S worked with the Royal Air Force and industry partners to carry out a world-first 100% sustainable fuel flight using a military aircraft of its size, and the first of any aircraft type in the UK.
Share this story
An RAF Voyager – a military variant of an Airbus A330 – took to the skies over Oxfordshire powered completely by 100% Sustainable Aviation Fuel, paving the way for a range of possibilities for the future of flying military and civilian aircraft.
The flight was a joint endeavour between the RAF, DE&S and industry partners Airbus, AirTanker and Rolls-Royce, with the fuel purchased from Air bp.
Sustainable aviation fuel – made from waste-based sustainable feedstocks, such as used cooking oil, reduces lifecycle carbon emissions on average by up to 80%, compared to the conventional jet fuel it replaces, lessens the RAF's reliance on global supply chains, and improves operational resilience.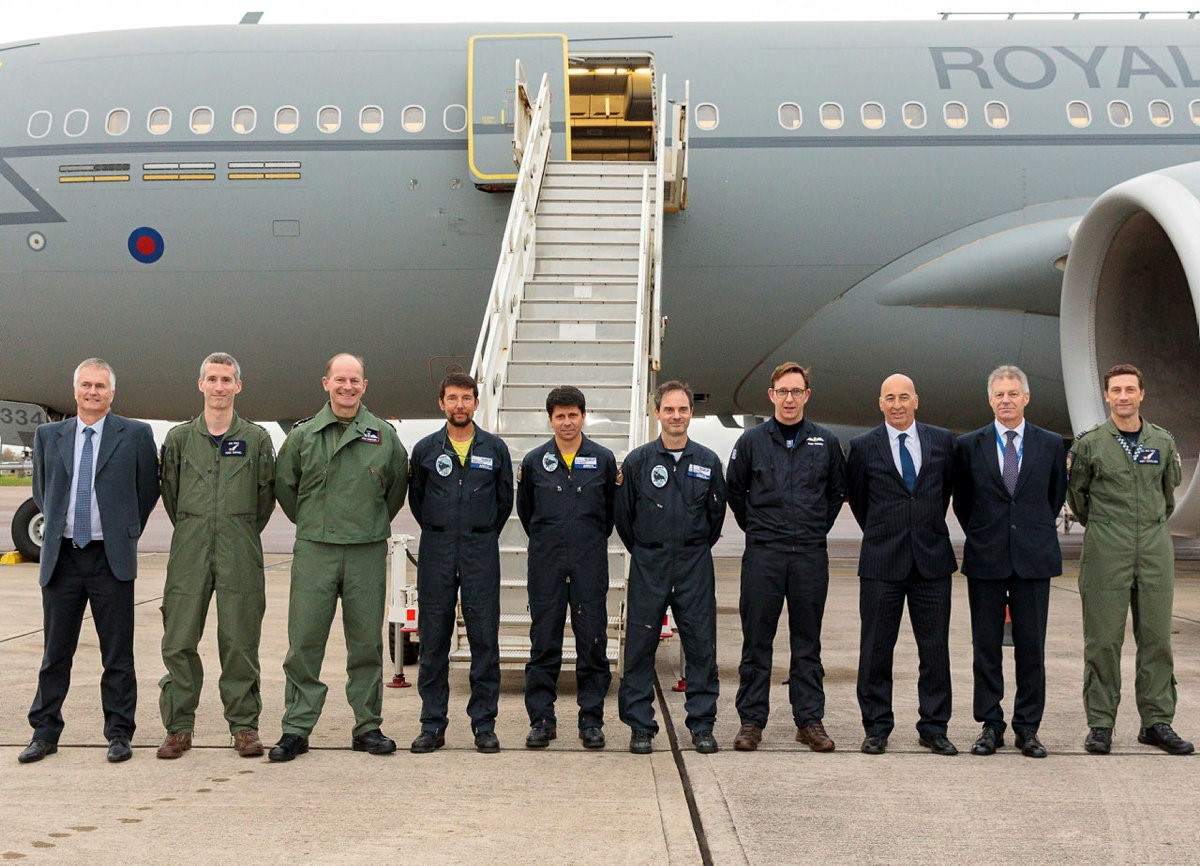 DE&S played a key enabling role in the trial; ensuring the use of a single voyager aircraft for the duration and putting in place the contractual arrangements to enable the procurement of the SAF required. Additionally, through the Voyager Chief Engineer, DE&S issued the military permit to fly which enabled the trial to take place using a military aircraft.
As different approaches will suit different platforms and environments, a range of alternative fuel options are being looked at to ensure the UK is at the forefront of this developing technology.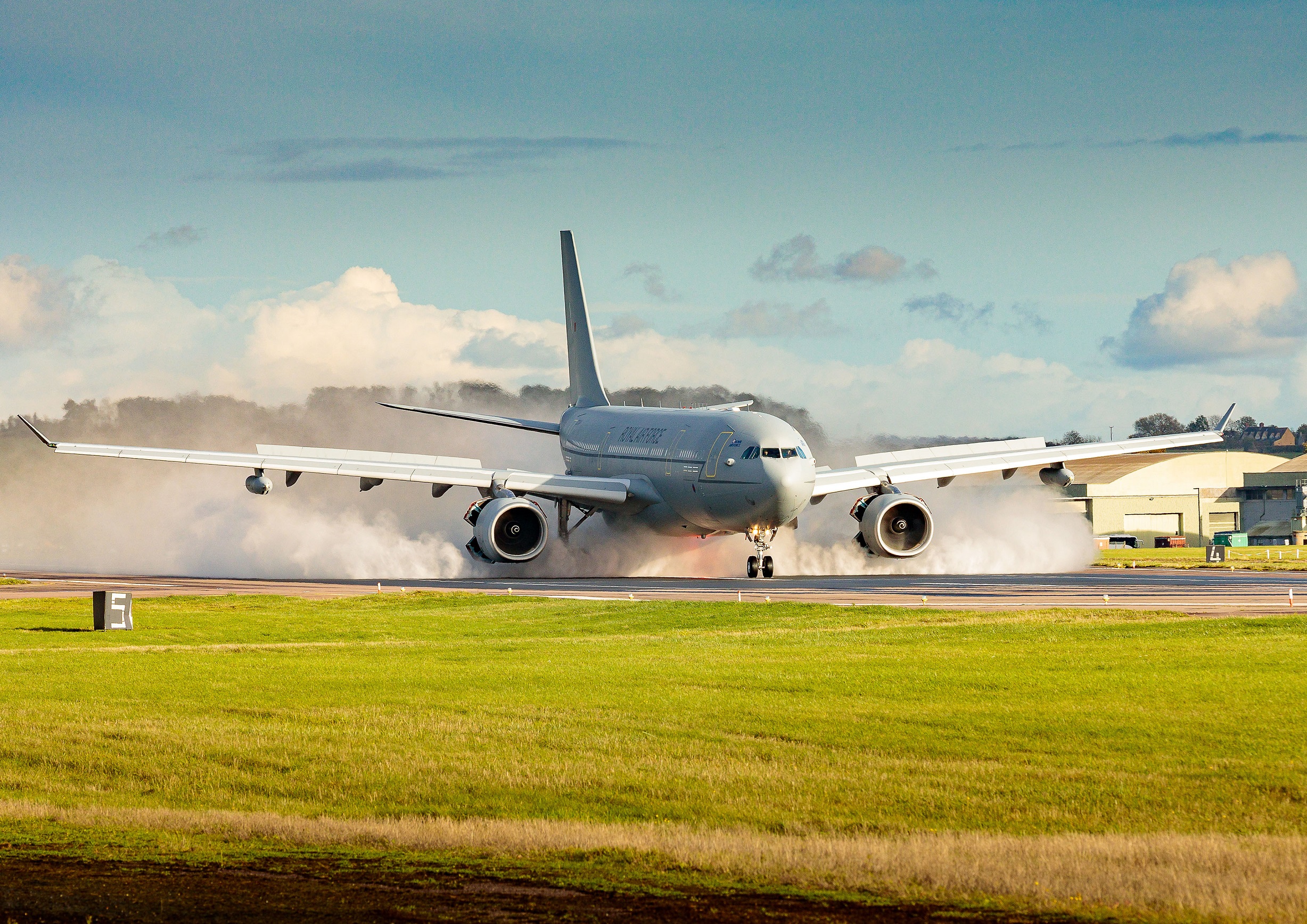 Geoffrey Simpson, DE&S Chief Engineer & Type Airworthiness Authority (TAA) for the Voyager Platform, was instrumental in organising the trials and the military permit to fly, ultimately signing off the flight as being safe to take place.
He said: "It has been truly exciting to be a part of an initiative that has demonstrated to the world that 100% sustainable fuel can be used safely. There is still a way to go but I am incredibly proud to have been part of something that represents a major stepping-stone in the sustainability process.

"Additionally, there was an exceptional team spirit amongst the engineers, both internally and with our industry partners, and being here with them to witness the final flight has been the culmination of what's been a genuinely rewarding journey."
Richard Murray, Director Air Support at DE&S, added:

"DE&S staff involved in this ground-breaking flight can be rightly proud of their part on this remarkable achievement. It is hoped demonstrating these sustainability benefits will further stimulate the market to continue taking an innovative approach towards future operating capability and help DE&S support Defence and the wider government's climate change ambitions."

The 90-minute flight from RAF Brize Norton, flown by a combined RAF, RollsRoyce and Airbus flight test crew, replicated an air-to-air refuelling sortie and was witnessed by senior RAF and industry representatives. It demonstrated the RAF's potential for its future operational capability, ensuring the ability to contribute to UK defence wherever and whenever required.
Chief of the Air Staff, Air Chief Marshal Sir Mike Wigston said:

"Climate change is a transnational challenge that threatens our resilience, our security and our collective prosperity. This exciting trial flight of a Voyager from RAF Brize Norton powered entirely by Sustainable Aviation Fuel is an important milestone on that journey and marks another technological first for the RAF alongside our industry partners."
While continuing to fulfil the priority focus of protecting the nation, the sustainable aviation fuel could mark a step-change towards the RAF's goal to be Net Zero by 2040. Working towards the Government's Net Zero 2050 goal and Jet Zero Strategy, the RAF also plans for their first Net Zero airbase by 2025.