Published 15 September 2023
Share this story
The Royal Navy's Carrier Strike Group has been deployed with the most advanced version of the Crowsnest Airborne Surveillance and Control (ASaC) system yet.
Having achieved Initial Operating Capability earlier this summer, the "eyes of the fleet" are being operated from two Merlin Mk2 helicopters accompanying HMS Queen Elizabeth and the rest of the fleet. A further three Merlin helicopters performing Maritime Patrol will also form part of the Strike Group.
The UK flagship left Portsmouth last week to head north, leading a task group of partner nations and exercising her F-35B Lightning II stealth fighters and Merlins.
Keith Bethell, Director Helicopters for DE&S, which manages the Crowsnest Programme, said:
"We have been working very closely with our industry partners and the Royal Navy to upgrade and mature Crowsnest since it was a key element of the maiden Carrier Strike Group deployment in 2021.

"With mission system software improvements and the operational experience gained by Merlin crews on other deployments last year, it promises to be a valuable wide-area surveillance and threat reduction asset."
Flying more than a mile above the carrier strike group, the ASaC aircraft use their radars, lowered underneath the fuselage in a domed bag – which earns them the nickname 'Baggers' in the rest of the Navy – to look 'over the horizon'.
The helicopters' highly-trained crews search for possible air and surface threats – and can be used to coordinate defence and strike operations.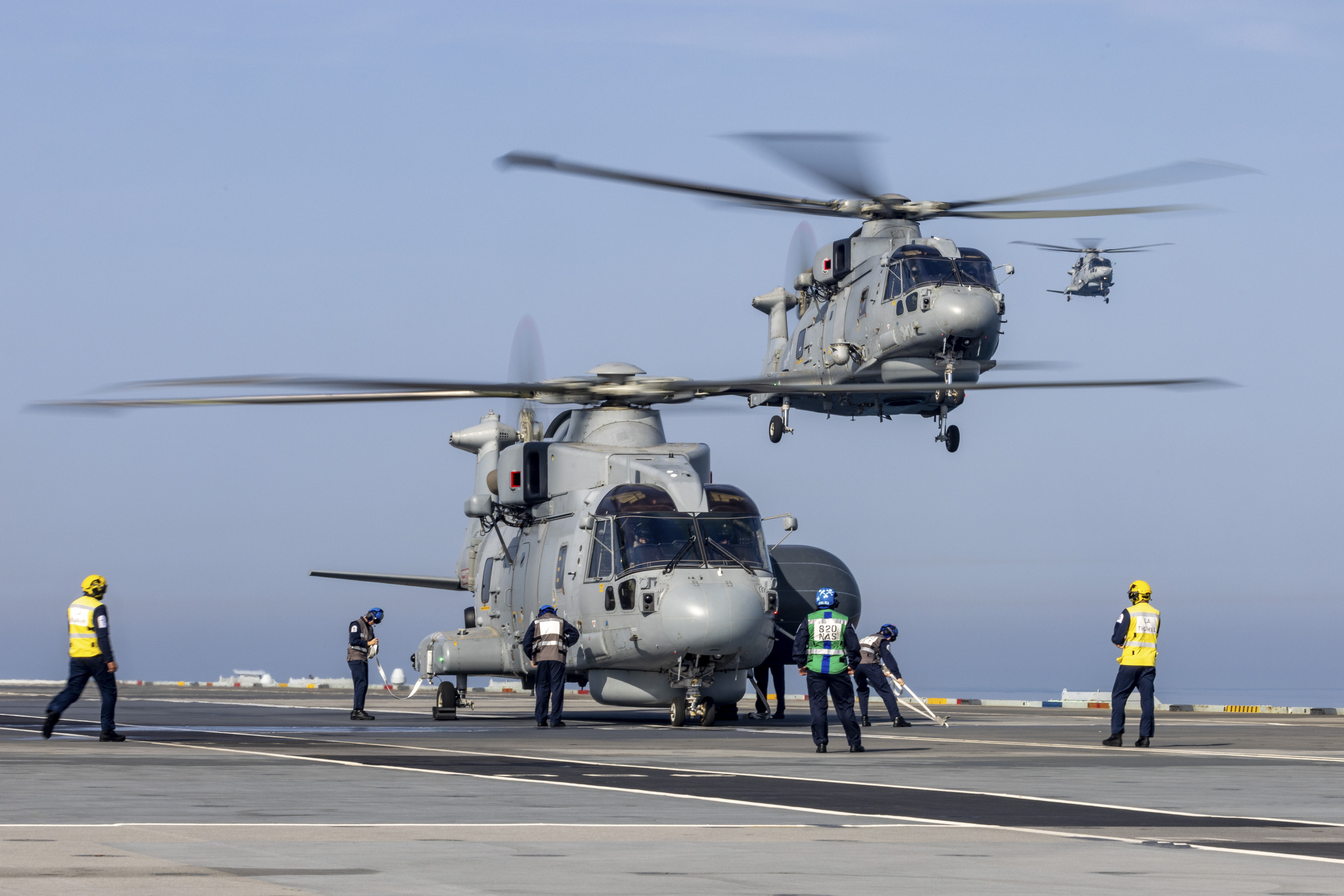 Each Merlin has three crew made up of pilots and observers from 820 Naval Air Squadron, based at RNAS Culdrose in Cornwall. They are embarked alongside the ship's complement of and anti-surface warfare Wildcat helicopters.
Commander Aidan Riley, who commands the Merlin Helicopter Force, said:
"The deployment of this year's carrier strike group is a significant milestone for our ASaC capability.

"We have an intensive aircrew training programme in place here at Culdrose which in the last couple of years has introduced a new generation of 'baggers' into the fleet.

"Operating from the carrier and her escorts, the men and women of 820 Naval Air Squadron present a formidable defence, protecting the carrier task group from possible threats above and below the water."
Crowsnest is delivered by Lockheed Martin, the prime contractor, Thales UK and Leonardo Helicopters.