DE&S is proud to have been recognised at the annual Minister for Defence Procurement (Min DP) Acquisition Awards.
Share this story
The list of awardees includes the Future Maritime Support Programme (FMSP), our Entry Talent Centre of Expertise (ETCoE) for apprentices and graduates, and the Vehicle Support Team in the Land domain.
The Min DP Acquisition Awards were created to acknowledge and commend the outstanding contributions of teams in the defence acquisition field, celebrating exceptional performance, innovation, effort and commitment.
DE&S teams were recognised at an awards ceremony at MOD main building in London along with others from across UK defence.
Congratulating the award winners, Minister for Defence Procurement, Jeremy Quin, said:

"These awards recognise and reward excellence and celebrate innovation and first class delivery.

"The standard of applications for this year's awards was very high. Congratulations to all the teams who won an award and thank you for all your hard work in support of our Armed Forces and the continued defence of the UK."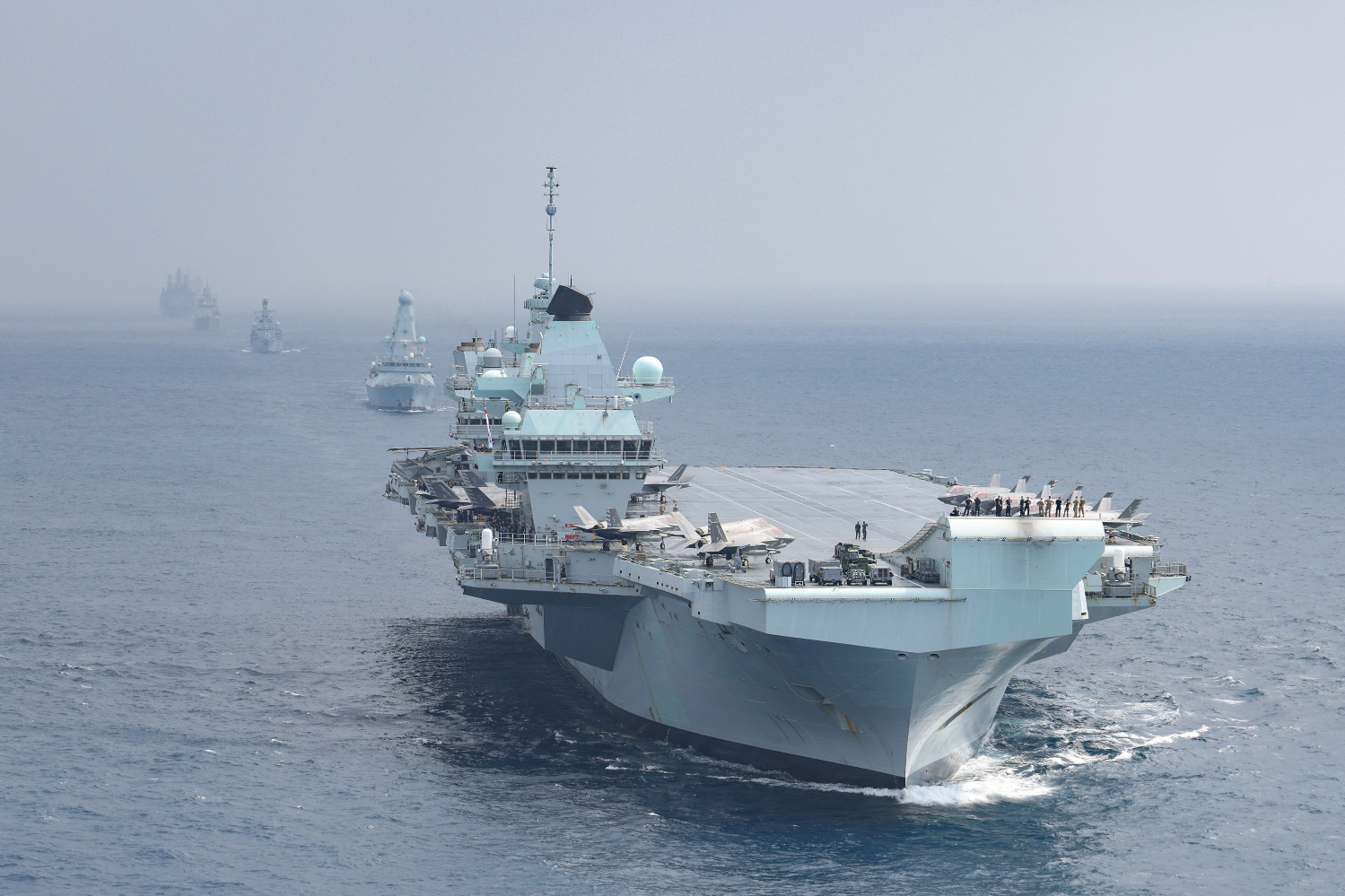 A symbolic milestone: HMS Queen Elizabeth and HMS Prince of Wales meet at sea for the first time.
Focus on: Future Maritime Support Programme
The Future Maritime Support Programme (FMSP) is an all-encompassing programme which drives major improvements in performance and efficiency through an ambitious procurement and commercial strategy. With £5.2-billion worth of contracts signed with industry, saving £600-million, it is the largest and most complex MOD support contract ever created, supporting the operation and maintenance of the Royal Navy's warships and submarine fleet.
This includes all frigates, destroyers, and aircraft carriers – such as the iconic Queen Elizabeth-class aircraft carriers. The FMSP has responsibility for the operation of Naval Base services to support a better life experience for personnel stationed on base or operating at sea. This includes the management of warehousing, distribution, personnel accommodation, facilities and catering.
Chris Wardle, Performance Support Team Lead for FMSP, said: "FMSP has exploited single-source contracting regulations to the full, gathering more financial and management information about maritime support than ever before.

"After four or more years of hard work, collaboration and at times tough negotiation with suppliers, the FMSP team – made up of representatives from DE&S Ships, Naval Bases, Navy Command HQ and the SDA – are delighted to be recognised by MinDP for their contribution to Defence."
Focus on: The Vehicle Support Team
The Vehicle Support Team (VST) is responsible for the in-service support of the land vehicle fleet on operations worldwide. This includes all fighting and logistical vehicles used by the frontline commands.
UK armed forces rely on us to support their demanding and dangerous roles, whether that be in training, at readiness or deployed on operations. The VST delivers safe, reliable and fit equipment, whether that be through the day-to-day management of vehicle fleets or the management of supply chain and integrated logistics. The team also drives forward the development of new vehicles deliver for a modern and capable British Army.
Chris Bushell, DE&S Director General Land, attended the awards. He said: "It was great to see and hear some really positive stories about DE&S playing such a key role in UK Defence and performing well over the past year. DE&S had a very broad mix of award winners, reflecting the diversity of our people and teams, and the variety what we do as a business."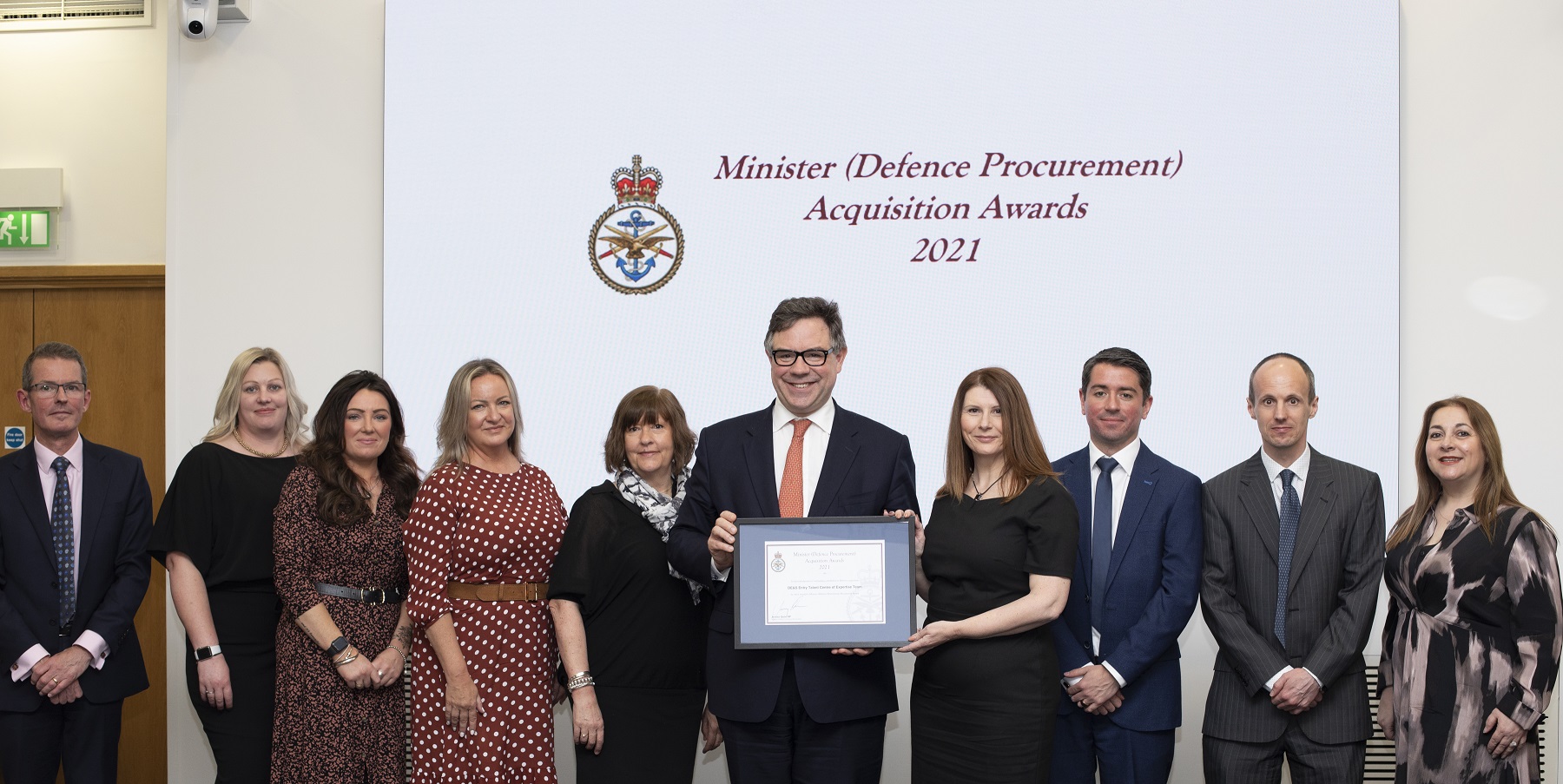 Focus on ETCoE:
ETCoE provides inspirational hands-on care to DE&S' 800-plus apprentices and graduates.
It delivers a holistic programme, from targeted marketing and recruitment of high calibre talent from a diverse range of backgrounds, through to nurturing, supporting and individually managing each graduate and apprentice's journey.
This ensures they are ready to join the business as fully capable professionals in a range of careers, equipped with a transferable skill-set and continued learning mindset to deliver or enable defence procurement for the Front-Line Commands.
Amanda Clements, ETCoE Governance Team Lead, said: "Talent is a golden thread in our organisation and developing entry talent is critical to driving DE&S' future capability.

"Amongst all the remarkable procurement programmes within MOD, it is an honour to receive this MinDP recognition of achievement award on behalf of the DE&S Entry Talent Centre of Expertise (ETCoE) for our outstanding contribution to defence acquisition."