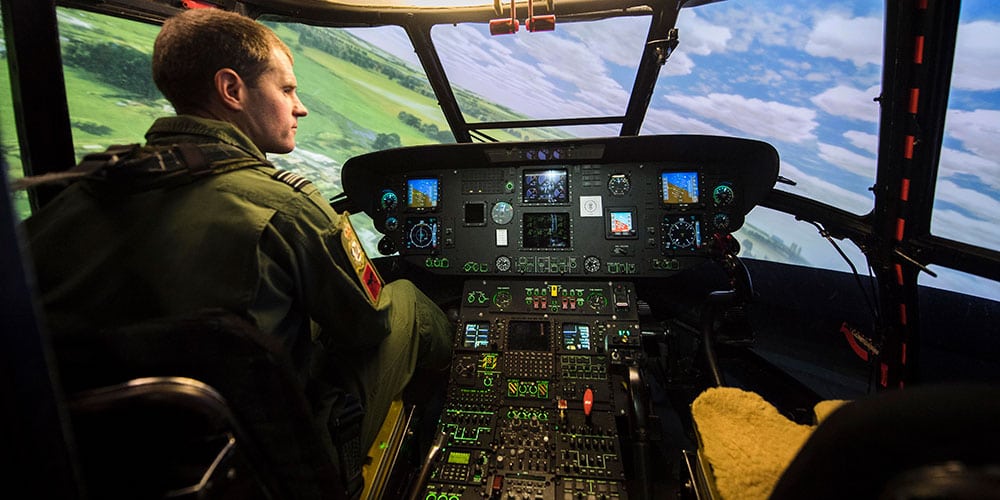 £90m investment in world-leading helicopter pilot training simulation centre.
Centre will help train RAF and Royal Navy helicopter pilots.
CAE Aircrew Training Services to deliver training for Chinook, Puma and Merlin aircrews.
Published 23rd October 2017.
Share this story
The Ministry of Defence has announced an over £90 million investment in a world-leading helicopter simulation centre to help train the Royal Air Force and Royal Navy helicopter pilots of the future.
The simulators put pilots through their paces, replicating extreme real-life scenarios, from flying in blizzards or under enemy fire to dealing with power failures and electronic warfare. The deal will sustain 70 jobs at the Medium Support Helicopter Aircrew Training Facility based at RAF Benson in South Oxfordshire.
Defence Minister Harriett Baldwin said:
As we saw in the wake of devastation in the Caribbean just this Summer, our helicopter crews provide life-saving relief across the globe as well as defending the UK. This £90 million investment will see these cutting-edge simulators train our pilots right through until 2025, ensuring they are ready to deploy on missions all over the world.
Helicopter pilot training – DE&S sign contract with CAE Aircrew Training Services
Defence Equipment and Support signed a contract amendment with simulator specialist CAE Aircrew Training Services to deliver training for Chinook, Puma and Merlin aircrews at a purpose-built facility, extending the use of CAE's current contract for another 8 years.
Russ Cole, DE&S Flight Simulation and Synthetic Trainers team leader said:.
With this facility we can deliver state of the art, top of the range training, teaching the aircrew how to operate the aircraft safely, properly and effectively, and then how to fight in them.

It's realistic, demanding and really puts you right in the middle of it all. It really is immersive. You see guys coming out [of the simulator] sweating; they are really pumped up.
Russ added that he believes it's important to take the DE&S team to RAF Benson when possible so they can see the difference they are making:  
It gives them the opportunity to meet the air crews that are using the simulators as part of their training and development and it's a real boost for them to hear that what they are delivering is really appreciated. The air crews also love meeting the team from DE&S as it gives them the opportunity to say thank you for their efforts.
The equipment provides a realistic representation of the operating environments the crews will fly in, including emergency situations like the effects of icing and rotor blade damage, the impact of gun or missile fire and electronic warfare, total electrics failure and fuel management issues.
The contract will deliver training for Chinook and Puma aircrews until the Puma planned out-of-service date. Training for the Merlin Mk3 will continue at the facility for at least two more years as the Royal Navy transitions from the Mk3 to the Mk4 helicopter.
Find out more