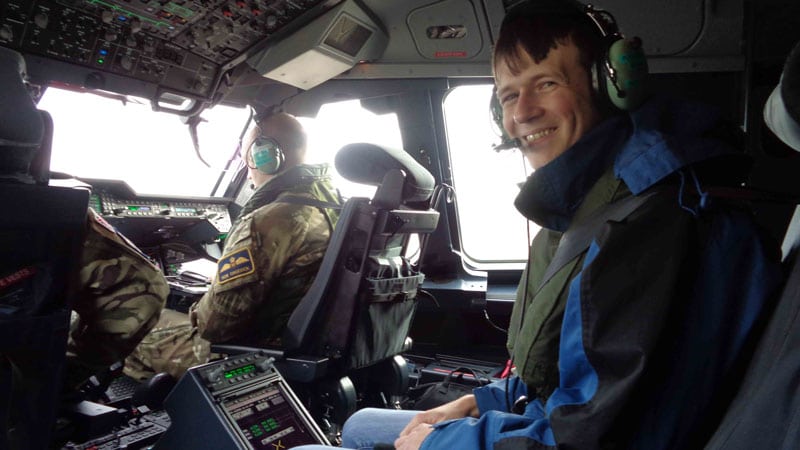 Two DE&S graduates on the A400M Atlas team have returned from an unforgettable visit to the Falkland Islands.
Share this story
"I was anxious about going because I didn't know what to expect but it was an absolutely amazing experience and I'm so grateful I did," Catherine Giblin says.
Catherine, a Project Professional graduate on the A400M Atlas project team was made aware of the chance to go to the Falklands by fellow graduate Christian McLean-Mair.
Christian, who holds a Masters in military history, identified an opportunity to visit the Falklands to gather vital information about the challenges in delivering and maintaining the A400M on the Islands after its recent milestone deployment.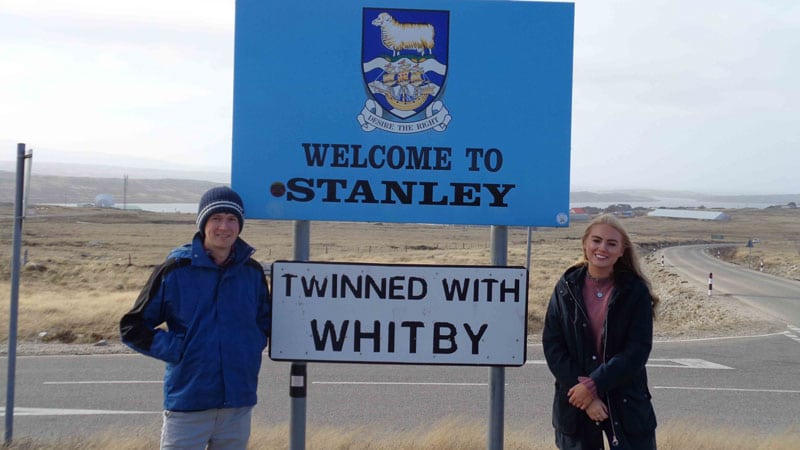 Christian and Catherine visited Stanley (the Islands' tiny capital).
After extensive research, a successful business case, and gaining military approval, the two found themselves onboard a Voyager aircraft making the 18-hour 8,000-mile journey to the archipelago in the South Atlantic Ocean and before they knew it were enjoying a tour around RAF Mount Pleasant – their home for the four-day visit.
The A400M is used in the Falklands for search and rescue, transport, and maritime patrols; ensuring that there is no unlicensed fishing vessels or intrusions by unwelcome third parties. However, the extreme weather conditions can make keeping the planes maintained and flying a challenge.
Christian said:
"When you are the tail-end of an 8,000-mile supply chain you can't just pop out to get some nuts and bolts when you need them. Even ordering them can be a challenge as the internet and phone connections are quite poor. As a result, they have to be extremely organised.
"It was invaluable for us to meet both engineers and the pilots to hear from them exactly what they need to ensure there is not a gap in the capability. It has given us information that is hugely relevant to our team and will support the continuing improvement of the A400M aircraft support, both at home and in more challenging environments."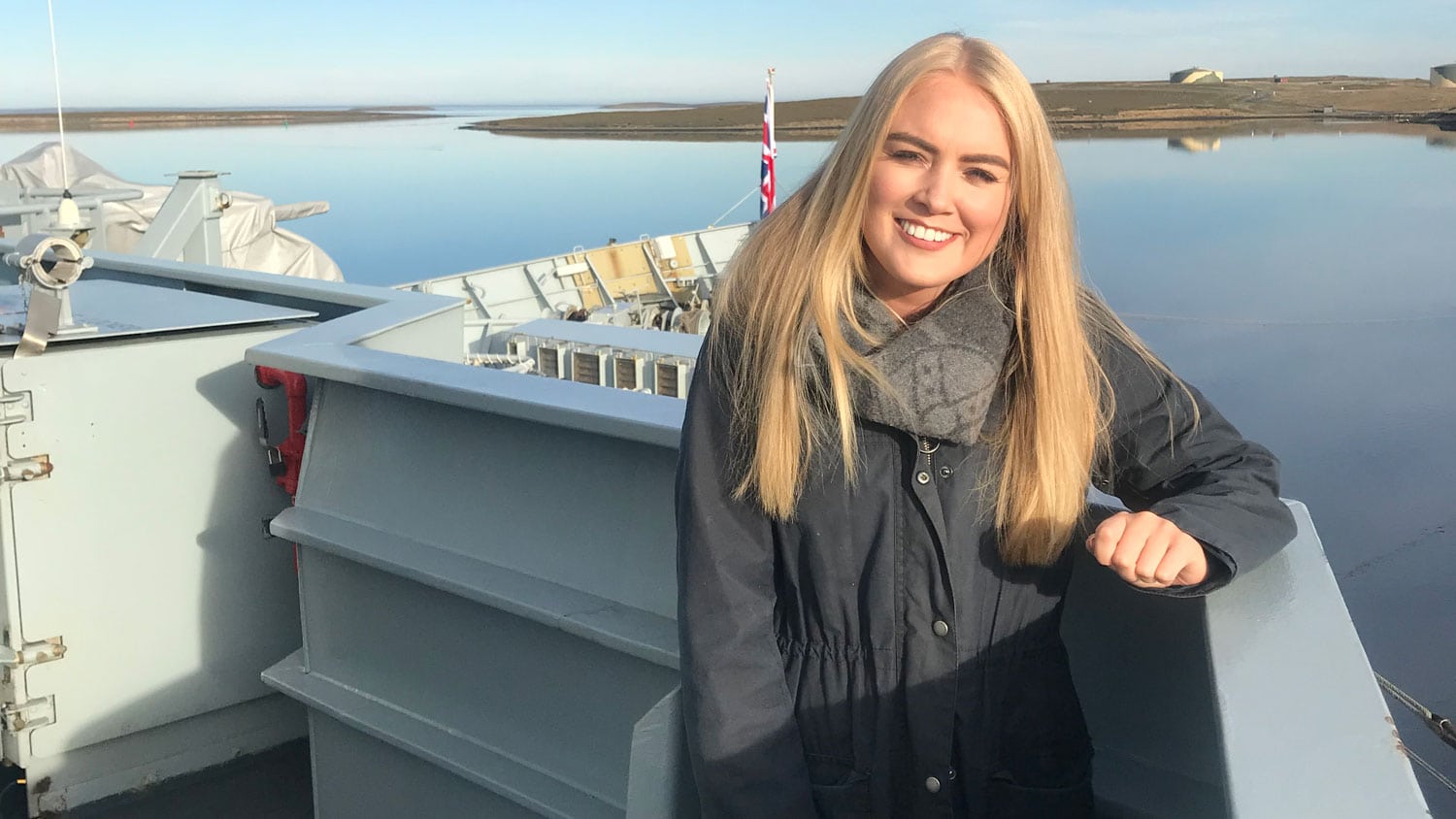 Catherine on HMS Clyde.
While this was the main thrust of their visit Christian and Catherine found themselves treated to a host of exciting opportunities that will live long in the memory, most of which are thanks to 1312 Flight and the duo's sponsor Squadron Leader Paul Bolton.
"We got to fly in an A400M for the first time and were joined by Typhoons and they suddenly put their afterburners on and shot off – it was just incredible," Catherine said.
"When we went in the back they started to do some tactical manoeuvres, I couldn't believe how agile such a massive aircraft could be!"
Christian added:
"Then we flew with them to go iceberg hunting and found two. It was unbelievable, we flew so low circling them you could see the vivid blue of the ice."
The pair also visited Stanley – the tiny capital (2,100 people) of the islands, toured HMS Clyde, the offshore patrol vessel that serves as the Permanent Guard ship, helped out during a local primary school' visit to the A400M hangar, visited one of the Typhoon hangars (and got to sit in the cockpit), and paid tribute at memorials located on the Islands.
"We also went to this idyllic sandy beach where there were warnings about landmines, it was very surreal that somewhere so beautiful could hold such danger," Catherine said.
Christian added:
"It was an incredible trip and one very few people get the chance to experience. It's an experience that neither of us will ever forget."
A400M Team Leader, James Dowson, said:
"This has been a unique and memorable development opportunity for Catherine and Christian, and also very useful for helping the outputs of the Delivery Team. They have captured insightful feed-back from the aircrew and maintainers who operate and support the aircraft on a daily basis in a demanding environment, which will allow us to improve our support to A400M operations in the Falkland Islands."
Atlas A400m programme information