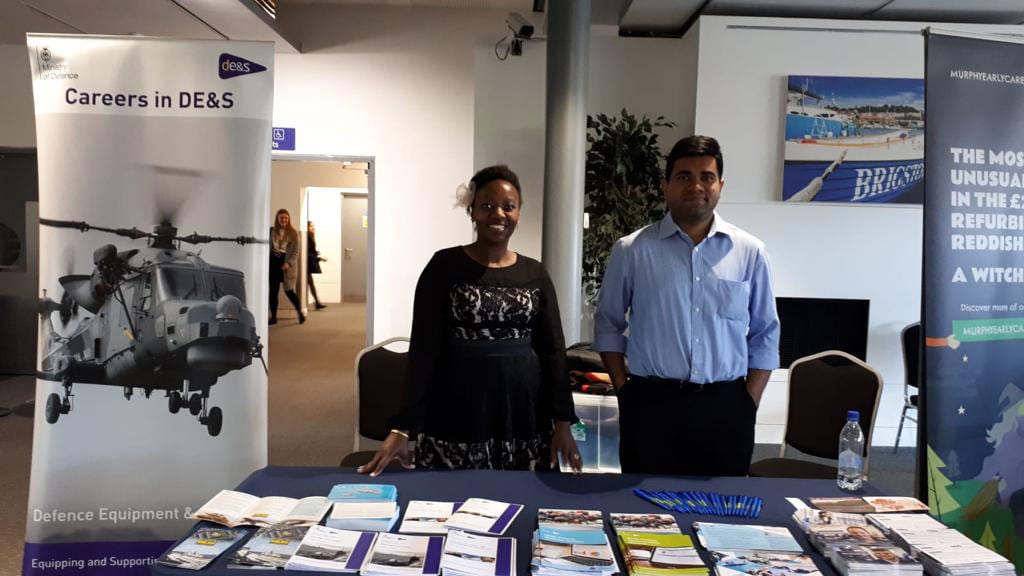 Share this story
Representatives from DE&S have been promoting equality in engineering at an apprenticeship and graduate careers fair in Bristol.
The event was put on by EqualEngineers which connects inclusive employers with diverse talent in engineering and technology.
Attending the fair, DE&S apprentices spoke with students, graduates and professionals considering a career in engineering to tell them what a job at DE&S is really like.
Noor Nasir, who works in the DE&S Outreach team, said:
"It was fantastic to meet so many people and to show them what we do here at DE&S and what a job here might look like for them.

"There is a real breadth to the kind of jobs we can offer, so getting that across was really important.

"We also wanted to highlight the benefits of working here, especially the great support networks available to staff."
The aim of EqualEngineers is to increase social mobility within the engineering and technology profession and it specifically targets female, ethnic minority, lesbian, gay, bisexual and transgender (LGBT+), and disabled engineers, as well as other underrepresented groups in the profession.
Dr Mark McBride-Wright, managing director of EqualEngineers said:
"EqualEngineers was set up in 2017 to connect inclusive employers with diverse talent in engineering and technology, but we are not going to solve equality and diversity in engineering working alone.

"That's why I am very grateful for the support of organisations such as DE&S who believe in the mission and vision we have for EqualEngineers."