Published 10 October 2023
Share this story
The UK's first ship dedicated to underwater surveillance has been welcomed into naval service during a ceremony in London.
RFA Proteus, purchased at pace by DE&S, will serve as the launchpad for remotely-operated vehicles and a home to a suite of specialist capabilities similar to those found in the oil and gas industries.
The ship, which will be operated by the Royal Fleet Auxiliary – the crucial support arm of the Royal Navy – was formally dedicated on the Thames in the presence of the RFA Commodore-in Chief, Prince Edward, The Duke of Edinburgh, and businesswoman and wife of Prime Minister Rishi Sunak, Akshata Murty, who will be Proteus' sponsor throughout the ship's active life.
A ship's sponsor is an honorary title which is served to bestow good luck on a ship. The sponsor is regarded as a permanent member of the ship's crew, and. attend key moments in a vessel's life.
Proteus will serve as a testbed for advancing science and technological development enabling the UK to maintain the competitive edge beneath the waves.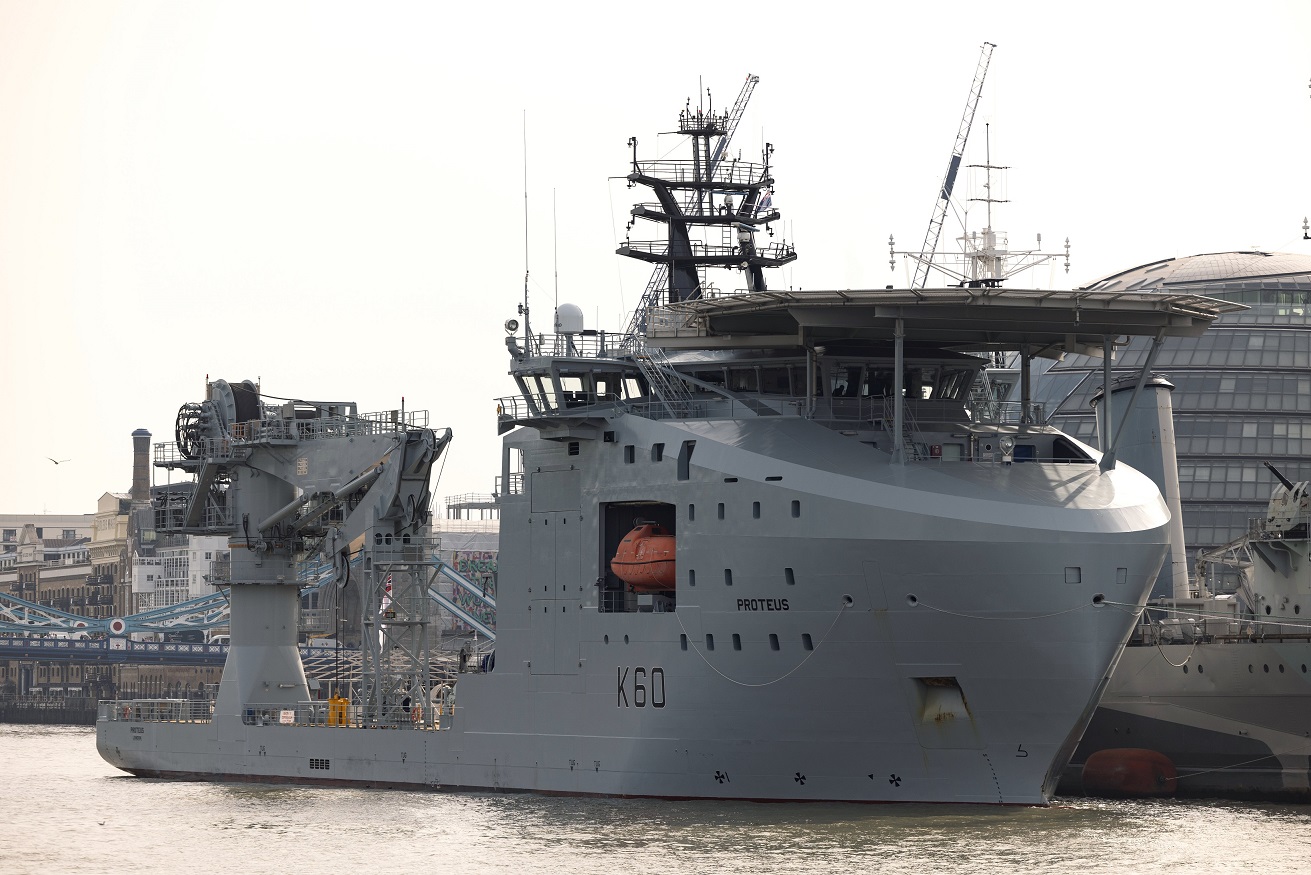 It's just 11 months since the MOD committed to invest in Proteus – named after the god of rivers and water in Greek mythology – as the first ship in its Multi-Role Ocean Surveillance (MROS) programme.
Since arriving at the Cammell Laird yard in Birkenhead in January, the 6,000-tonne vessel has undergone conversion and alterations ready for her unique mission.
The ship was purchased by the DE&S Multi-Role Ocean Surveillance (MROS) delivery team, led by Gareth Morris.
Gareth said:
"I was incredibly proud to be able to join my DE&S colleagues to celebrate the service of dedication for RFA Proteus in London. The delivery team overcame extremely tight timelines, working with partners in industry and Navy Command to deliver Proteus within 12 months. The versatility this vessel brings, not just to the RFA but also the Royal Navy, will ensure that she will be vital to supporting maritime security for many years." 
Crewed by 26 Royal Fleet Auxiliary officers and sailors, augmented by 60 Royal Navy specialists responsible for the undersea surveillance, survey and warfare systems, the ship began life as an oil rig-support vessel.
It left Merseyside last month to undergo trials and training off Portland before heading to the capital to berth alongside iconic wartime cruiser HMS Belfast for service the of dedication.
This ship is equipped with a flight deck and a 1,000-square metre cargo deck, plus a heavy-duty crane for lifting and lowering operations. 
Commodore David Eagles, head of the Royal Fleet Auxiliary, said:
"It is a huge honour and responsibility for the Royal Fleet Auxiliary to be charged with crewing and operating RFA Proteus and delivering her unique, sovereign capability in partnership and collaboration with our Royal Navy, Defence and Government agency colleagues.

"Bringing a ship into service is a demanding endeavour which relies on a diverse, multi-skilled team, strong leadership, and unflinching determination. Proteus is no different and I pay tribute to the men and women in the UK, military and civilian who have contributed to this project and made today possible."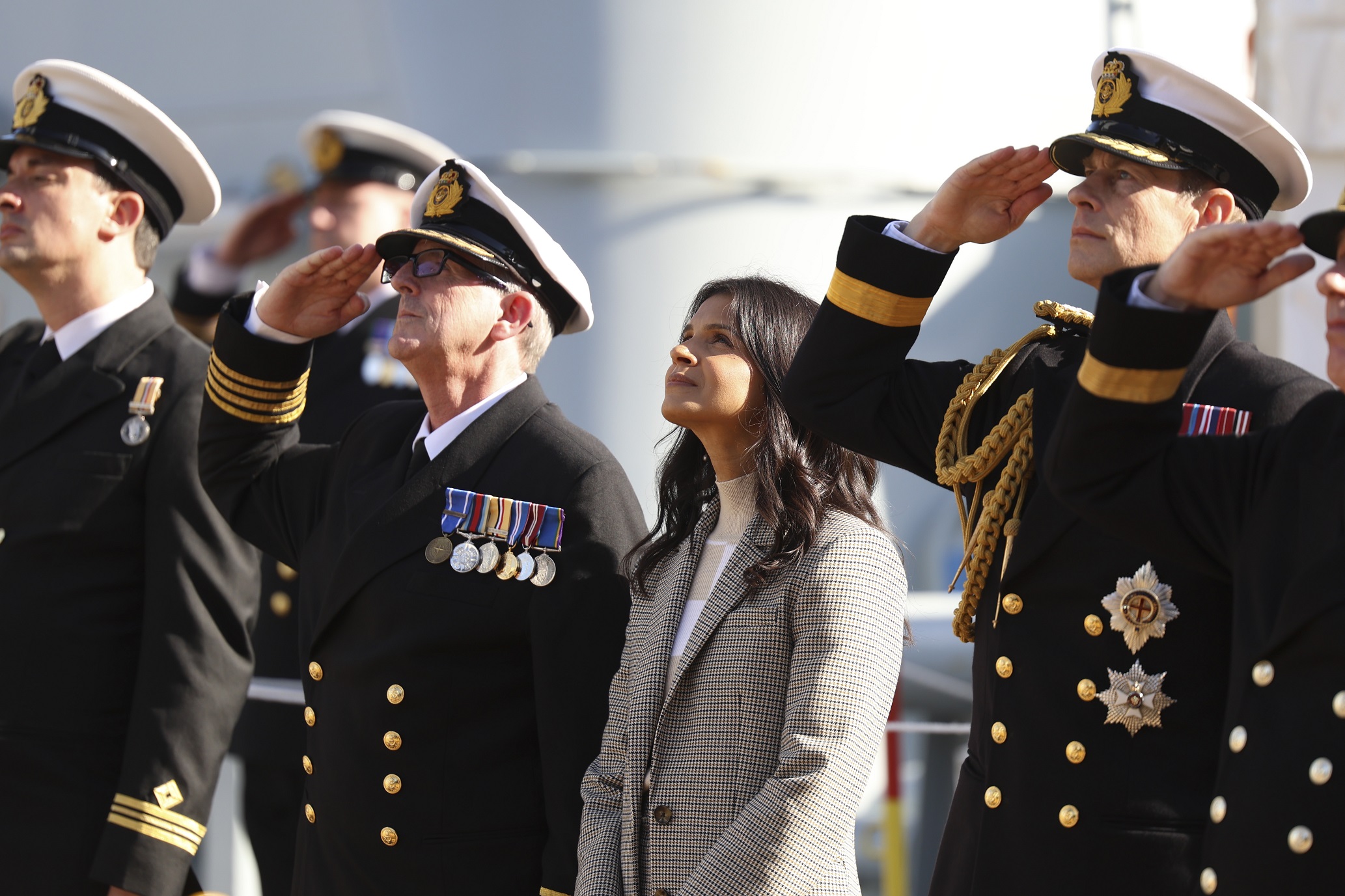 Ship sponsor, Akshata Murty said:
"It is a privilege to be the sponsor of RFA Proteus as she comes into service. The Royal Fleet Auxiliary are unsung heroes of our maritime security, and I am incredibly proud of all those who have worked on her to date, and all those who will serve on board in the years to come. I look forward to a long and rewarding relationship with Proteus and all associated with her."