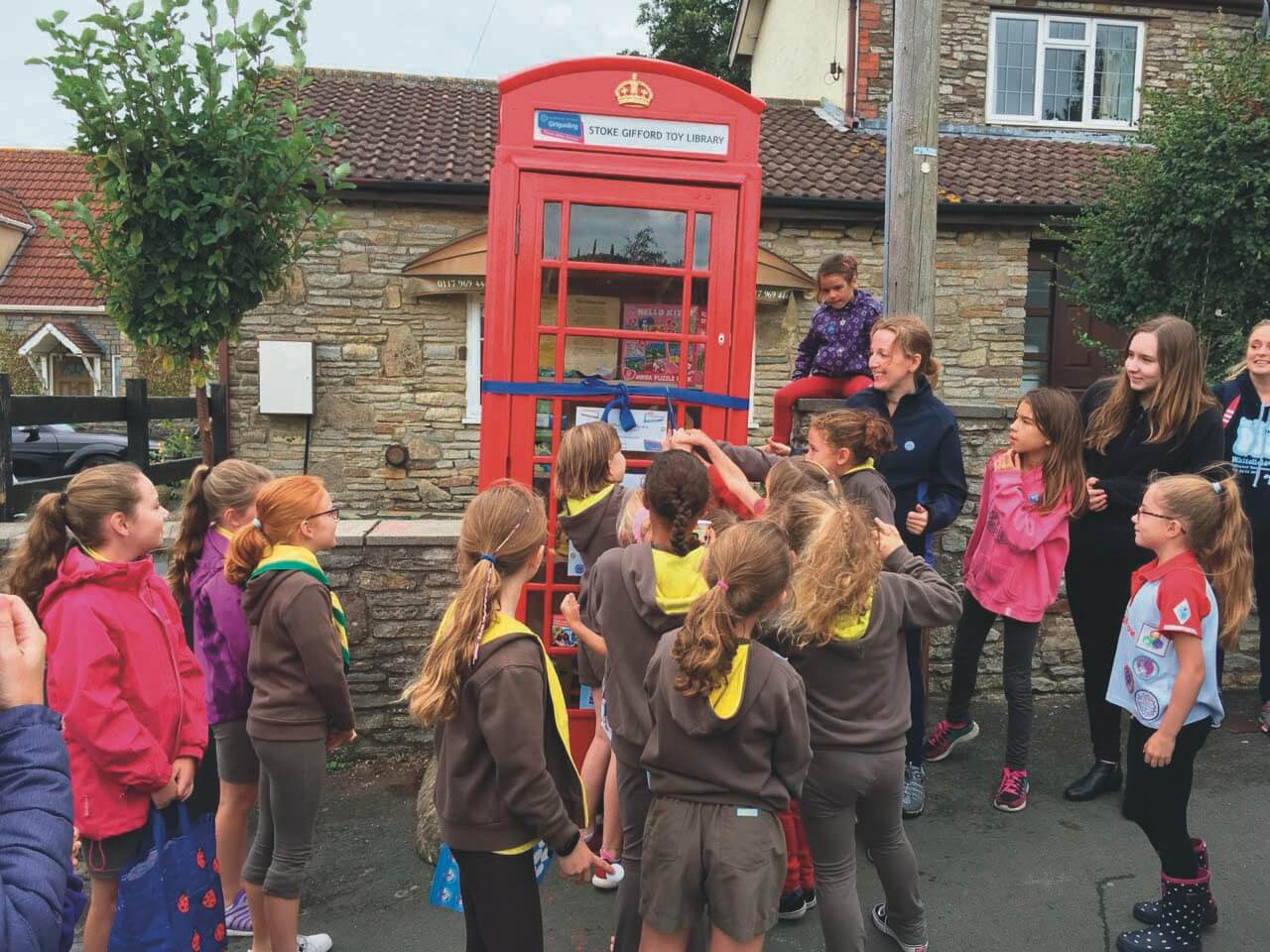 Share this story
Staff at DE&S have helped a Girlguiding group transform a disused telephone box into an exciting toy library for local children.
Alix Evans, who works in the Land Domain and is leader of the 2nd Stoke Gifford Rainbows, said the girls wanted to help other children less fortunate than themselves after they visited the North Bristol Foodbank.
Now, eight months on, the telephone box has been officially opened during a ceremony attended by members of the Stoke Gifford Parish Council and Girlguiding Bristol and South Gloucestershire Assistant County Commissioner Laura Whiteway.
The red box has had a major facelift and been filled with good quality second hand toys and books ready for children in the local community to borrow.
"The girls have put in so much work, but it has all been worth it" 
Alix Evans said:
"The girls have put in so much work, but it has all been worth it. Working on the project has given the girls a real understanding of how to make things happen – they had an idea, they worked hard collecting tokens and making decorations and now they can see it open and available for use."

"Working for DE&S we are always thinking about our customers and the community we serve, and I take this into my volunteer work with the Girlguiding group. We work hard with the girls to encourage them to think about their community and this is a perfect way for them to do something visible and positive in their area."
In order to get the Toy Library opened, the group had to obtain permission from the parish council before enlisting Staff Sergeant Richard Bagenda – a chief engineer at DE&S – to provide a free survey of the box and recommend repairs which would allow it to be a safe, water tight library. Richard was also assisted by Bryan Curry, a retired local resident, who previously worked as a maintenance engineer for BT telephone.
Richard Bagenda said:
"Working as an engineer at DE&S I knew I had the skills to help and I wanted to get involved in such a valuable community project. It is great to see it opened and ready for service."
With help from several DE&S staff to collect tokens for the Airbus community awards, the Rainbows won 2nd place in the competition and also drew on the specialist skills in the local community to help with the project.
The Toy Library will be open 6 days a week and the girls plan to decorate the box with a monthly theme, making it a talking point of the village and ensuring interest is maintained.
Donations of good quality toys are now accepted – please email 2ndstokegiffordrainbows@gmail.com and a volunteer will be in touch to arrange collection.
If you are interested in getting involved in community schemes you can contact the DE&S volunteers network who can signpost to local organisations.