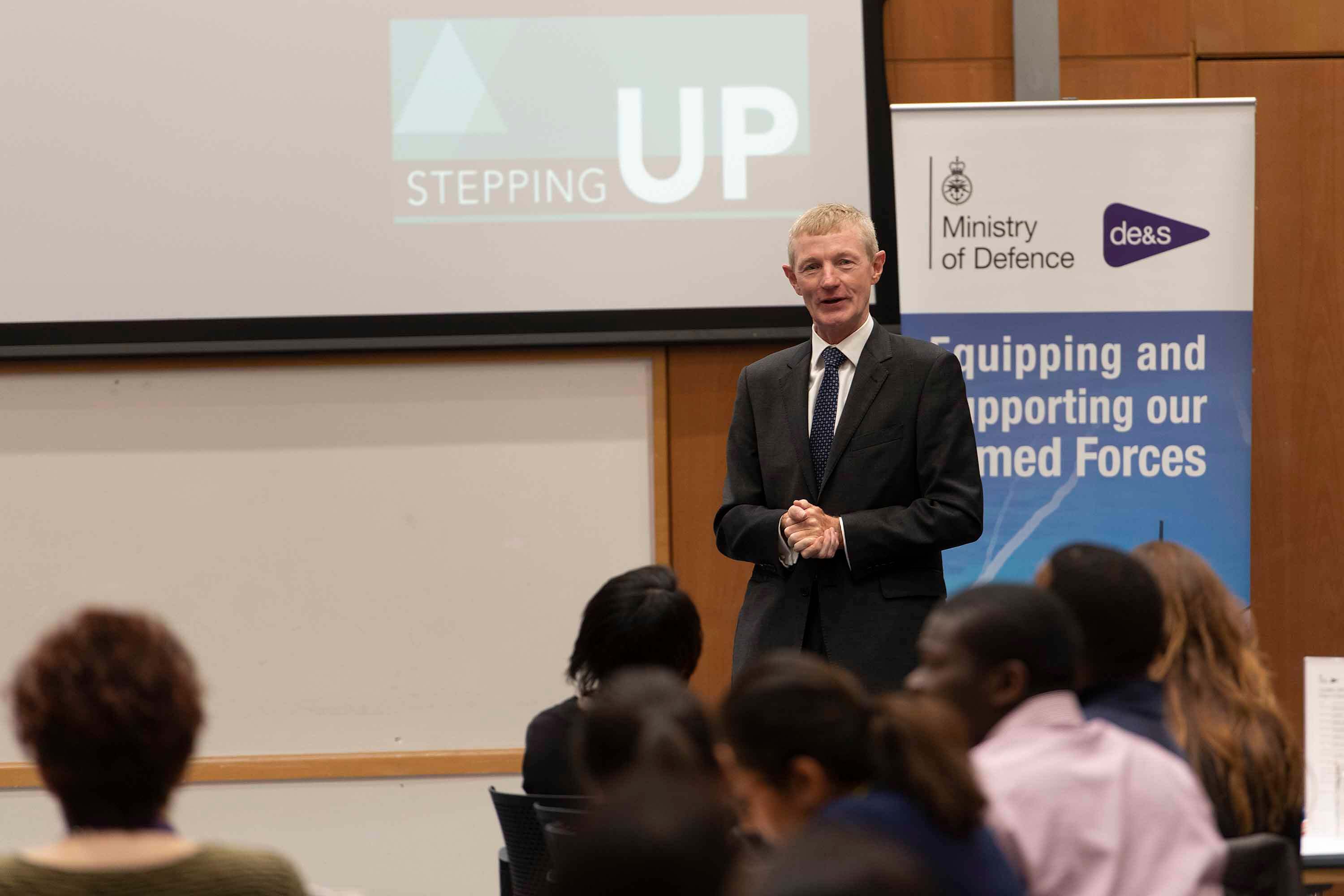 Share this story
Defence Equipment and Support (DE&S) is championing diversity in the workplace by helping people from Black, Asian and Minority Ethnic (BAME) backgrounds to move into higher management positions across the south west.
As a major employer in the region, we are committed to ensuring that we create a diverse and inclusive workforce that is representative of the population around Bristol.
Welcoming more than 70 people from BAME backgrounds to its headquarters at MOD Abbey Wood, we have hosted the first Stepping Up summit to take place in the city, inviting the aspiring leaders to discuss the global trends that will have an impact on their roles in business over the coming decades.
The Stepping Up programme was launched in January by Bristol Mayor Marvin Rees to develop leadership skills and provide learning opportunities for those from a BAME background who are living and working in businesses around Bristol.
Sir Simon Bollom, CEO of DE&S, said:
"We are committed to improving diversity at all levels in DE&S, and the Stepping Up programme is one way that we can invest in the future by supporting people from BAME backgrounds from across the region to develop their leadership skills and reach their full potential."
Support of the Stepping Up programme is one of several actions DE&S is undertaking to encourage more people from BAME backgrounds to come and work for the organisation, including reviewing its recruitment processes and eliminating any barriers that may exist to people applying.
Zahoor Ahmad, DE&S Stepping Up programme participant, said:
"Working in large organisations, which can tend to have few people from black and ethnic minorities in senior level positions, makes it hard for middle managers from BAME groups to know how to reach top level jobs."
As well as taking part in the programme and hosting the Global Trends Summit, DE&S has provided mentors for Stepping Up participants from other organisations and will also offer short-term project placements for participants to come and work at the organisation.
Marvin Rees, Mayor of Bristol, said:
"The Stepping Up programme supports the development of future leaders from under-represented groups and contributes to a more diverse leadership landscape in the city. We have been delighted with the response to the programme and it is great to see this innovative partnership with Defence Equipment and Support."

"The Global Trends Summit brought together inspirational speakers from a wide range of sectors to talk about emerging trends and help our future leaders continue to develop and fulfil their potential."
This year's programme will run until December 2018, with next year's applicants invited to apply from 1 October 2018 to 12 November 2018 by visiting the Bristol City Council Jobs Pages.