Published 19 October 2021
Bristol City Council awards DE&S for commitment to diversity and inclusion
Share this story
We have been recognised by Bristol City Council for our commitment to championing diversity.
The Stepping Up Diversity Champion Excellence Award recognises our vital role in supporting the Council's Diversity Leadership programme since it began in 2018.
Stepping Up aims to unlock potential and develop talent while ensuring a fair representation of Black, Asian, ethnic minority, disabled people, LGBTQ+ and women in positions of leadership.
Presented by Professor Christine Bamford, Stepping Up Programme Director and Kevin Millwood, Chair of the Stepping Up Stakeholder Board, it was received by Krishna Dhanak, Director Strategy and Corporate Operations and Race Champion during our first Race Conference, a hybrid event aimed at shining a spotlight on the remarkable, diverse talent across DE&S and our local communities.
Councillor Asher Craig, Cabinet Member for Children Services, Education and Equalities, said:
"I am delighted at being able to acknowledge the support DE&S has given to Stepping Up and establishing an eco-system of employers who are committed to diversity and inclusion. To be able to honour them with an award for outstanding contribution to diversity and inclusion is an acknowledgement of the importance they have played from the very beginning of Stepping Up way back in 2018"
Programme Director and architect of Stepping Up, Professor Christine Bamford, commented on the award:
"DE&S has supported Stepping Up's Diversity Leadership programme since the very start, back in 2018. Stepping Up would not have happened without DE&S' unstinting support and commitment and that is why this recognition is so well deserved."
Support of the Stepping Up programme is one of a number of actions DE&S is undertaking to build and maintain an inclusive working environment that attracts, develops and advances diverse talent.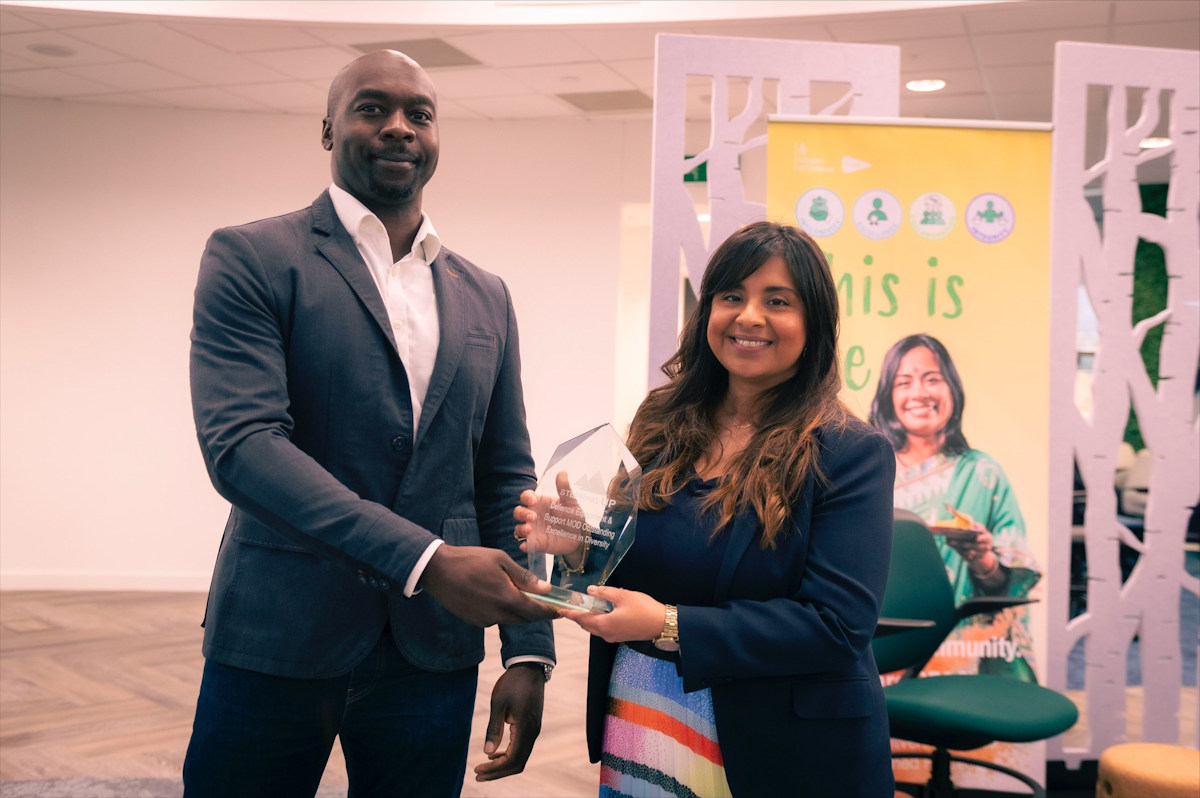 Krishna Dhanak, Director Strategy and Corporate Operations and Race Champion at DE&S, said:
"We are committed to improving diversity and inclusion in DE&S and it is championed at the highest level of our organisation. We are charged with delivering some of the most complex projects in Government. Our success is dependent on our people's diversity of thought, perspectives and experiences.

"The Stepping Up programme has proved to be highly successful in investing in current and future talent. It has provided invaluable support in helping people from underrepresented communities, from across the region, to reach their full potential. I am delighted to see first-hand the impact it has had on our employees who have taken part in the Stepping Up scheme."
In 2018, we hosted the first Stepping Up Global Trends summit to take place in the city which brought together aspiring leaders to discuss the global trends that will have an impact on their roles in business over the coming decades.
In the last four years we, and our sister agency, the SDA, have supported 12 employees to take part in the Stepping Up scheme. We have also provided mentors for Stepping Up participants, venues for Leadership modules, working in collaboration with Bristol City Council on reverse mentoring initiatives, and offering short-term project placements for participants to come and work at the organisation.
Buhe Ncube, a programme manager in our Future Capabilities Group and a former Stepping Up particpant said: "
"Taking part in the Stepping Up programme has really helped me learn a lot about my leadership style and how to communicate effectively with others and with clarity. Having a buddy from a different sector and has also helped me to receive constructive feedback such as how to do an elevator pitch and share ideas to resolve different tasks.

"Since completing it I've definitely become more confident and am better able to consider the wider strategic context in which I am operating to effectively lead my teams."