Published 21 October 2022
A member of staff from Defence Equipment and Support (DE&S) has been selected as a finalist in this year's Women in Defence Awards for her incredible work.
Share this story
Mo Bingham works for the Bristol-based organisation, which buys, supports and supplies the vital equipment and services that the UK's Armed Forces need to operate effectively.
On Friday 21st October, she learnt that she has made it through to the final stages of the prestigious awards, which aim to celebrate the achievements of women working in defence.
Mo, a supply chain manager at DE&S, has been named as a finalist in the Unsung Heroines category, for her work to raise awareness of the menopause across the Ministry of Defence (MOD) from a wellbeing and business perspective.
Mo chairs the MOD menopause network, which she set up in 2019 and now has over 1,400 members.
She said:
"The ethos has always been that 'no-one is alone, menopause is not an illness so let's normalise conversation'. I would have been content if I had helped just one person going through a life-changing lonely phase, but our network continues to go from strength to strength. I feel very honoured to have been nominated and to be a finalist is awesome."
Two of Mo's colleagues were also nominated in the Most Collaborative category for the highly respected awards. Gail Thorne, who works for the Defence Ordnance Safety Group (DOSG) was recognised for her innovative and creative thinking, which has not only enabled some of the most forward-thinking science and engineering projects to commence, but for her knowledge in setting up commercial frameworks for research and development, which have saved millions in taxpayers money.
Gail, Assistant Head of Commercial at the Defence Ordnance Safety Group (DOSG), at DE&S, said:
"I was very surprised but delighted to find out that I had been nominated. In my role I have established a Commercial Research and Development Framework that enables the Ministry of Defence (MOD) to find rapid solutions and alternative sources of supply for a variety of energetic and ballistic materials mainly used in rocket science. Our research aims to find ways to remove any carcinogenic, banned and unstable substances from our inventory. This fascinating area of research aligns perfectly with the Government's Social Value agenda, as the Framework was set up primarily to re-generate UK regrowth, capability and skills, whilst taking in to account the impact on the environment."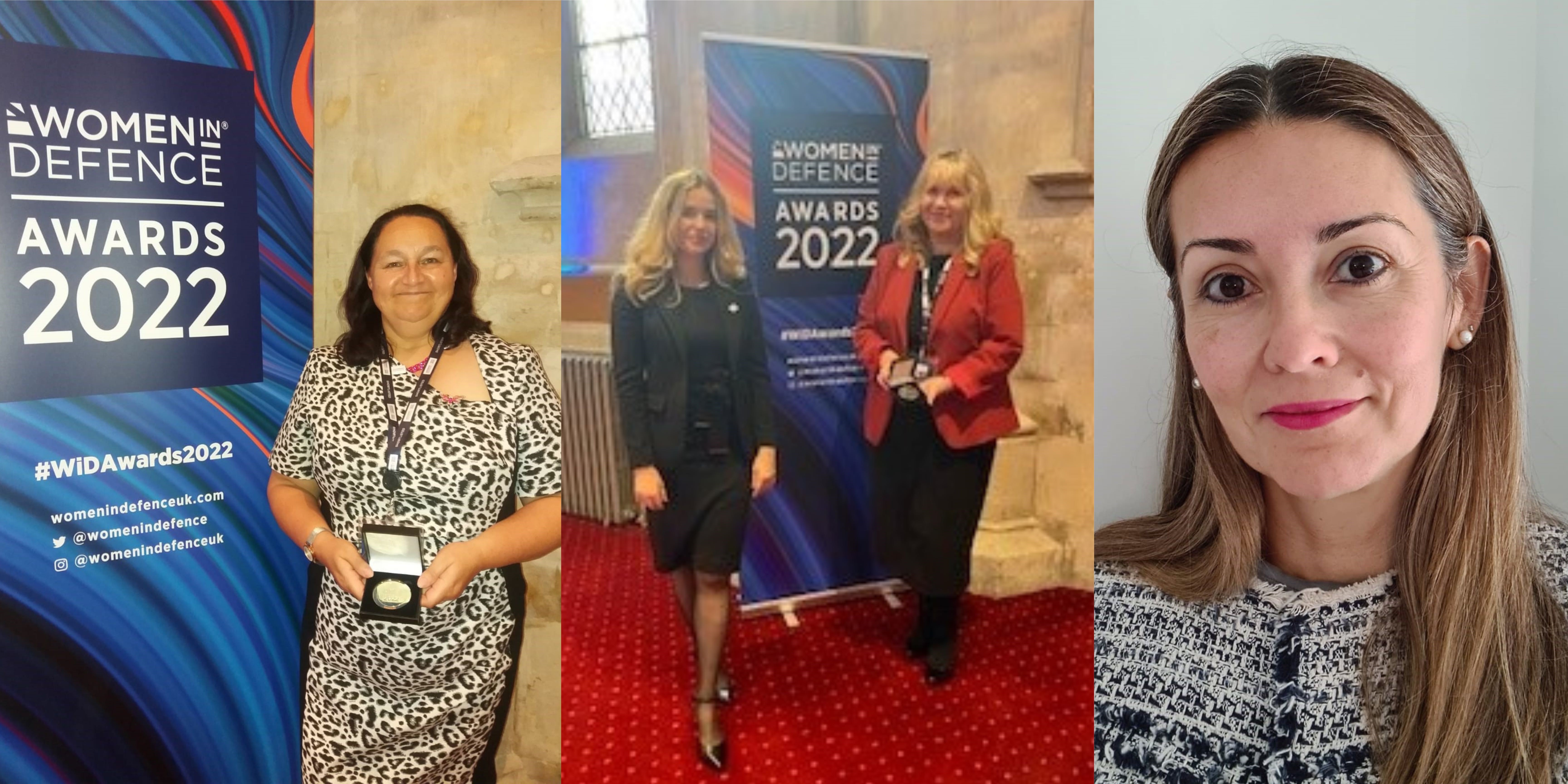 Bethania Ciocca, DE&S Digital Head of Applications and Artificial Intelligence, was also nominated in the collaborative category for her work to drive changes to Logistic and Support Information Systems (LogIS), devising and implementing key structural and procedural changes, creating efficiencies and advancing and streamlining processes quickly.
Bethania said:
"I feel extremely humbled to have been shortlisted and to be in contention with other amazing women in defence. I have been surrounded by phenomenal individuals that made this nomination a possibility, so I say thank you to my team, industry and my colleagues in our financial and commercial teams for making this a possibility. Thank you Dream Team!"
Jo Osburn-Hughes, DE&S Diversity and Inclusion Co-Champion and Gender Champion, said:
"At DE&S we have many talented women working in delivering for our Armed Forces, and in such a variety of roles from engineering, project management and logistics, to finance, human resources and many more.

"As a signatory of the Women in Defence Charter we are committed to ensuring we attract and retain a diverse workforce and we are proud of the commitments DE&S has made in areas such as flexible working policies, an active staff network and a supportive mentoring scheme. In DE&S we want everyone to feel able to bring their skills and experiences to work and that their contribution is recognised and so it is fantastic to see Mo, Beth and Gail's efforts acknowledged."
The Women in Defence Awards take place on Thursday 24th November. For more information visit www.womenindefenceuk.com/awards2022