Published 9 December 2021
DE&S is immensely proud to have played its part in the maiden operational deployment of the Royal Navy's Carrier Strike Group.
Share this story
HMS Queen Elizabeth will return to Portsmouth today and her accompanying fighter jets, helicopters, frigates, destroyers, tankers and submarine return to their home bases across the globe after almost seven months at sea.
It marks the end of an ambitious voyage which has taken in visits to more than 30 nations and 40 ports including India, Japan, Republic of Korea and Singapore, covering 43,000 miles.
The most significant peacetime deployment in a quarter of a century, Carrier Strike Group 21 (CSG21) has been more than just a military endeavour, bringing together elements of defence, diplomacy and prosperity and flying the flag for Global Britain.
Years of work by DE&S went into gearing up for CSG21, including complex planning and preparation, trials, testing and collaboration by teams across the business.
Captain Pete Mackay, Capital Ships Strategic Class Authority team leader in Naval Ships Support, said:
"It gives the team a huge amount of pride to see that the careful planning and five years of effort to support HMS Queen Elizabeth's journey from a brand-new ship to a fully-fledged aircraft carrier capable of operating fifth generation aircraft across the globe has been demonstrated so clearly during CSG21."
CSG21 saw a number of milestones reached, including initial operating capability declared for the Martlet missile system, delivered by the Weapons Operating Centre and Wildcat team, after a successful test firing by the Royal Navy from a Wildcat helicopter.
Before the deployment began HMS Queen Elizabeth stocked up with operational stores at the DE&S-operated Glen Mallen jetty in Scotland for the first time.
And, ahead of CSG21, maritime IOC was declared for the F-35B Lightning fighter jets on board. They went on to make more than 3,000 deck landings.
The flotilla of nine ships led by HMS Queen Elizabeth set sail from Portsmouth at dusk on May 22 after visits by Prime Minister Boris Johnson, Defence Secretary Ben Wallace and The Queen.
There were Type 45 destroyers HMS Diamond and HMS Defender; Type 23 frigates HMS Richmond and HMS Kent; HMS Artful below the waves, plus Royal Fleet Auxiliary support ships RFA Fort Victoria and RFA Tidespring.
More than 30 aircraft also embarked across the task group including F-35B Lightning jets, Merlin and Wildcat helicopters.
With more than 3,700 personnel involved, supplying the servicemen and women with everything they needed for life at sea was essential.
DE&S' Logistics Commodities and Services Transformation contract ensured this was possible when CSG left the UK.
Cdr Richard Wild, domain account manager (maritime/air), said:
"Before the platforms deployed we were involved in supplying everything from food, clothing, medical supplies, general stores, oil lubes and gases.

"While the Task Group has been deployed, we have been involved primarily in ensuring the flow of equipment to support operational defects to the platforms.

"I feel that what has been achieved in deploying a Carrier Strike Group should really be something that DE&S can be proud of."
LSOC logistics operations support manager Wayne McGrath, whose team work closely with business partner Kuehne & Nagel, added: "I am content that Portsmouth Naval Base teams provided the CSG with all available stores support throughout the deployment.
"Putting together the many pieces of the support jigsaw had its challenges, however it is rewarding to see the CSG return from deployment with no known logistical problems. I await to see the post-deployment report which could highlight learning from experience within the logistics support environment."
The British Forces Post Office (BFPO) played a key role in keeping the crew of CSG21 in touch with their friends and family back home as they travelled the globe. It was the biggest deployment they have been involved in for 15-20 years.
Kam McKinley, Head of BFPO, said:
"We've supported CSG with the continuous service of mail from when the Task Group was set up in May, all the way through to mid-December when they're due to return home.

"We've supported 21 locations, from Gibraltar to Japan, sending everything from classified material to things like navigational charts and personal mail, sweets and chocolates as morale-boosting packages.

"For our military colleagues who are away from home, especially for long periods of time, often the packages that we send are their only connection with home. And it's something tangible, it's really good for mental health and wellbeing."
CSG21 was also the first military deployment where Crowsnest – the airborne surveillance and control capability which has replaced the Sea King Mk7 – was used on three of the Merlin HM Mk2 helicopters on board the carrier.
Crowsnest programme manager Paul McDermott said:
"Seeing the Merlin Mk2s with the Crowsnest roll kit embodied, embarking earlier this year for CSG21 was an incredibly proud moment for myself and the team and reflected an immense amount of work done across the stakeholder community.

"Everybody should be rightfully proud of what they've achieved in getting Crowsnest on board Queen Elizabeth."
Wing Commander Kat Hill, the supply chain manager in the Lightning Delivery Team, leads a team responsible for the procurement and through-life management of spares for F-35s. She said:
"My team, working closely with all elements of the Lightning Enterprise both within the UK and within the US-based Joint Programme Office, have been actively involved in the facilitation and management of the resupply of spares to the ship to sustain the F-35Bs which, given the large logistical footprint we have been operating within, has been complicated and challenging but not without reward and success.

"Seeing CSG 21 with F-35s on board has been immensely rewarding given the substantial amount of preparation the entire Lightning Enterprise put into making this work despite the additional complexity of COVID-19 challenges impacting on spares transfer locations."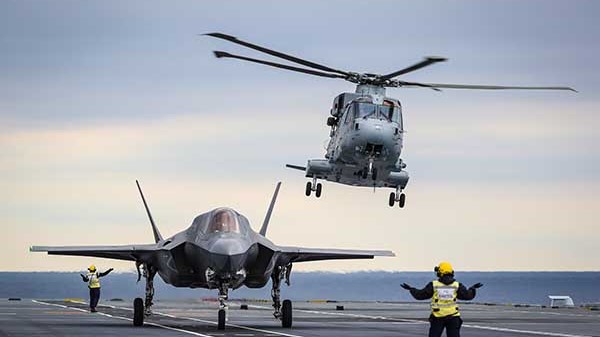 Peter Ashford is based at HMNB Portsmouth and is the through-life manager for HMS Queen Elizabeth.
He said: "CSG involves thousands of people, all the way back into third-tier suppliers, responding quickly to react to a problem that the ship have and whether they get that right support in the right place at the right time.
"CSG is about the support – if I could get a bit of kit here, I then had somebody to put it on the ship. Without the RAF, the RFAs, we wouldn't have been able to do what our job is, and that's supporting the vessel. There's a myriad of people.
"Commanding officers, Naval bases around the world on the deployed route, military attaches, embassies, all sorts of people who have contributed to make sure that the aircraft carrier could do its job along with the destroyers, frigates and involved nations.
"In my career highlights the aircraft carriers is the top of the tree. CSG21 is a very big branch of that tree, the next deployment will be another branch. I'm 69, this is probably going to be my swan song, and hopefully it'll go nice, smooth and easy."