Published 06 October 2022
Air Vice-Marshal Simon Ellard, Director Combat Air at DE&S accepted the first world-class Protector aircraft off-contract on behalf of the UK MOD.
Share this story
The handover from General Atomics-Aeronautical Systems-Inc (GA-ASI) took place at GA-ASI's Desert Horizon flight operations facility in El Mirage, California, following the successful conclusion of the Acceptance Test Procedure (ATP) performed jointly by UK MOD and GA-ASI.
Ownership of the aircraft has now transferred to UK MOD and the aircraft will fly with a UK Military tail number, PR005, under a UK Military Permit to Fly.
The aircraft will remain in the USA to participate in the initial training programme for the RAF, with the first delivery of Protector to the RAF in the UK planned for 2023.
Air Vice-Marshal Ellard, said:

"It was a great pleasure to accept the first Protector aircraft off contract on behalf of the MOD.  While this aircraft will remain in USA, it will be used to train RAF personnel with UK equipment and will be placed on the UK Military Register.

"We now look forward to the first delivery of this highly capable aircraft type to RAF Waddington during 2023."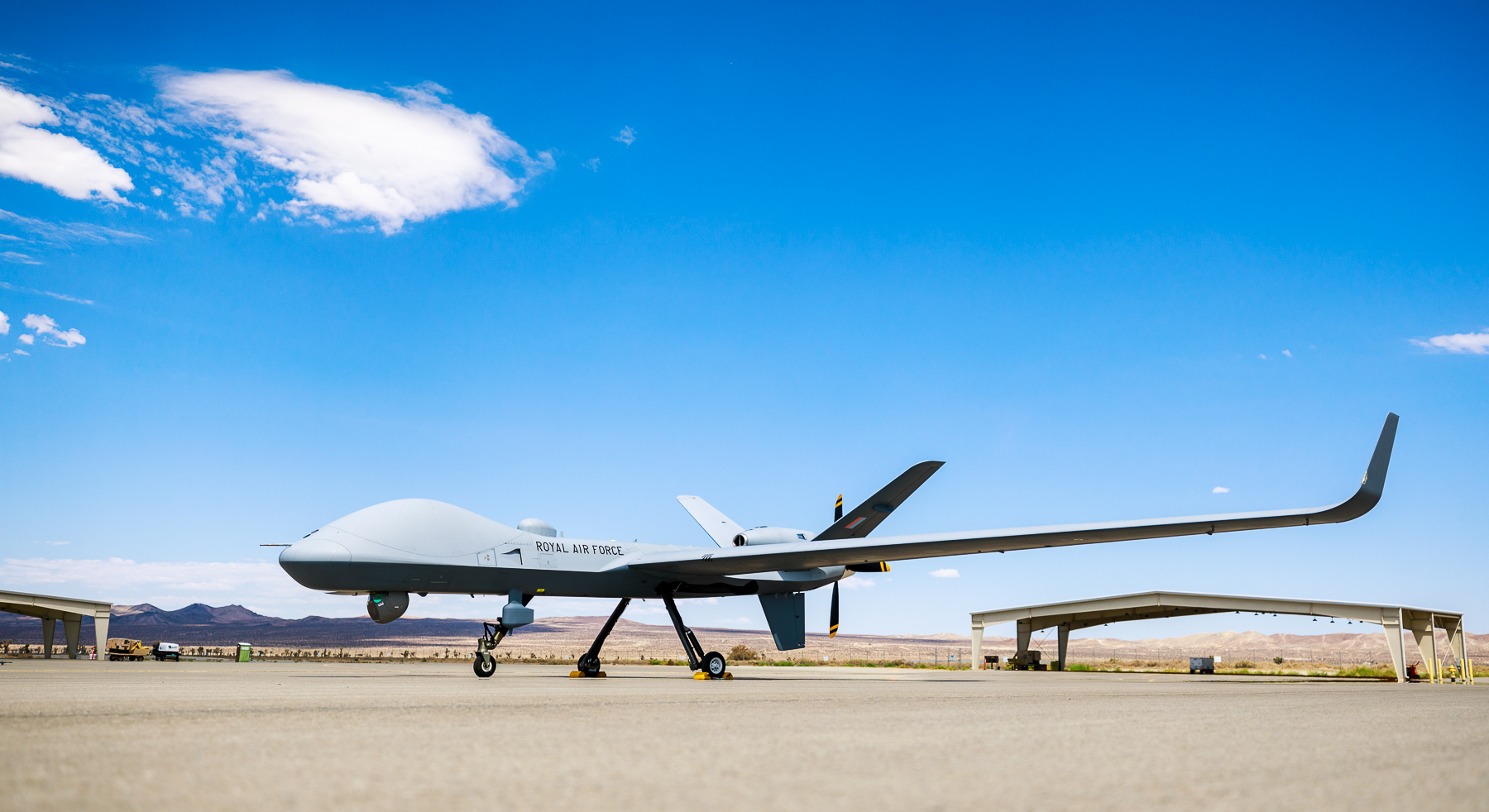 ATP was performed over the past two months at the Desert Horizon flight operations facility, and included all inspections and tests performed on the hardware in operation for the aircraft and in conformance with the functional specification and technical requirements.
Air Commodore Alex Hicks, RAF programme Senior Responsible Owner, said:

"The acceptance of the first Protector aircraft is a significant and exciting milestone in the delivery of this world class capability to the Royal Air Force. The aircraft will be used to train RAF technicians how to maintain the capability, prior to the arrival of the first aircraft in the UK next year." 
To achieve full operational clearance, Protector is being assessed against stringent NATO and UK safety certification standards, meaning it could operate in civilian airspace.  It is expected that Protector will achieve certification in 2024.
Protector will replace Reaper and will be deployed in wide-ranging Intelligence, Surveillance, Targeting and Reconnaissance (ISTAR) operations where its ability to fly consistently for up to 40 hours, offers the RAF vastly improved armed ISTAR capability.
It would also be available, if requested, to support civilian agencies in the UK, for example in search and rescue and disaster response missions.