Published 08 November 2022
DE&S has identified three of its sites – Defence Munitions Plymouth, MOD West Freugh and Defence Munitions Crombie – to become carbon neutral by 2025.
Share this story
Planned work includes improving the efficiency and insulation of each site's buildings, replacing glazing on the windows, switching to LED lights, installing solar panels and wind turbines, decarbonising heating systems, installing electric vehicle charging points, planting trees, restoring peat land and salt marshes, and investigating blue carbon opportunities.
This is all part of DE&S' Environmental Strategy, which set a goal of achieving net zero greenhouse gas emissions across its operations and infrastructure by 2040, and to use carbon negative estate to support the offset of the carbon footprint from equipment by 2050.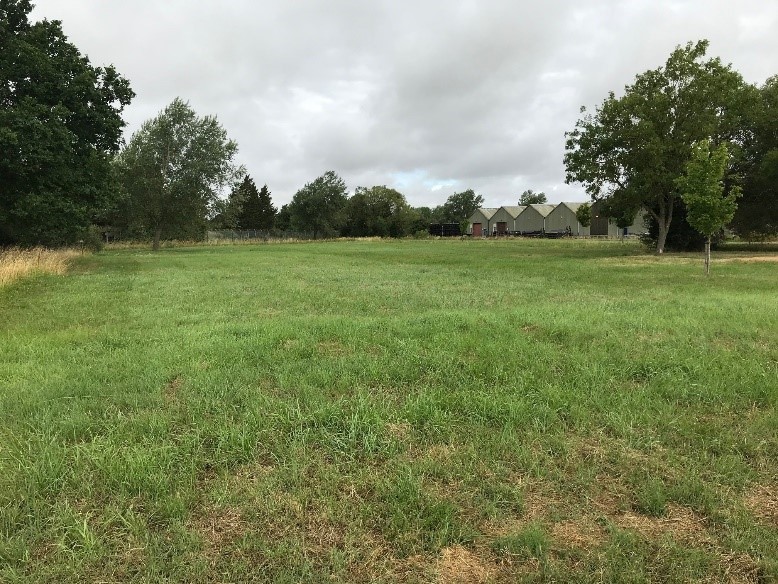 Bee meadow at the Logistic Support Operating Centre
Other sites, including the DE&S Headquarters in Bristol and the Logistic Support Operating Centre (LSOC) in Bicester, have been looking at ways to improve biodiversity, installing Mason Bee nests. This is part of a scientific study with the charity Praise Bee to plot the Mason Bee and any associated species across our estates.
The LSOC site has also successfully secured funding to develop a bee meadow. We will be planting a carefully chosen selection of flowering plants there next spring to encourage wildlife.
Iain McLeod, Net Zero Portfolio Manager at DE&S said: "DE&S, along with all public sector organisations, is committed to delivering the Government's target to bring all greenhouse gas emissions to net zero by 2050… We have been amazed at the support from staff across DE&S who are really passionate about making a difference to climate change. From small changes, like using refillable drinks cups and switching off monitors at the end of the day, to taking more sustainable transport options to, from and during work, to creating biodiversity projects and seeking ways to improve our estates; it's clear that our people want to make a real difference."
From solar panels to sustainable aviation fuel, DE&S is committed to reducing the environmental impact of its work. We're exploring new green technologies and low-carbon power sources for the vehicles and aircraft we procure. And we're looking with fresh eyes at all of our sites to see how we can reduce their carbon footprints and encourage new wildlife to thrive throughout them.
Stephen Wilcock, Director for Engineering and Safety at DE&S, said: "Our environmental strategy for our operations here at DE&S focuses on three themes: reducing the organisation's carbon footprint, sustainable energies and offsetting. In terms of the military equipment and services we buy and support, we are working with our suppliers to ensure we are providing sustainable and resilient solutions for the UK Armed Forces for the whole life of that equipment."
Dave Clark is chair of the joint DE&S Net Zero Portfolio Steering Group, for Atkins, part of the Aurora Engineering Delivery Partnership. The Partnership is providing engineering services on the ground to help DE&S deliver its net zero strategy. He adds:
"Defence accounts for 50% of UK central government emissions and through this strategic partnership with DE&S, we will play a critical part in reducing their emissions and a pivotal role in leading Defence to net zero. Drawing together the best available talent and expertise across industry and academia, we are proud to be working as one team to deliver this strategy.

"To do this, Aurora has been delivering a range of engineering services, including trialling our bespoke decarbonisation technology to quantify and attribute carbon, and provide a clear and actionable path to net zero."