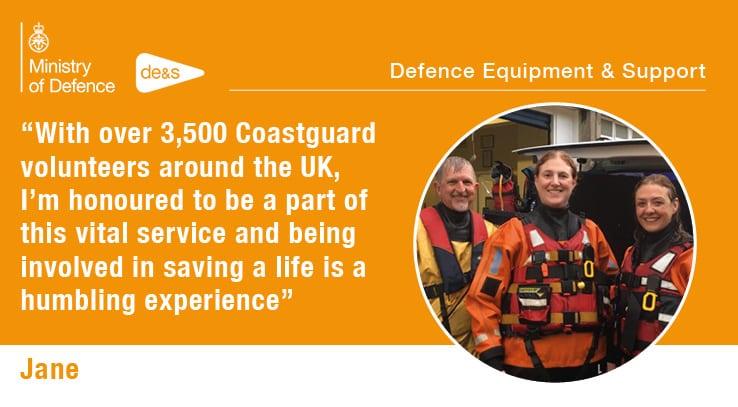 To mark National Volunteer's Week, we are celebrating some of the amazing DE&S employees who donate their expertise and time to supporting a wide range of charitable causes across the UK.
Share this story
Whether this is helping to save lives on the coastline, caring for the elderly, supporting children, or even working with donkeys, our staff have been giving up their time to help others and we are proud to recognise the efforts of all our staff who volunteer in their local community, and wish to thank them for their hard work.
Amongst the staff we will be featuring across our social media channels this week is safety and environmental manager, Jane, who volunteers for Posset lifeboat, providing search and rescue to keep the people safe in the water and regularly saving lives.
Jane said:   
"As an HM Coastguard Rescue Officer I can get called at any time to go and assist people and animals in need within the coastal zone. DE&S allows me to carry my pager and respond to call outs from work, which allows the rescue team to remain operational throughout the working week.

"With over 3,500 Coastguard volunteers around the UK, I'm honoured to be a part of this vital service and being involved in saving a life is a humbling experience."
Another volunteer, Vanessa, who works in our corporate function, has been volunteering for Age UK for the past 12 months as a 'befriender' in the campaign to battle loneliness. Visiting her client, who has early onset dementia, she works with his family to give them respite from caring and to provide him with a connection to the outside world.
Vanessa said:
"Gaining an insight into the difficulties that people in your community live with puts your own stresses into perspective. There are lots of lonely and vulnerable adults out there who would love you to get involved and take an interest, and I hope you will."
But it isn't just people who need our help. Occupational Health, Safety & Environment Co-Ordinator Ross, volunteers at the Donkey Sanctuary` where she works as a Visitor Engagement Volunteer.
She is one of the 600 volunteers who donated a total of 44,626 hours of their time over the past year, providing tours to around 300 visitors each month to raise awareness of the charity's international efforts to rescue and improve the lives of donkeys from 40 countries worldwide.
Ross commented:
"For me, the opportunity to volunteer has added value and purpose to my life; not only helping animals in need but providing assistance to those who want to help and learn more. When a visitor smiles and compliments the Sanctuary, or when a donkey trustingly puts its head on my shoulder, I feel like a million dollars."
Discover more stories from our volunteers on our social media channels on Twitter, Facebook and LinkedIn over the coming week.
DE&S offers flexible working to all its employees, including paid special leave for public duties such as charitable acts and volunteering.
Find out more about the benefits on offer to our staff.