"The work-life balance and working from home policy is brilliant, especially coming from a retail background where I was on fixed hours and had to work weekends – plus the work itself is more challenging and more rewarding."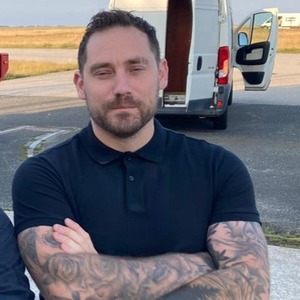 Could you tell us a bit about you, your team and your role at DE&S? What do you get up to day-to-day?
I work as a project manager within the Future Capability Group (FCG) at DE&S. I'm part of the Pre-concept team, looking at innovative and novel technology to support the needs of our front-line commands – the Army, the Royal Navy and the Royal Air Force. My day-to-day role involves overall management of a project, so working with contractors, the military and other key stakeholders, as well as visiting sites to trial and test new concepts. We might get a new brief in from the military for a particular requirement, or someone has a great idea for a new capability, and we will work with our industry partners to see what's out there, what already exists, what we can adapt and what needs to be made completely from scratch. The best thing about this job is that I get to work on incredible new technology that often hasn't been seen before within the military world.
What was your route into DE&S? What was your role previously and what transferable skills did you bring with you?
I joined DE&S in 2019. Straight after school, I studied motorsport engineering at college and then I worked in motorsport engineering for three years. After that, I moved to the retail sector and spent 10 years as a store manager. When I applied to DE&S, I was looking for a role where I could build a stable and fulfilling career. Although the project management specialism was new to me, through my experience I had developed solid skills in people and performance management, which are very important in my current role. I also had an understanding of engineering, which has also been useful. I am currently working towards a qualification with the Association for Project Management (APM) and my aim is to progress as far as I can go! For me, I see this as a long-term career and there's a range of great benefits that come with working in the Civil Service. For example, the work-life balance and working from home policy is brilliant, especially coming from retail where I was on fixed hours and had to work weekends, plus the work itself is more challenging and more rewarding. I feel better within myself for having made this change.
What's the wider impact of what you and the team do – on both the UK's Armed Forces and the UK as a whole?
Future Capability Group operates to understand how we can stretch the possibilities of technology within the military space. We are not a delivery team as such; we are tasked with pushing the boundaries of what's possible to fulfil the needs of our military customers, which ultimately will support and protect them, as they play a critical role in keeping the UK safe.
How does it feel to have this kind of impact? What does being involved in cutting-edge projects mean to you?
It gives me a huge sense of satisfaction and pride that the team I work in – and also the wider organisation – is contributing so much to future-proofing equipment and protecting armed forces personnel. It's also incredibly exciting to see the kit we've worked to create out there in the world at the end of it, making a real, positive impact for national defence.
Can you give a top-line overview of how a project for a future capability moves through your team – from initial briefing to trials to making the equipment operational?
We receive a future capability request, which we must respond to within 30 days with what's called a Rough Order of Magnitude (ROM). The ROM outlines what we envisage the project to cost, with an additional +10% tolerance. Once the cost is approved by the front-line commands, we identify the companies that can perform the piece of work, who then, in turn, submit their proposal for the work. Once this has been completed, we will award the work and start initial discussions of the requirement and timescales. I will manage this project from start to completion. When we have successfully proved the concept will work, there are a few options: we can either continue to develop the system into a pre-production prototype, or we hand over to a delivery team that can implement the system into an operational capability, depending on its complexity and how much development is required.
You've worked on a number of projects involving uncrewed air systems, or drones. If you're talking to someone passionate about tech, what's the most fascinating thing about the equipment you work with?
It's the autonomous nature of the drones. They are fully autonomous from start to finish, so they have life-saving capability and can operate without any human intervention. That, for me, is amazing.
More broadly, what's the most exciting thing about working for DE&S as an organisation?
The fast-paced nature of the projects and the wide variety on offer make this a really exciting place to work. I work on important developments for the Navy and the Army, and you have to be agile in the way you operate, to make sure projects are successful and completed on time. This means we develop concepts quickly and see really cool pieces of new technology come to life in a short space of time.
In your mind, why is it vital for people at DE&S to be leaders and innovators?
The world of defence is like no other. Technology is advancing at such a rapid pace, and we need to be at the forefront. DE&S need leaders to challenge the norm so that we can do this, ensuring our armed forces are equipped with such technological advancements, keeping them safe and well supported, so they can maintain competitive advantage.
How are the team supported to challenge the status quo and strive for better?
The leaders within FCG will always challenge the process to enable us to deliver things faster and better than ever before and this approach gets diffused down through the team. Everyone feels empowered and has the desire to deliver projects successfully, on time and on budget, and this style of leadership is really inspirational.
What do you find most rewarding about the work you do? What's the thing that makes you proud when you go home (or close your laptop!) at the end of the day?
Plain and simple, the thing that makes me feel most proud at the end of the day is knowing that I have made a difference to help ensure the UK Armed Forces are the best they can be.
Latest Project Delivery vacancies
Can't find a Project Delivery job for you today? Search all our vacancies.