As part of British Science Week, 5-14 March we are celebrating DE&S Scientists and the ground-breaking work they do. Every day we will be publishing a 'meet the scientist' interview. Today, 8 March, meet Dr Polly Hill.
Name, Role/Post title(s):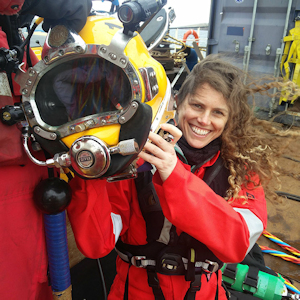 Dr Polly Hill, Wreck Environmental Scientist
How long have you worked at DE&S?
Since July 2017
If you had to explain your job to a child, what would you say?
I visit old shipwrecks and use robots to see whether they have oil inside them and decide whether we should take the oil out before it causes an oil spill and pollutes the sea.
When you were a child, what did you want to be when you 'grew up'?
I think I mainly wanted to be a vet because I love animals, but I didn't think I would get the grades, so I was planning to study zoology instead.  But then someone told me that marine biology was like zoology except you get to mess around underwater, so I chose that instead.
What's the most exciting thing you've done in your job?
In 2018 I travelled to Kwajalein in the Marshall Islands to spend some time working with our American counterparts who were removing oil from the wreck of the battleship USS Prinz Eugen from the 1940s. I travelled through Hawaii so had an opportunity to visit the USS Missouri in Pearl Harbour, which was the first time I appreciated the size of these wrecks I study!
What are you most proud of in your career?
I'm probably most proud of the research papers I have published, not that I imagine many people read them! Those and getting my PhD after a long slog.
What's the most interesting development in science – or STEM more generally – right now?
I'm studying for MSc Environmental Policy and Management so I'm particularly interested in any developments that will lower our carbon footprints, anything from hyperloop intercity travel to hydrogen powered central heating systems.
What would you say to someone considering a career in STEM?
Absolutely go for it, the options are limitless so you will find something that interests you. I wish that someone told me when I was younger that engineering is making stuff because I absolutely loved design and technology at school but didn't realise you could make a career out of something that fun!
Latest Safety Engineering vacancies
Can't find a Safety Engineering job for you today? Search all our vacancies.
Current vacancies in Safety & Environmental Protection