Published 10 November 2021
A ground-breaking agile procurement approach has been adopted to identify Remotely Piloted Air Systems (RPAS) that could be used to transport critical cargo and supplies between ships and troops on the front line.
Share this story
The 'Heavy Lift Challenge' has been an innovative collaboration between Defence Equipment & Support's Future Capability Group (FCG), the Royal Navy Office of the Chief Technology Officer (OCTO) and the Royal Navy's UAS Test & Evaluation (T&E) Centre of Expertise (700X Sqn).
The challenge also served as a pilot to robustly test the efficacy of the Rapid Agile Prototyping, Scaled for Operations (RAPSO) commercial framework.
During the initial stages industry was invited to demonstrate that their RPAS system had the ability to carry payload in excess of 100kg and pass tests for speed, endurance and accuracy of payload delivery.
The successful trials have resulted in two companies – Malloy Aeronautics and W Autonomous Systems – being awarded £300,000 contracts to develop their RPAS to lift beyond 200kg, with the potential to win further funding for supply of such systems in future within the same framework.
James Gavin, head of FCG, said:
"This project is about exploring emerging technology which could be of future use to the Royal Navy and other front-line commands and new acquisition approaches like RAPSO to ensure any operational advantage can be delivered to our UK Armed Forces at pace."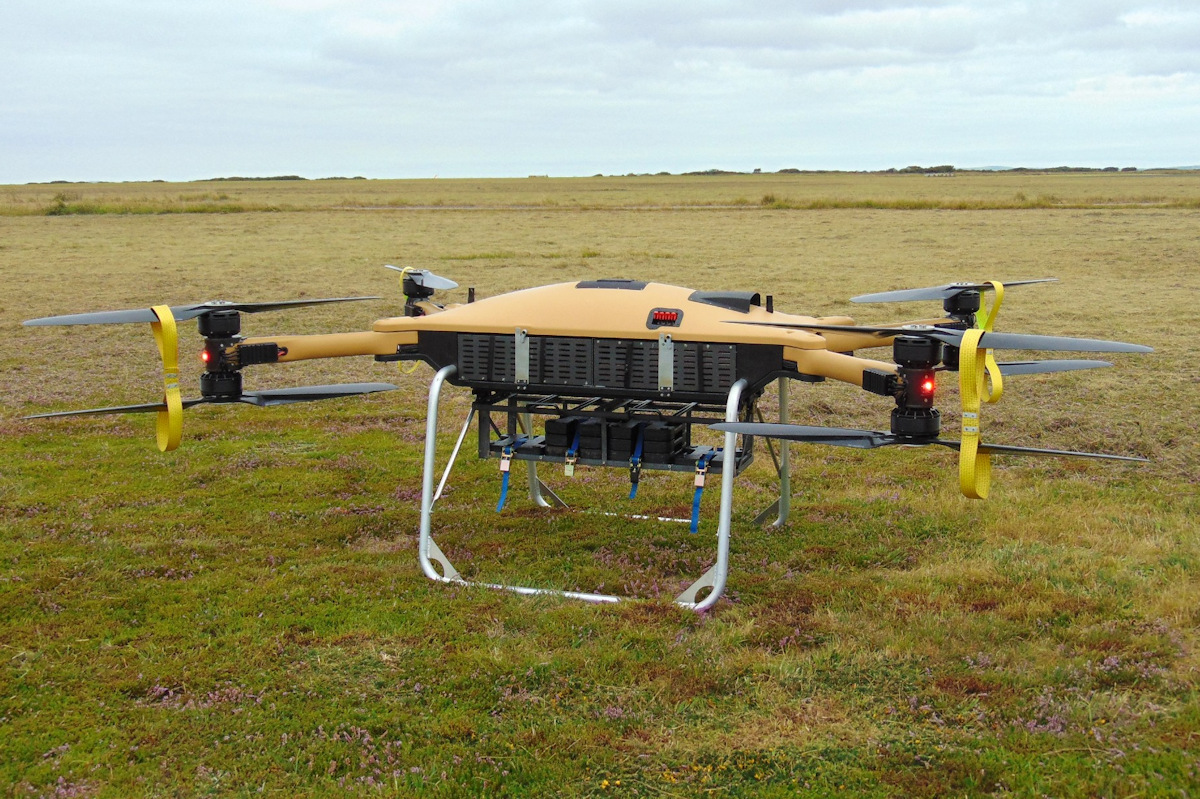 The theory is that when mature, such suitable systems could be used for autonomously transporting light cargo between ships at sea and critical supplies like ammunition and sustenance to troops on the front line, as well as a range of other operations to supplement and enhance existing capability.
This would lead to a significant reduction in the operating costs of crewed aviation as well as protecting life by sending un-crewed systems into conflict zones.
Royal Navy Chief Technology Officer, Brigadier Dan Cheesman, Royal Marines said:
"This challenge is a dynamic collaboration between DE&S, industry and ourselves. Our co-creation of a ground-breaking commercial mechanism means we are able to investigate cutting-edge technology at pace and explore solutions for the Future Maritime Aviation Force and the wider Armed Forces. It's exciting times for Defence and the market."
The demonstration was hosted by 700X Naval Air Squadron, the Royal Navy's RPAS T&E specialists, and held at Predannack Airfield on the Lizard Peninsula in Cornwall. The site is used as a training airfield by the squadrons at nearby Royal Naval Air Station Culdrose and is being developed as a centre of excellence in RPAS research.
The commanding officer of 700X Naval Air Squadron, Lieutenant Commander Martin Howard, said:
"It has been great to be involved in this exciting project which is pushing the boundaries of technology as well as the method by which defence procures equipment. Heavy Lift Challenge has showcased, Predannack's utility as an RPAS trials location with opportunities for Defence and the Commercial sector."