Published 5 March 2020
Innovative simulation technology inspired by online gaming will allow UK fighter jet pilots to train together virtually from various RAF bases.
Share this story
The capability, known as Gladiator, was announced by the Minister for Defence Procurement in May 2019. Since then, work has ramped up on this innovative programme and the military are looking at how it could meet the synthetic training needs of various platforms. For example, Typhoon is aiming for a 50/50 blend of synthetic and live flying, and F-35 Lightning II is aiming to complete a large percentage of collective training using Gladiator.
Gladiator is provided by Boeing Defence UK (BDUK) and operated on an MOD network. The system allows multiple aircrew to experience the same battlefield environment and threats simultaneously. It will enable pilots to exercise capabilities, tactics and procedures that would be impossible in the live environment due to airspace, aircraft availability, or security constraints.
Through incremental acquisition, Gladiator will evolve allowing the UK to undertake synthetic training for air, land and maritime forces, all on a secure network and safe in the knowledge that the training cannot be observed by adversaries.
Stuart Lafferty, Flight Simulation and Synthetic Trainers (FsAST) team leader, said:
"With Gladiator we can fly a large number of aircraft together at any one time, which in real-life training would be almost impossible and not cost effective. Gladiator is about allowing pilots to do things they couldn't normally practice in the real world. In addition, pilots won't be aging aircraft, burning jet fuel or firing expensive weapons – these are important environmental and financial benefits to the MOD."
Gladiator combines commercial, off-the-shelf software with some bespoke elements, providing a step change in synthetic training. It uses advanced technology to produce realistic mapping, terrain and weather effects.
Gary Williams, Defence Operational Training Capability Air (DOTC(A) Core System and Services (DCS&S) delivery manager, said: "Gladiator draws upon gaming technology but is much more advanced than that – for example, Xbox and PlayStation gamers get frustrated that they cannot join up on the same network. With Gladiator, you can be part of the same training exercise no matter what simulator you are sitting in."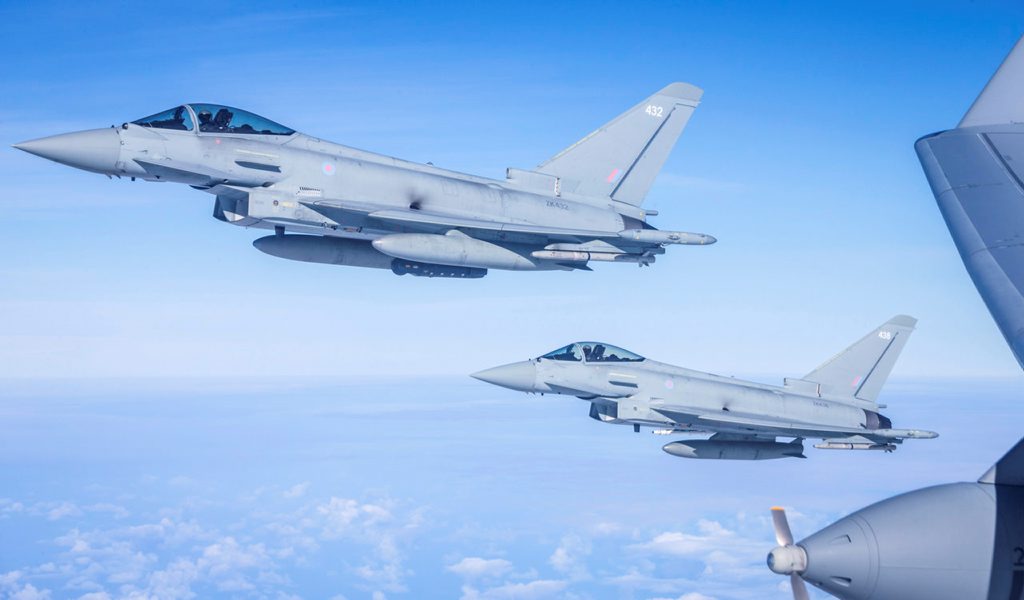 Typhoon and Lightning II pilots based out of RAF Coningsby, RAF Lossiemouth and RAF Marham will be the first to fly virtual missions using Gladiator. There are opportunities for Maritime and Land platforms to use the system with Protector, Type 45, Type 26, Apache, Crowsnest, Poseidon, E-7 Wedgetail and other platforms expected to join. UK pilots will also use Gladiator to conduct synthetic training exercises with the US and NATO.
DOTC(A) DCS&S is the project team responsible for procuring the equipment needed for Gladiator, which will be housed at RAF Waddington. This includes the exercise management equipment, and hardware which hosts the capability.
The team have completed the system requirements review, preliminary design review and the critical design review – a DE&S Strategic Milestone – on time and within just nine months of contract award.
The first training exercise for Typhoon aircrew using Gladiator is due to take place in April 2021, which will signal the declaration of Initial Operating Capability for Air Command. The joint fires synthetic training and Lightning II connections are expected to be added later in 2021.
The contract with Boeing Defence UK includes the design and manufacture of the simulation systems and software, as well as the first five years of support – sustaining up to 40 highly-skilled UK jobs. The design and manufacture of the software will take place in Fleet in Hampshire, and Bristol.