Positive rating from troops
Virtus is one of the most advanced integrated body armour, helmet and load carriage systems in the world.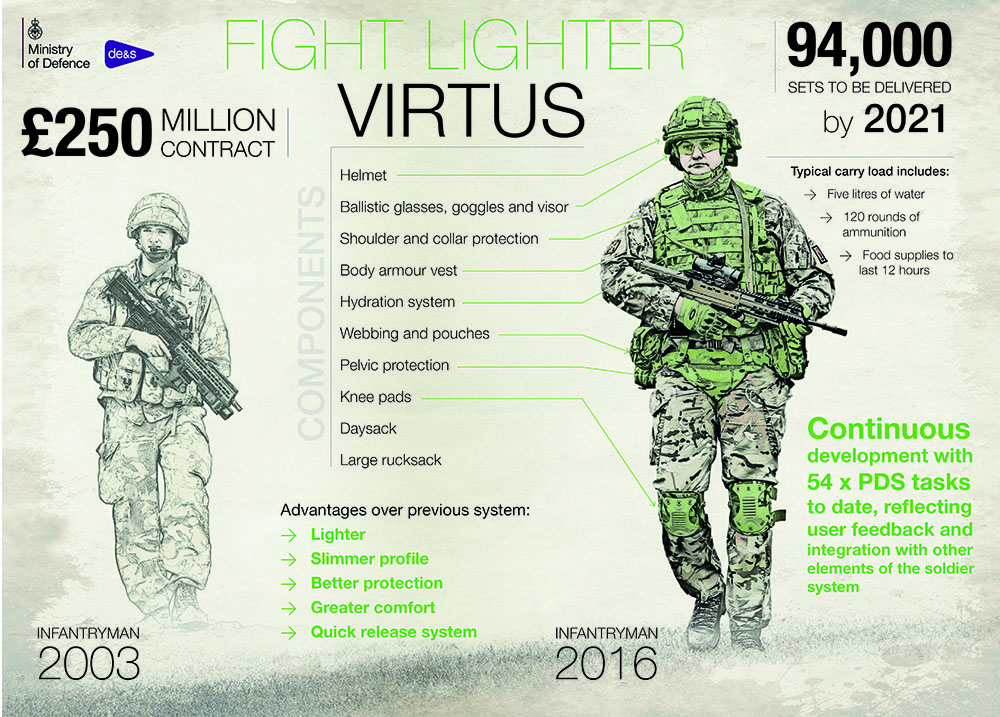 Virtus programme at a glance
Virtus is 4.7 kilogrammes lighter and better fitting than older body armour systems and its design improves the wearer's ability to perform a range of tasks.
It is designed to address the negative impacts on tactical mobility, survivability and muscular skeletal injury caused by excessive load carriage by the dismounted soldier, allowing users to 'fight lighter.
The system has been fielded following extensive trials by the Infantry Trials and Development Unit, scientific and medical Subject Matter Experts.  During trials Virtus received a 96 per cent positive rating from trials troops, compared to 62 per cent for its predecessor.
The DE&S Soldier Training and Special Programmes team have procured the system and are overseeing the planned delivery of 52,000 sets by 2019.
"Virtus, which has a slimmer profile, offers better protection, is more comfortable and includes a quick release system, is a step up from previous body armour. It feels great to be delivering a system which will make a clear, positive difference to British soldiers."