Published 04 April 2023
Steel has been cut on HMS Birmingham, marking the start of the build of the second batch of Type 26 warships.
Share this story
Building on ambitions laid out in the National Shipbuilding Strategy Refresh, this represents another significant milestone for the frigate programme being managed by DE&S and delivered by prime contractor BAE Systems in Glasgow, Scotland.
HMS Birmingham is the fourth of eight ships being built in Govan and outfitted in Scotstoun, supporting 1,700 jobs in Scotland with a further 2,300 jobs across the wider UK supply chain.
DE&S' Keith Edgar, who served as a chef on the last HMS Birmingham from 1981 to 1983, was invited to the steel cut with HMS Birmingham Association chairman Kev Ridsdill.
The 59-year-old, who works in the site management office at DM Gosport, said:
"It was an honour and a pleasure to be here to witness first steel being cut on HMS Birmingham.

"I have lots of great memories of my time serving on board her predecessor. I also witnessed her decommissioning in 1999 and never imagined being present at the birth of a new HMS Birmingham.

"Royal Navy ships are more than just lumps of metal. They are living, breathing things and even though this is a different ship, the name still lives on in our hearts and minds."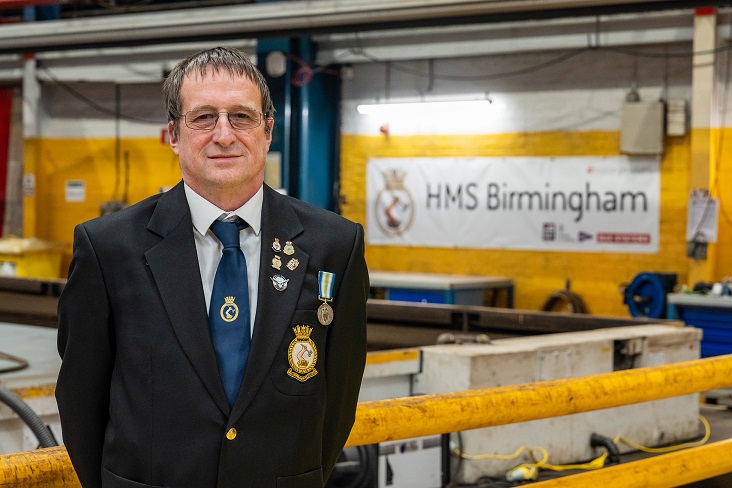 First steel was cut in the fabrication hall at Govan by BAE Systems apprentice Ciaran Baillie and plater Jamie Finnegan after a speech by Minister for Defence Procurement Alex Chalke KC.
The frigates will replace the bulk of the retiring Type 23 fleet with their primary role being anti-submarine warfare, protecting the UK's Continuous At-Sea Deterrent and Maritime Strike Group.
At just under 150 metres long, with a top speed of more than 26 knots and a range of more than 7,000 nautical miles, the vessels will also be capable of countering piracy and delivering humanitarian aid and disaster relief.
Mr Chalk said: "This is yet another significant milestone for the Type 26 programme, supporting thousands of jobs in Scotland and across the wider UK supply chain.
"Working closely with our industry partners, we are bringing in a cutting-edge class of warships for the Royal Navy, bolstering our maritime capabilities into the coming decades."
DE&S Director General Ships, Vice Admiral Paul Marshall, said:
 "The steel cut for HMS Birmingham is a significant moment for everyone who has worked, and is working, on the Type 26 programme to deliver the best possible warships to serve the Royal Navy for decades to come. I look forward to seeing the second batch of frigates taking shape."
Construction of all of the city-class frigates is expected to be completed by the mid-2030s, with HMS Glasgow, the first in class, entering service by the end of 2028. Designed for a service life of at least 25 years, the fleet will serve into the 2060s.
Commodore Stephen Roberts, who leads the Type 26 programme for the Royal Navy, said:
"Seeing the next T26 start the construction journey is a tangible representation of the success of the programme thanks to the hard work put in by the DE&S and BAE Systems teams. These advanced anti-submarine warfare ships will provide the Royal Navy with a world-class cutting-edge capability to protect our Nation's interests well into the future."