Published 08 February 2021
Hear from Catherine, one of our talented Engineering Degree Apprentices, about her experiences in our apprenticeship scheme and why she'd recommend it to others
Share this story
This week we are celebrating the exciting talent across our workforce as part of National Apprenticeship Week 2021.
We currently employ more than 400 apprentices who are learning and developing their skills for a long and successful career within either DE&S or our sister agency, the Submarine Delivery Agency (SDA).
Today, find out more about our Engineering Degree Apprenticeship scheme from Catherine.
"DE&S is so large; I will be able to develop my career by taking it in any way that I want to"
Having auditory processing disorder, which makes hearing a challenge, is not holding Catherine Wrigley back as she embarks on her career with DE&S.
Since discovering how engineers support the military while on work experience with the RAF, the 18-year-old has wanted to make a difference in the world of defence.
Now in her first year of her Engineering Degree Apprenticeship scheme, she's specialising in aerospace and is studying at Weston College before she starts a series of six-month placements within the business.
"I chose aerospace as my stream because I am really interested in how aeroplanes and spacecraft work," said Catherine.
"I'm really enjoying composites, particularly working with carbon fibre, and how carbon fibre is used in the building of aircraft."
Catherine has spent the bulk of her apprenticeship so far working from home, but this hasn't hindered her early development. She uses earpieces which allow her to hear lecturers using a radio signal.
"I have auditory processing disorder. It affects how my brain processes sounds," she explained. "So, it's quite challenging for me to hear the lecturer over background noise. That could be just simple things like my classmates turning a page.
"And it's challenging, especially with virtual lessons. I get a lot of support and I know my manager is always a phone call away if I need any help with anything. I'm not treated any differently. I'm treated just like everybody else.
"And I've had support with applications for grants, such as the IET Horizons Bursary, which will help provide me with technology to be able to hear my lectures better."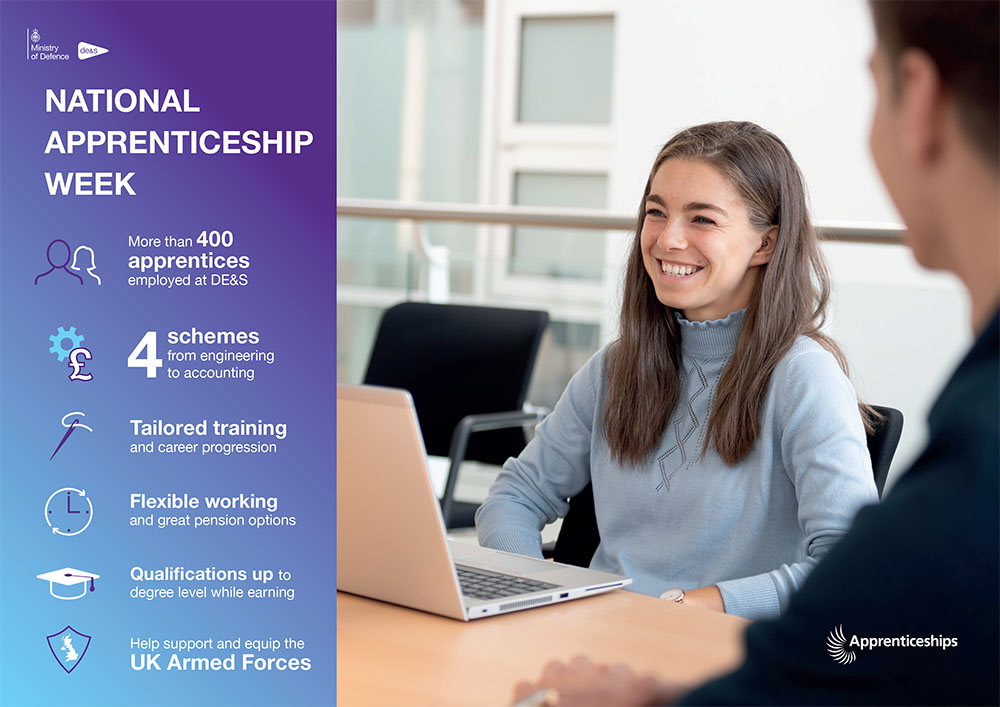 Catherine, who is training to be a Girl Guide leader, is excited about what the future might bring at DE&S and she can't wait to get out and see the kit and the various programmes being worked on across the UK.
"The opportunities we get is a big benefit of working for DE&S," she added. "We are able to go on placements and we also get to work with, or work on projects and with technology that other people wouldn't be able to work with.
"DE&S is so large; I will be able to develop my career by taking it in any way that I want to.
"In terms of other benefits, we're able to contribute to our pension from day one and we get the defence discount, which is always an added bonus."
To find out more about our apprenticeships, visit our Graduate Schemes and Apprenticeships page.